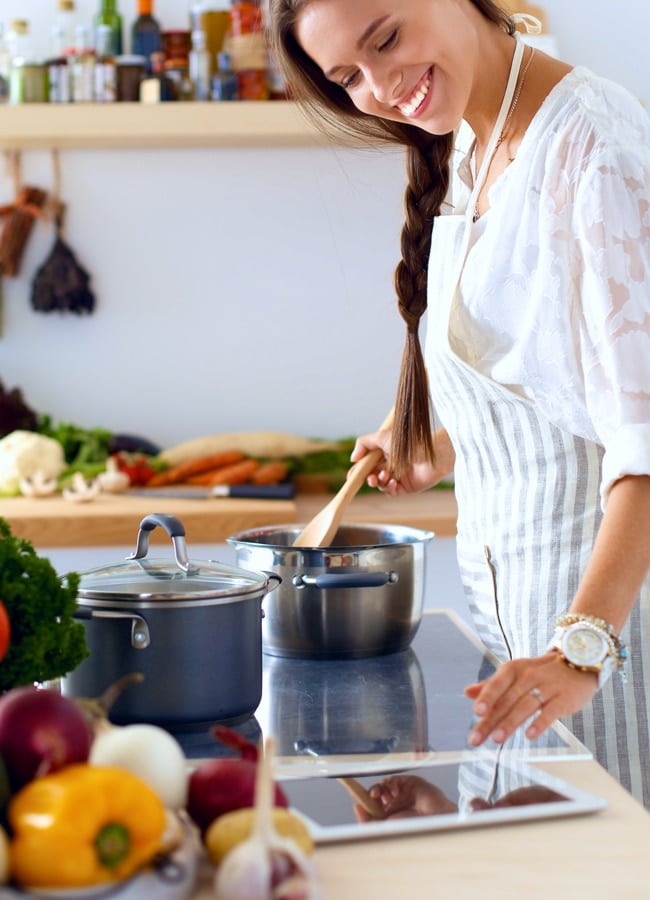 One of the best predictors of long term good health is to cook as much of what you eat as possible, from scratch. The fast food and food processing industries have conveniently led us to believe that cooking is hard, time consuming and messy and that we'd be so much better off letting them cook for us or create shortcuts.
However, research has demonstrated that the less time we, as a society, spend cooking, the higher the rates of diet related illness.
Why? Because they don't cook like we do.
Plus cooking really doesn't have to be hard, or time consuming. Certainly the benefits of improving your health and that of your family, makes every minute you spend nourishing your family with home cooked meals worthwhile. Think of the time you spend cooking as saving you time and money with less day's off because you or the kids are sick.
I've really noticed in my own family just how important cooking is for health. With my now teenage daughter becoming more autonomous, she's gone through phases of being out with friends all the time and eating more junk and take-away then ever before. As much as she hates to admit it, even she recognises that she isn't able to maintain the same level of health when she eats fast or junk food (and she even picks the 'healthy' options generally) rather than eating at homemade meals.
She hasn't been terribly sick, just a few unproductive or sick days from school when in the past, this was rare. She can now recognise how eating crappy food affects her short term health.
I wanted to share with you 5 ways to save time cooking with whole foods so you can get dinner on the table, week after week, and stay energised and engaged with the act of cooking at home!
Because we know, it is the best way to maintain your whole families health!
Plan your meals
Having a plan that suits your family and lifestyle is really important. There is no one fits all way to plan so find a system that suits you. You can go all out and plan all meals and snacks. However even a plan for just a few meals a week will help you to eat well much more consistently and alleviate a lot of meal time stress.
Also use your plan to shop once a week. Less time ducking down to the shops for forgotten items means more time for cooking a lovely meal.
The Well Nourished Family membership provides you with done for you and customisable meal plans to suit every families size and tastes. And best of all, every plan generates both printable and digital shopping lists to really minimise your time in the kitchen. CLICK HERE to watch me demonstrate this amazing technology.
Choose recipes you know are well tested and work
Choose recipes you know are well tested and work and don't use unusual one off ingredients that take up space in your pantry, and that you'll never use again. I take pride in all of my recipes here at Well Nourished being made from readily available ingredients, being easy to follow and always delicious.
---
---
Bulk prep meals
If you're feeling tired or premenstrual, you're not going to feel motivated to cook. But if your energy is up, make the time and space to cook… and then make it count! The good news is that the more you cook, the better your energy and focus will be and the whole process just becomes easier and easier.
So whilst you're in the kitchen, consider doubling up or bulk preparing meals so that you cook once, and eat twice (or even three times). You can use your freezer for storage (so you don't eat the same meal night after night). Check out the assortment of Freezable Meals and also Make-ahead Meal inspiration here.
In the Well Nourished Family membership we provide you with done for you Meal Prep Plans so you can cook a group of meals in a really time efficient way and head into a busy week with peace of mind that dinner is done for the week. CLICK HERE for a video example of one of our Meal Prep Plans.
Choose one pan or one pot meals
Choose one pan or one pot meals. The easiest meals to cook have simple methods NOT necessarily less ingredients. The ingredients in a meal not only build flavour, but they add a whole lot of nutritional variety. I find it really hard to design nutritionally balanced meals using say just 5 ingredients. But by keeping the method of the recipe really simple, you save time cooking, whilst still nourishing yourself and your family. My one pot slow cooked meals and the many tray bake recipes are great examples of the simplest meals about.
Try a 30 minute meal
If you haven't planned a meal or are caught short on time, 30 minute meals (yes in the real world) are a saviour. Having a selection of really quick and easy to make meals is a must for any busy households.
I hope these tips help you to find your way into the kitchen more to nourish yourself and your family well.
---
ENTER YOUR DETAILS TO GET YOUR FREE RECIPE BOOK