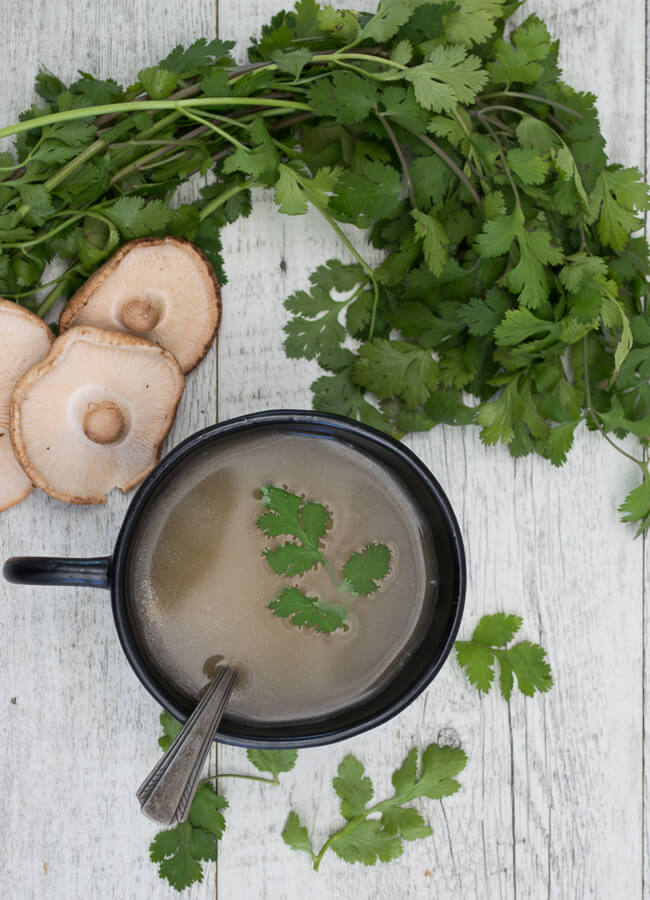 With a chill in the air and the bug season underway, I thought I'd follow up on my basic broth post with a simple yet totally nutritious and delicious immune boosting soup. This is a classic example of using food as medicine. It is something I always whip up if I think anyone in my family is run down. Even if this isn't the case, I still make it, normally as a snack to boost our digestion and immune system. But I mostly make it because the whole family just loves it.
So what so good about it? The chicken bone stock, well I've raved about it here. The shitake mushrooms and garlic are extremely immune boosting. The ginger root is calming, very anti-inflammatory, aids digestion and stimulates circulation.  Lemongrass is very nutritious, healing and anti-microbial. The fish sauce adds a salty taste and the lime balances the acidity and gives a wonderful tang, along with its immune boosting vitamin C content. The fresh herbs just add another dimension of nutrition and flavour.
Asian Immune Broth
A delicious combination of immune supportive ingredients, this broth is a nourishing, healing brew.
Ingredients
3

cups 

homemade chicken stock

broth

6 -10

shitake mushrooms

sliced (use fresh if available to you, otherwise use dried which are available in the Asian section of most supermarkets)

1.5

cm

knob ginger root

thinly sliced

1 - 2

large cloves garlic

peeled and sliced

1 - 2

tablespoon

fish sauce

or sea salt to taste

Juice half lime
Optional extras
1

or 2 stems of lemon grass

no need to extract the heart, just chop it up roughly

1

fresh red chilli or dried chilli to taste

Coriander

Thai basil, mint or Vietnamese mint leaves

1

teaspoon

ground turmeric (or 3-4 slices of fresh root)
Method
In a small saucepan place your stock (if it's frozen gently heat it gently to defrost), shitake mushrooms, ginger root, garlic and lemon grass and turmeric (if using) and simmer for 10-15 minutes.

Remove from the heat and add the fish sauce and lime juice and taste, (you can add more of either or both if you feel it needs more salt or acidity).

You can strain off the solids, or I personally just pour them into the bowl or cup to serve as they sink to the bottom anyway.

Add the fresh herbs and chili if you like. Enjoy and feel the benefit!
Variations
Add chicken, more vegetables, noodles or rice to make this into a hearty meal.
This is delicious, don't you think? Post a comment below with your thoughts.