With the festive season sneaking up quicker than I'd like (seriously, where has this year gone??), I thought I'd share one of our go-to recipes when feeding a crowd… Beef Fillet with Garlic Tahini Sauce. We tend to make it as it's quick and easy and you can rest it for as long as you like so it's pretty forgiving. We have even rested it for several hours and had it just warm and it was divine.
In case you've not heard, in just two weeks I'm launching the Well Nourished Family membership. I'm bursting with excitement and I really can't wait to share all of the delicious details. It's been a long time coming… over a year of working with a fabulous team, to develop the technology to make meal planning and eating well a whole lot easier and very well nourished.
I've been flat out creating exclusive, members only recipes and developing everything you need to feed you and your tribe 'well'. The 'Well Nourished Family' not only includes customisable and done-for-you weekly meal plans, but event plans too.  I've got you sorted for Kids Parties, Christmas Day feasting and entertaining friends and family with absolute ease. Plus shopping lists, kitchen storage and waste reducing tips and much, much more.
Join the waitlist to be the first to find out about our founding members special offer, click HERE.
But in the mean time, I hope you love this supremely tender cut of beef fillet with garlic tahini sauce as much as my meat loving family does.
Take a look at the variations (below the main recipe) for suggestions to alter the recipe to suit your specific dietary requirements (dairy and garlic-free).
Beef Fillet with Garlic Tahini Sauce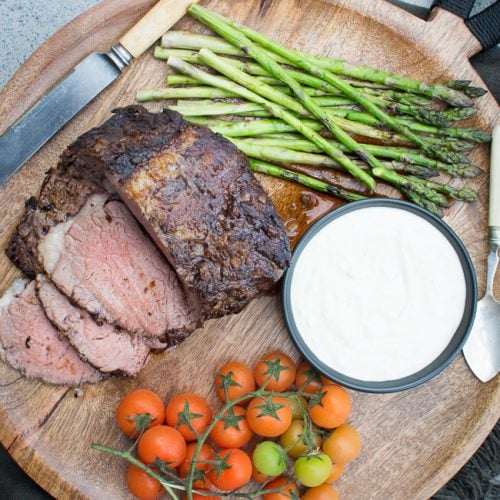 Ingredients
1.2

kg

Scotch Fillet

- or rib eye

2

tbsp

olive oil

- extra virgin

1

tsp

sea salt

- or to taste

Ground black pepper

- to taste
Sauce
1

clove/s

garlic

- minced

1

tbsp

hulled tahini 

250

g

full-fat natural yoghurt

(

1

cup)
Method
Pre-heat the oven to 150°C / 300°F (fan-forced).

Rub the fillet in the olive oil so it is well coated. Then season with the sea salt and pepper.

Heat a cast iron or oven proof pan over a moderately high heat and sear the beef on all sides so it is dark brown and caramelised on all edges. Use tongs to turn it.

Then, simply place in the oven to roast (uncovered) for about an hour or until almost cooked to your liking.

I have a meat thermometer which I think is invaluable for getting this perfect. I cook this to med-rare, then wrap it tightly in foil to rest for about 30 minutes or more. This is really important and makes it super moist.

To make the tahini sauce, mix all the ingredients together in a serving bowl.
Serve
When ready to serve, slice the beef and then pour over the pan juices and juices from the foil wrapping.

Enjoy immediately with the tahini sauce and your favourite sides and salads.

My family also love this with various mustards.
Store
In an airtight container in the fridge.

Left overs are great to make a roast beef sandwich, roll, wrap or salad.
Variations
Dairy-free
Replace the yoghurt with coconut yogurt or cashew cream.
Sesame-free
Omit the tahini and replace with horseradish cream. 
Garlic-free
Omit the garlic and replace it with 1 tsp of ground cumin and a pinch or cayenne.
I'd love to hear how you enjoy this. Post a comment below and don't forget to rate the recipe too. Cheers!