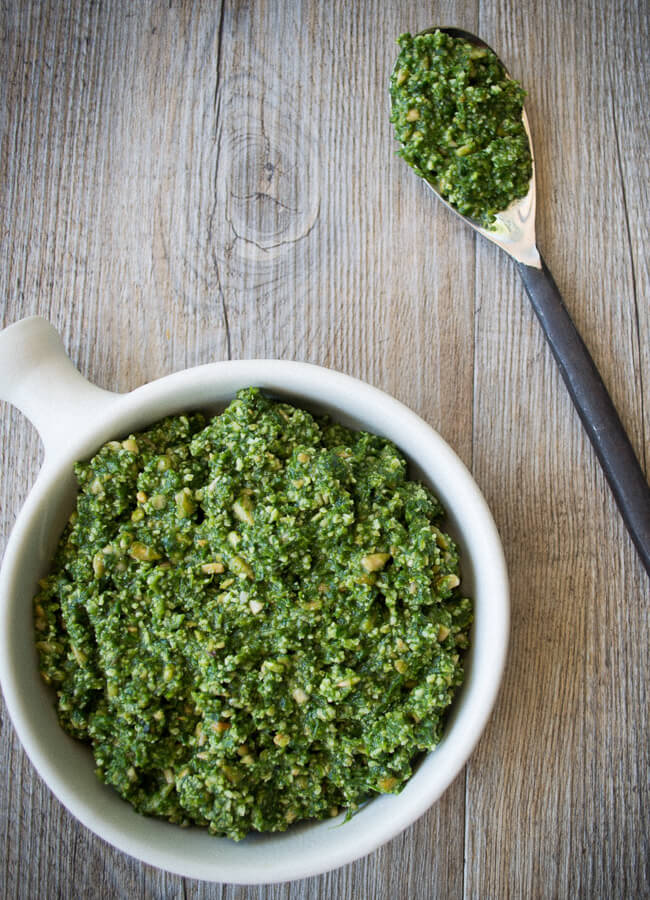 The best basil pesto recipe going, and the most nourishing! A bold statement I know but it is rather delicious and definitely has a more extensive nutritional profile than its (also healthy) traditional version. It is gluten and grain free and I have also included dairy and nut-free variations too.
So what makes this pesto so healthy?
Let's start with the hero of the dish, basil. Basil is a rich source of many essential vitamins and minerals and antioxidant flavonoids, two of which have been shown to protect cells and DNA from radiation. Seeing as we are surrounded by radiation from the various forms of (mostly wireless) technology to which we have grown accustomed, this is surely a good thing.
Kale, well other than being the most fashionable vegetable on the planet right now, it is very nourishing (especially in the calcium and iron department) and adds another dimension of health giving nutrients. For this reason, I add it to my pesto as it's flavour sits well behind the very pungent basil. For kids, this means they don't know they are eating a vegetable they might ordinarily, never touch.
One more 'Well Nourished' touch is that I add sunflower seeds, again, more nutrition than using just one nut! Though I have added a nut-free version below for school lunch box inclusion.
Take a look at the variations (below the main recipe) for suggestions to alter the recipe to suit your specific dietary requirements.
Best Basil Pesto (and the healthiest)
This basil pesto recipe is certainly the best tasting and the most nourishing recipe about! It's a great way to include healthy greens in your families diet.
Ingredients
1

clove/s

garlic

-peeled and crushed

50

g

parmesan cheese

-finely grated (dairy free version below)

1

bunch/s

fresh basil leaves

2

stem/s

kale

(leaves torn from the stems)

30

g

sunflower seeds

(

¼

cup) lightly toasted

30

g

raw cashew nuts

(

¼

cup) lightly toasted

Sea salt and freshly ground black pepper

-to taste

3

tbsp

olive oil

-extra virgin

½

lemon/s

juice, zest optional
Optional Extras
1

red chilli/s

(or even half a red capsicum for a vitamin C boost)
Method
You can make this in a mortar and pestle but I prefer to use my Thermomix (or any good food processor will do the job) as I like a textured pesto.  I tend to use the pulse (turbo) function so I can control the texture I'm after.  If you like a course pesto like me, process less, for a smooth pesto, process more.

You can grate and crush your parmesan and garlic by hand or in your food processor. Thermomix 10 seconds, speed 6.

Add the basil and kale. Pulse until almost chopped. Thermomix 2-3 pulses.

Then add the cashews and sunflower seeds. A couple more pulses should see it combined nicely. Thermomix 2-3 pulses.

Lastly, season well and mix with your lemon juice and EV olive oil. Thermomix 10 seconds, reverse speed 3.
Store
Drizzle with a little olive oil to seal it and prevent it discolouring.

Store in an airtight container in the fridge.

Can also be frozen in a airtight container or even in ice-cube trays (and then cubes put into an airtight container once frozen).
Variations
Dairy-free and vegan
Omit the parmesan. I'd suggest adding a couple of tablespoons of nutritional yeast for cheese flavour and even a handful of ground macadamia nuts to replace the parmesan, but that's optional too.
Replace the kale with spinach
Which is also very nutritious and I think has a much milder flavour than kale.
Nut-free
Replace the cashews with the same amount of sunflower seeds.
Ways to eat it...
As a delicious, nourishing dip. It often features in my kids lunch boxes (the nut free version) with raw veggie sticks.

Mixed through pasta or zucchini noodles (for a grain and gluten free option). Add a little extra olive oil to the pesto to coat the pasta evenly and I also often toss through some chopped tomato to create a special meal. A pesto noodle salad is great for school lunch boxes.

With Quinoa or brown rice for added flavour and nutrition.

Use as a dressing to liven up steamed veggies or create a special salad. Mix one tablespoon of pesto with one tablespoon of olive oil and a little extra lemon juice (if you like) and mix through the vegies or salad leaves.

In a sandwich or on toast (with avocado - yum). Add a poached egg for a protein hit!

Spread over grilled haloumi.

In a tuna vegetable bake or a casserole.

Over grilled or BBQ'd meat or fish.

On top of a slice of tomato and slice of buffalo mozzarella i.e. Caprese style.

On pizza.

In a jacket potato or mixed through diced potatoes for an exciting potato salad

I could go on and on here…you are only limited by your imagination. Any Mediterranean flavoured meal will suit a blob of this nourishing Basil pesto.
Share how you eat pesto. Post a comment below, it's simple.