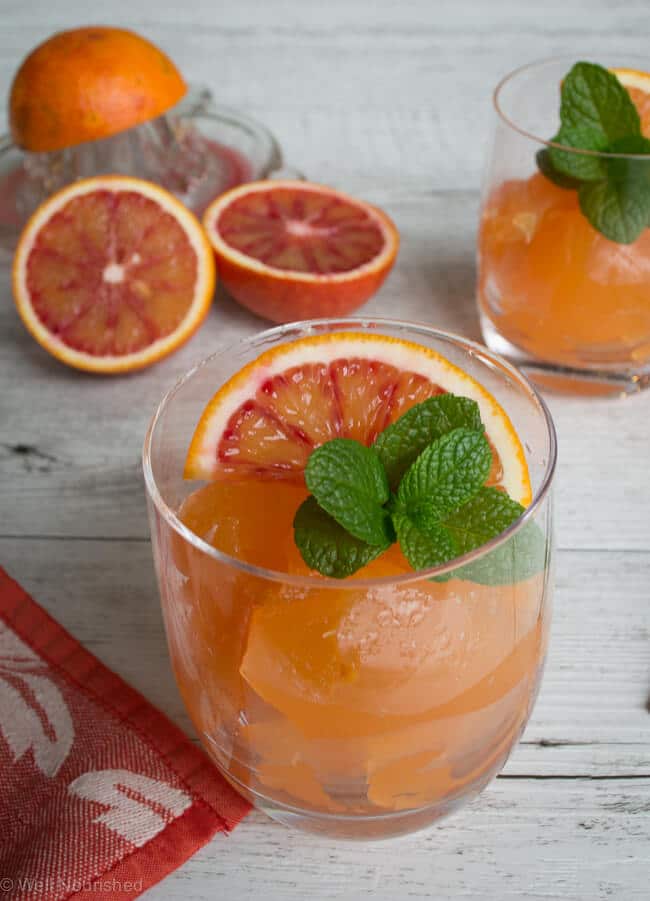 My kids number one favourite treat right now is any type of jelly and they've rated this, their absolute favourite flavour (for the moment anyway).
Health benefits
Oranges and lemons are in season right now, which means their nutrient levels are at their best. The coconut water adds a little re-hydrating goodness.
Gelatin is made from the bone and connective tissue of animals that has been dried and turned into a powder. I have written about the benefits of gelatin in this post about bone broth. As I've always stated, eating whole food sources of any nutrient is best, so consuming bone broth regularly is the most nutrient dense way to consume gelatin. But for a tasty treat, making a batch of jelly is a delicious way to include additional gelatin in your diet.
I only use Changing Habits Organic Gelatin. Because gelatin is derived from animals, I like to know I am consuming the best quality product with the least chemical loading. You can find out more or shop for it HERE.
Take a look at the variations (below the main recipe) for suggestions to alter the recipe to suit many specific dietary requirements.
Blood Orange Jelly
A jelly made with fresh fruit and gelatin is a far cry (health wise) from the processed version. Best of all, it really is very easy to make, no more so than my Blood Orange Jelly.
Ingredients
500

ml

freshly squeezed blood orange juice (or regular orange juice)

(

2

cups)

120

ml

coconut water

(

½

cup)

1-2

tbsp

rice malt syrup or honey

(optional)

1

lemon/s

-juice

3

tbsp

grass-fed or organic gelatin
Method
Place the coconut water and sweetener into a small pot and heat for a minute to lukewarm.

Sprinkle the gelatin over the liquid, stirring after each tablespoon. For a traditional jelly set use 2 tablespoons, for a firmer, more gummy-lolly-like consistency, add 3 tablespoons.

If the gelatin doesn't completely dissolve, you can pop your pot back on the heat for a minute (only heat to luke warm), stirring well.

Juice your oranges and lemons and mix with the coconut water mixture. Personally, I don't strain any bits of pulp, but feel free to if you want a jelly with a really smooth consistency.

Pour into a bowl or moulds, and set in the fridge.
Variations
Low-fructose
Choose rice malt syrup as your sweetener.
Coconut-free
Replace the coconut water with water keffir or kombucha.
Vegetarian and vegan
Set with agar-agar (I haven't recipe tested this as yet).
Other jelly recipes you might like:
Berry Jelly (in my trifle recipe), here
Chocolate coconut, here
Lemon immune jelly recipe, here
I love to receive your feedback and welcome any questions. Post your comment or questions below.