Would you love one reliable immune building, stress combatting, deliciously digestible tonic to nourish the whole family and keep them well through winter? Well, grandma's old recipe book is where you will find it – good old fashioned chicken bone broth. The king of nourishment, nutrition, healing and repair and, it takes only a couple of minutes to prepare!
The use of  bone broths to heal and nourish is steeped in history – chicken broth or 'Jewish penicillin' was considered a powerful remedy to fight a respiratory infection. This is due to many factors including the presence of the powerful immune boosting fat palmitoleic acid, found in the fat of the chicken. In Chinese medicine, bone broth is considered a potent digestive and blood tonic. I could write pages on the health benefits of bone broth, it is really THAT good. Today I'm going to focus on chicken broth though the many healing benefits are common to all meat-based stocks.
Sadly, with the advent of processed 'stocks' and stock cubes, bone broths have all but disappeared off the menu in most family homes. Unfortunately, these processed varieties yield none of the nourishment or healing qualities of the real thing. It's time to pull out your biggest pot and start simmering!
So why is real bone broth SO nourishing?
Well getting back to digestion, bone broth is not only a very rich source of many bio-available minerals (especially calcium and trace minerals), but it also contains other nutrients which repair the gut, further assisting digestion and all of the other important roles the gut plays.
It is a concentrated source of gelatin which is essential for repairing the gut wall. If you suffer from any digestive complaints, food sensitivities, allergies, mood disorder or suffer from an autoimmune condition – then you need to consume bone broths regularly. Gelatin is what makes the broth wobbly or congealed. The gelatinous consistency of your broth (when cold), lets you know you have succeeded in extracting the good stuff!
Bone broth also provides your body with a group of collagens known to maintain and promote joint function and repair. You would have heard of glucosamine and chondroitin perhaps, which are two of the many collagens found in bone broth. These collagens are not only plentiful in bone broth, but they are delivered in a form that your body is able to absorb and benefit from directly. It's much more beneficial and allot cheaper than supplementation.
In a last ditch attempt to get you consuming bone broths, I am going to appeal to your sense of vanity!  It is not only the joints that love and need collagen but the hair, skin and nails. Seeking everlasting youth? Then this may just be your answer.
As well as collagen and gelatin, bone broth contains the amino acid glycine. Your liver is reliant on the availability of glycine to break down toxins. Drinking bone broth is not only incredibly nourishing, healing and repairing but also detoxifying to your body.
Forget super foods from some far away place, bone broths tick all the boxes and at a fraction of the price.
The best part about making bone broths is that it's all the cheap cuts of the chicken, that give the best result. But just one word of warning. Use only the very best quality produce. You don't want to extract a heap of toxins from the bone, its counter productive. You may pay extra for organic varieties, but the cheap bits really aren't expensive at all. Investigate sourcing organic offcuts, I think you'll be surprised how affordable they are.
How to make it?
There are many ways to make bone broth but this is the way I find easiest and one I can incorporate into my routine:
Firstly, I buy a big organic chicken to roast for dinner. I roast up a storm and when I remove it from the oven, I collect any juices from the cavity (into a bowl).
Then once the flesh has been served up in a delicious meal, I take the stripped carcass and even all the bones left over on the plates (it doesn't matter if they are chewed up, they are going to be boiled) and throw them into the bowl with the reserved juices.
I put it in the fridge overnight and the next morning, place them in a big pot with a pack or two of other cheap cuts – think all the gross bits like necks, legs, feet, wings or more carcasses, vegetables, vinegar and simmer all day.
If I don't have time to make broth within a day or so, I freeze the cooked bones until I do have the time. I also often freeze the offcuts of vegetables like kale, broccoli and cauliflower stems, or any vegetable that has almost seen better days to throw into my next broth -waste not want not. FYI I throw it all in from frozen (it just takes longer to reach a boil).
Making broth is not a pretty process, but it couldn't be simpler (it literally takes me two minutes to get the vegetables chopped up and on the stove with the carcasses). I usually get this going as soon as I wake up so I can keep an eye on it until it starts to boil.  Once I'm happy it's simmering gently, I can forget it until dinner time. Like many of my other recipes, there are no rules and you can't possibly stuff this one up.
Bone Broth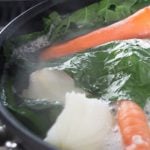 A delicious, versatile and necessary part of any healthy household.
Ingredients
2

organic chicken carcass

-leftover from a roast or you can buy them raw

700

g

organic wings, feet, necks or legs

-approx. (any gristly, boney bits)

2

carrot/s

(large) roughly chopped (no need to be delicate, just big hunks will do)

2

stick/s

celery

-roughly chopped (I often use the tops with the leaves stripped to reduce waste)

1

stem from the base of the broccoli and/or cauliflower,

-roughly chopped (again to reduce waste, plus there is lots of goodness in the stem)

1

onion/s

-peeled and quartered (omit if you are onion-free)

3

clove/s

garlic

-unpeeled and halved (omit if you are garlic-free)

1

tbsp

apple cider vinegar

-helps to extract the gelatin and minerals from the bone
Optional extras
1

tbsp

dulse flakes

-for extra minerals

Any herbs extra vegetables

-things like the stems of herbs or vegetables or any scraps can be thrown in. I keep the leaves of herbs for salads and garnishes and use the stems I would otherwise throw away in stocks. I also pick the leaves from my vegetable patch that are half eaten by caterpillars to add to the stock.
Method
Put all of the above into a big pot and add enough water to fill the pot. Bring to the boil, then cover and reduce the heat to a very low temperature so that the water is very gently simmering.

Simmer for 12-24 hours, with the lid on. The longer the better as more of the good stuff is extracted with time (I personally aim for 24 hours). If a bit of scum develops, just skim it off. I find with organic chicken this is minimal.

You may also need to add a little extra water to top the pot up once it's been cooking for a while.

Let it cool at room temperature, then strain off the solids. If there are any meaty bits you can pick them off and use them for lunch or dinner.

Season according to taste. I find a good amount of sea salt really transforms the flavour of broth.
Store
I fill different sized jars, glass pyrex containers and even ice cube trays with the broth and use for soups, casseroles, risotto or any other dishes needing stock. You can also freeze into silicon muffin trays for ¼ or ½ cup measures. The stock will keep in the fridge for up to a week, or can be frozen for up to 3 months.
Variations
Let food be thy medicine
Suffering from a digestive disorder, feeling run down or just plain down? Need nourishing? Then warm up a small cup of this wonderful tonic daily and attest to its amazing healing power. Healthy gut...healthy body and mind!
Tips
To develop a richer, fuller flavoured broth, cook off your bones for a few minutes before adding vegetables and water. This can be done on the stove top or throw them in the oven for 10 minutes.
I personably don't add lots of strong flavours to my broth like ginger in case I want to use it in say an Italian flavoured meal. 
For a real immune boost, see my recipe for my Asian Immune Boosting Broth.
I've dedicated a whole post to ways to use bone broth (besides soups and casseroles), lots of great ideas you'll find here.
If making broth with beef or lamb bone you will need to simmer it for much longer (24-48 hours) as the bigger the bones, the longer they need to extract the goodness. 
Do you love bone broth or do you have a question about this post?  Then post me a comment below, I'd love to hear from you.