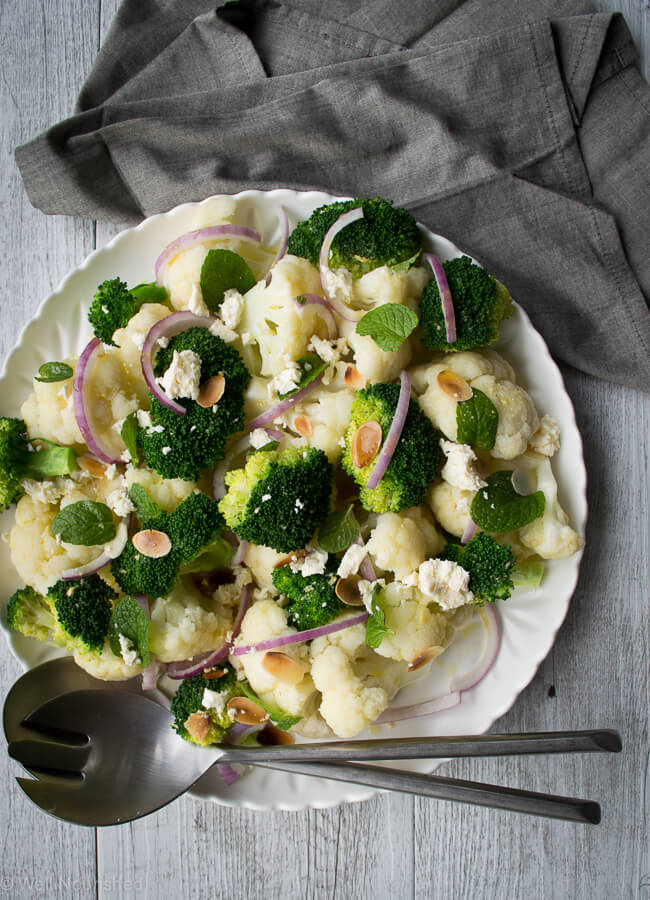 This nutritious, cauliflower, broccoli and lemon salad is the perfect accompaniment to meat, especially lamb or fish. The lemon dressing helps to cut through and freshen up the fat in the lamb. It also compliments fish. I love this because it is very simple to make, can be pre-prepared for dinner and it's great for entertaining a large group too.
What's so healthy about this easy to prepare salad?
Well, the phytochemicals in cruciferous vegetables are potent antioxidants and are known to prevent various types of cancer, as well as playing a role in the prevention of heart disease. They are also very nutritious, containing a multitude of vitamins and minerals. Almonds contribute health promoting minerals, protein, and good fats. The zest and lemon juice will support a healthy immune system. Another simple 'super' food recipe to compliment your meal.
The dressing, almonds, and feta are often enough to convert fussy children too. It takes boring old vegetables to another level!
Take a look at the variations (below the main recipe) for suggestions to alter the recipe to suit many specific dietary requirements.
For lots more sides and salad inspo, take a look at my hugely popular ebook ˜Well Nourished Sides and Salads'– where vegetables become the hero of the dish! It's great value at just $9.95, click HERE to take a look.
Cauliflower, broccoli and lemon salad
This is a delicious way to eat these supremely healthy vegetables - a great salad to preprepared when entertaining.
Ingredients
½

cauliflower

-washed and cut into small florets

½

broccoli

-washed and cut into small florets

1

red onion/s

-peeled, halved and sliced

40

g

flaked almonds

(

½

cup) toasted

100

g

feta cheese

(Persian or danish is best)
Dressing
1

lemon/s

-zest and juice

60

ml

olive oil

(

¼

cup) extra virgin

1

tsp

dijon mustard

-this makes it creamy, not spicy

Sea salt and freshly ground black pepper

- to taste
Optional extras
½

bunch/s

fresh mint leaves

( lovely with lamb especially)

½

bunch/s

fresh parsley leaves

-for a green iron boost
Method
Steam the cauliflower and broccoli until they just start to cook, about 2 minutes over boiling water (they should still be a little crunchy).

Remove from the heat and refresh by running under cold water (this stops them from continuing to cook).

Drain well and place in a salad bowl.

Mix all the ingredients for the dressing together and set aside.

Add the almonds, onion and feta and dress just prior to serving.
Store
Store in an airtight container in the fridge.

If there is any extra dressing, pop it in a jar in the fridge for another salad.
Variations
Dairy-free and vegan
Omit the feta.
Nut-free
Replace the almonds with pumpkin or sunflower seeds.
Onion-free
Replace with spring onion or 5 radish, thinly sliced.
Do you want more recipes like this one? Please comment so I know what information or recipes you need to become Well Nourished!