I think it's wonderful how food memories are formed – I have many but one of my most vivid is for Chai Tea Latte (the fancy 'cafe' name) given to India's national beverage – Masala Chai, or just Chai.
My husband and I spent over 6 months living in our most favourite country (besides Australia of course) and definitely sampled our fair share of Chai. Almost every town we visited claimed 'the best chai in India' – though some of the best we had were from the chai wallah pacing the length of the trains (at all hours) with an urn on his head crying 'chaiiiiyyyy, chaiiiyyyy….' over and over. It was almost always sold in a small terracotta cup which when done, you threw out of the train window or smashed on the pathway (not a takeaway or foam cup in sight).
Like coffee, there was good and the not so good. Some chai brews were SO sweet that my husband called them 'hot soft drink'.
The origins of Chai tea is steeped in Indian history and the ancient medicinal philosophy of Ayurveda. So traditionally, each family would have their own recipe based on the constitutions of family members. The blend of spices contains medicinal and healing properties such as relaxing the digestive tract, elevating the metabolism, and increasing waste and toxin excretion.
So on my stove top, far removed from the most fascinating and diverse country I have ever visited, I thought I'd introduce you to my recipe for a delicious, healing chai – and one of my most favourite hot drinks. This is a far cry from a chai tea bag or the flavoured syrups used in coffee shops in Australia – way more delicious and actually healing. It is also something my kids really love and something I believe helps to keep us well through winter.
Why is it healthy?
The spices are all wonderfully supportive to digestion and the respiratory tract so perfect for winter sickness:
Cloves – anti-oxidant, anti-inflammatory, anti-parasitic, calming and soothing to the gut and lungs
Cinnamon – anti-oxidant, anti-inflammatory, anti-microbial, improves circulation, balances blood-sugar levels
Cardamon – anti-oxidant, anti-inflammatory, anti-microbial, improves circulation, calming and soothing to the gut
Ginger – improves circulation, anti-inflammatory especially to the gut, respiratory and muscular-skeletal systems
Turmeric – powerful anti-oxidant, anti-inflammatory, anti-microbial and supports liver function (and, therefore, digestion)
Coconut oil – anti-microbial and offers immune support. It also helps to support the assimilation of the fat-soluble nutrients in the spices.
Vanilla –  anti-oxidant and anti-inflammatory
Take a look at the variations (below the main recipe) for suggestions to alter the recipe to suit your specific dietary requirements.
Immune Supportive Chai Tea Latte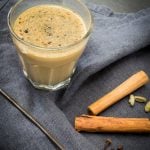 I love Chai Tea and nothing compares to 'real' fresh brewed chai. This immune supportive recipe is easy to make and super delicious.
Ingredients
250

ml

milk

(

1

cup) of your choice (half milk half coconut water is yum too)

2

clove/s

½

cinnamon quill

3

cardamom pods

-bruised by pressing with a knife or fork handle

2

slices

ginger root

1

tea bag

-fair-trade black, white or green tea or rooibos tea for caffeine-free*

¼

tsp

ground turmeric

(or a slice of fresh root if you have it, optional but strongly recommended

1

tsp

coconut oil

- or ghee (optional)

½

tsp

vanilla

- powder, extract or essence (optional)

1

tsp

rice malt syrup or honey

- to taste

*Rooibos tea is available from the tea aisle of supermarkets or health food stores. It is what I chose mostly (I'm a bit caffeine sensitive), always my choice for my kids.
Method
In a small pot, place your milk, cloves, cinnamon stick, cardamom pods and ginger and bring to a very low simmer for 5 minutes. If you are using the fresh root of turmeric, add this now too.

Add the tea bag and continue to simmer very gently for a few more minutes.

I just use a spoon to hold the solids aside as I pour the delicious liquid into a cup to enjoy.

Sweeten to taste and mix in the optional turmeric powder, coconut oil, ghee and vanilla powder.
Variations
Dairy-free and vegan
Substitute the milk for either almond milk (home made is best, otherwise choose a vegetable oil and sugar-free brand). You could also use a mix of almond milk and coconut milk for a creamier chai.
Fructose-friendly
Sweeten with rice malt syrup.
Coconut-free
Replace the coconut oil with ghee or just leave it out.
How do you like my real chai? Post a comment or rate this recipe.