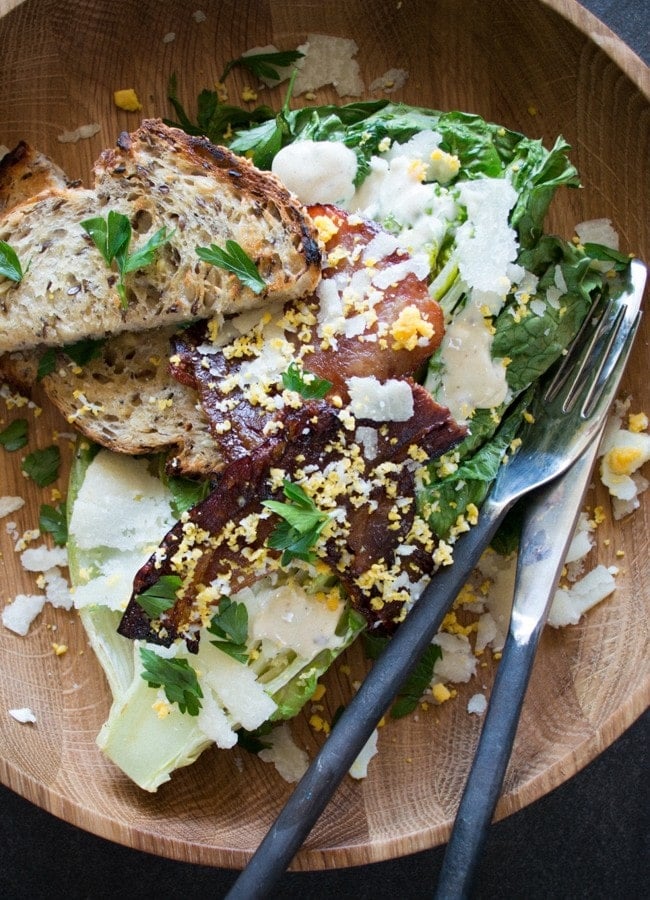 My husband used to work as a waiter in Melbourne many years ago. It's where he developed his passion for good food. Since I first met him, he has reminisced and raved about a chargrilled Caesar Salad that one of the restaurants used to serve. With my lettuce patch in full yield, this is the perfect time of year for me to have a go at recreating this delicious salad.
The end result was well received and my 6-year-old son rated it as his new 'favourite' – so I guess I'll be making this again over winter.
Whilst the processes in this recipe are a little more fiddly than my standard fare, it is anything but tricky to make. As usual, I've accommodated various dietary requirements including a vegetarian variation.
Until then… A chargrilled Caesar Salad with Maple Bacon
Take a look at the variations (below the main recipe) for suggestions to alter the recipe to suit many specific dietary requirements.
Chargrilled Caesar Salad with maple bacon
This is my absolute favourite version of a caesar salad. The flavours are just stunning and it's surprisingly easy to make.
Ingredients
8

rasher/s

bacon

85

g

maple syrup

(

¼

cup)

2

piece/s

sourdough

55

g

butter or olive oil

(

¼

cup approx.)

1

clove/s

garlic

-peeled and left whole

2

baby cos lettuce

40

g

parmesan cheese

(

¼

cup) shaved

¼

bunch/s

fresh parsley leaves

-to serve

2

free-range or organic egg/s

-hard boiled to serve (optional)
Dressing
115

g

whole egg mayonnaise

(

½

cup)

2

tbsp

lemon juice

1

clove/s

garlic

-crushed

1

tsp

Worcestershire sauce

1

tsp

dijon mustard

3

anchovy fillets

-finely diced (see notes below if you don't like them)

Ground black pepper

-to taste
Method
Preheat your oven to 220ºC/430°F.

Line a baking tray with baking paper. Place the maple syrup in a bowl and coat each rasher of bacon in the syrup and lay them in the tray so that the don't overlap. Bake in the oven for 20-25 minutes, turning after 15 minutes. Keep an eye on the bacon to make sure it crisps but does not burn. Once cooked carefully remove the bacon onto a plate and pop in the fridge to harden.

Meanwhile, preheat a chargrill pan or BBQ plate. Butter the sourdough on both sides. Wash and shake dry the cos lettuce removing any brown or damaged outer leaves. Cut the cos lengthways in half and brush the cut side with a little olive oil.

Prepare your dressing by mixing all of the ingredients together well. I'm not overly fond of anchovies, but in this dressing, they just add a wonderful hit of saltiness and no fishiness at all. If you just can't bring yourself to use them, add some sea salt instead.

Once you grill is heated begin by charing the sourdough until toasted and then rub with the peeled clove of garlic. Cut into a wedge to serve. Next, char the cos for a minute, not to cook, rather impart a charred flavour.

Assemble by placing the cos on a plate charred side up. Drizzle over the dressing and top with the maple bacon, sourdough garlic crouton, shaved parmesan, parsley and grate the boiled egg over the top (optional). Serve with a sharp (even a steak) knife so it can be chopped up to combine all of these divine flavours.
Optional extras
I love this salad with cherry tomatoes and slices of avocado. You can turn this into a meal by adding grilled chicken or salmon.
Variations
Gluten-free
Omit the Worcestershire sauce in the dressing and serve with gluten-free bread.
Dairy-free
Omit the parmesan, replace it with ¼ cup  ground macadamia nuts mixed with a tablespoon of nutritional yeast and a good pinch of sea salt. Use olive oil on the bread. 
Vegetarian
Replace the bacon with Nori sheets, finely sliced and grilled tempeh. Replace the anchovies with a good pinch of sea salt. 
Low-fructose
Candy the bacon with rice malt syrup instead of maple syrup.
Egg-free
Check out this egg free mayo here and omit the grated egg.
Garlic-free
Omit the garlic, there are enough lovely flavours for it not to be missed.
Seafood-free
Replace the anchovies with a good pinch of sea salt. 
Once you've eaten this, you will struggle to eat your standard Caesar Salad ever again.  I think this is a stunning starter when entertaining or a great weekend lunch.
For lots more sides and salad inspo, take a look at my hugely popular ebook ˜Well Nourished Sides and Salads'- where vegetables become the hero of the dish!
It's great value at just $9.95, click HERE to take a look.
Who loves a Caesar Salad?  Love to hear your thoughts on this one, post comment below...