This healthy raw chocolate slice recipe is SO rich, delicious and such a simple nourishing, thing to make. They make a wonderful, easy after school snack or weekend sweet treat for those that can tolerate nuts (or a late night chocolate fix)!
Health benefits
The almonds provide mood and energy elevating proteins, minerals and fats. The coconut and oil are amazing for the brain, immune and metabolic health. This is a whole food treat that is very satisfying and tastes amazing!
Take a look at the variations (below the main recipe) for suggestions to alter the recipe to suit your specific dietary requirements.
If you're looking to save money across pantry items such as nuts, seeds, flours and more, I personally shop at The Wholefood Collective – great whole foods at heavily discounted prices (all home delivered), click HERE to check them out.
Healthy Chocolate, Almond and Coconut bars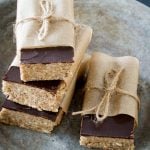 One of my all time favourite chocolate-y treats these Healthy Chocolate, Almond and Coconut bars are easy to make, nutritious and delicious.
Ingredients
300

g

almond meal

(

2½

firmly packed cups)

80

g

desiccated coconut

(

1

cup approx.) or shredded

130

g

nut butter

(

½

cup) I like the ABC nut spread

4

tbsp

rice malt syrup, honey or maple syrup

-adjust the amount to make these more, or less sweet to suit your taste

100

g

coconut oil

(

½

cup)

1

tbsp

vanilla

1

tbsp

coconut flour

100

g

dark chocolate

-melted
Method
Mix all ingredients (except the chocolate) together in a food processor/mixer until well combined and forming a rough paste.

If you have a Thermomix - mix 30 seconds, speed 4.

Pour into a slice tin lined with baking paper.

Refrigerate until set (about an hour).

Once set, melt the chocolate in a bowl placed over a pot of simmering water, stirring continually. Spread evenly with a spatula over the almond mix and refrigerate again until the chocolate is just set (10 minutes). You an also melt chocolate in the thermomix (see basic cookbook for directions).

Remove from the tin and slice into small bars.

Remember to keep these in the fridge or freezer. As with any raw coconut oil based product, they'll melt if not kept cold!
Store
Store in an airtight container in the fridge.
Variations
Low-fructose and dairy-free or vegan
Choose rice malt syrup for your sweetener for low fructose. Even though the 85% chocolate is very low in fructose, you may like to make some dairy-free raw chocolate for the top. Here is the recipe.
Nutella like
Swap the almonds for ground hazelnuts and use hazelnut butter for a match made in heaven.
Want something grainy and nut free? Check out my No Bake Muesli Bar here, or my biscuity Healthy Chocolate Coconut Slice, here.
Nut-free
This is not the recipe for you. For 150 pages of nut-free recipes, take a look at my super popular ebook 'The Well Nourished Lunchbox'. Click HERE to find out more and read the rave reviews.
These are so divine. I'd love you to try them then tell me what you think by posting a comment.