This is a high fibre, protein rich, sustaining start to the day. It takes minutes to make so there is no reason at all to buy the heavily processed, nutritionally void varieties of breakfast drinks I have written about here.
If the convenience of a boxed drink is necessary, why not serve it in a sipper cup with a stainless steel straw. Same same but actually good for you!
Health benefits
Avocado is a fibre rich source of potassium and healthy monounsaturated fat (amongst many other things). It's anti-inflammatory and supports heart, brain, and eye health. The nuts and seeds contribute more fibre, protein, and good fats. The cacao is a source of health-giving antioxidants. The natural yogurt is important for digestive health and a good quality cow's milk contributes protein and many important fat-soluble vitamins and minerals. For more about the health benefits and best choices in yoghurt click here.
Take a look at the variations (below the main recipe) for suggestions to alter the recipe to suit your specific dietary requirements.
If you're looking to save money across pantry items such as nuts, seeds, flours and nut meals, I personally shop at The Wholefood Collective – great whole foods at heavily discounted prices (all home delivered), click HERE to take a look.
Chocolate Breakfast Smoothie (that will really get you up and on the go)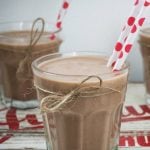 A quick, easy to make and super nutritious Chocolate breakfast (or anytime) drink.
Ingredients
2

tablespoons

raw cacao powder (or Dutch process cocoa)

½

avocado,

flesh scooped out

1

cup

full-fat organic cows milk (or milk of your choice)

¼

cup

full-fat natural or Greek yogurt

2

tablespoons

LSA, almond or hazelnut meal

2 - 3

tablespoons

rice malt syrup or real maple syrup,

or more or less to taste
Method
Simply place all of the ingredients in a powerful blender and blend until smooth and creamy.

Serve over ice. Can't be more simple than that!
Variations
Low-fructose
Sweeten with rice malt syrup.
Nut -free
Replace the ground nuts with ground flax (linseed).
Dairy-free and vegan
Replace the milk with a sugar-free nut milk, rice milk, coconut milk or coconut water. Replace the yoghurt with coconut yoghurt.
Add Protein
I often add a scoop of 180 Nutrition Superfood Protein powder (coconut flavour). They have both a whey protein and vegan (dairy-free) options. Shop for it HERE.
Increase the fibre
Add 2 tablespoons of oatmeal, rolled quinoa or soaked chia seeds (for gluten free).
Different flavour
Replace the cacao with the flavour you want. Banana, strawberry...the limit is your imagination.
Is this a winner in your home?  Let me know by posting a comment.