Most mornings, my 7yr old son (the most laid back individual in the world and not particularly partial to anything to domesticated), makes the family a smoothie. Usually, he sticks to favourite combinations like berry, spinach, banana or pineapple, spinach, lime and mint; but occasionally, with a little guidance he likes to get creative.
My only stipulation with the morning smoothie is that it has a little veg in it (and he usually picks spinach or avocado). But one day recently he decided that we should try beetroot in the smoothie. A few weeks on, we've been fine-tuning this recipe and I think we've got to the really delicious stage, worthy of officially sharing.
Health benefits
Beetroot is an anti-inflammatory, antioxidant, detoxifying and extremely nutrient rich vegetable. Research suggests it improves stamina and sports performance (this fact alone appeals to my sport loving kids). The coconut water is rehydrating and the nut butter a great source of protein.
Coco-beet Berry Smoothie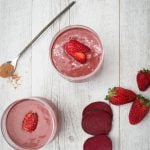 This Coco-beet Berry Smoothie is a delicious way to include the super nourishing vegetable beetroot into your day. Try it, you won't be disappointed.
Ingredients
1

cup

frozen strawberries or raspberries

(or a mix)

2

tablespoons

cacao powder

2

tablespoons

of peanut butter

(or any other nut butter)

1-2

tablespoons

sweetener

(rice malt syrup or maple syrup)

½

small raw beetroot,

peeled and diced

1

cup

of coconut water

(or Coco Quench)
Method
Blend together in a high powered blender until smooth.

Enjoy as part of a very healthy breakfast or snack.
Variations
Low-fructose
Choose rice malt syrup as our sweetener.
Add Protein
I often add a scoop of 180 Nutrition Superfood Protein powder (coconut flavour). They have both a whey protein and vegan (dairy-free) options. Shop for it HERE.
I'd love to hear how you like this veggie boosted smoothie. Post a comment to let me know.