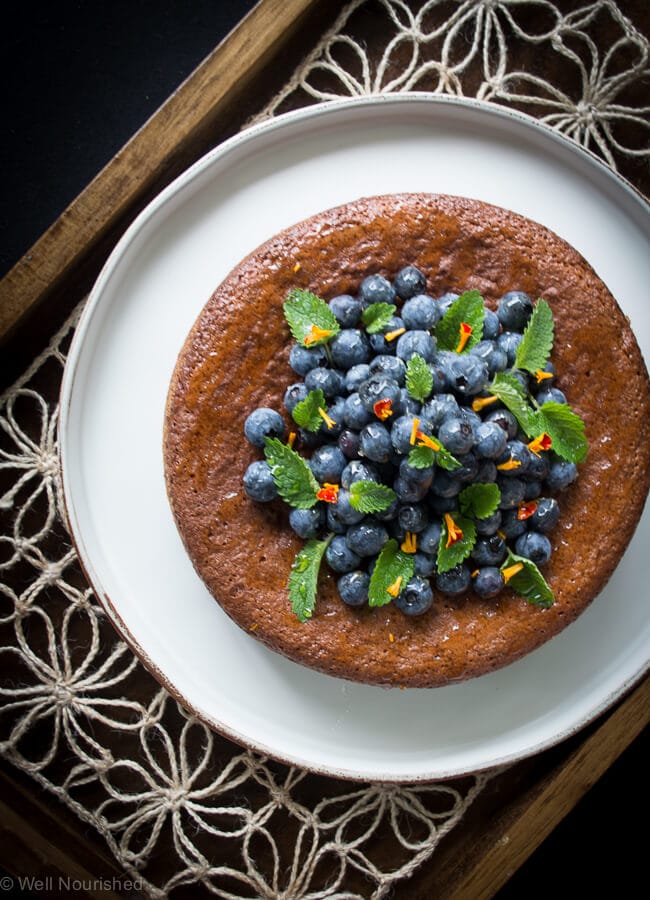 During school holidays, I tend to bake a few more nut based recipes. This is an easy, healthy cake recipe that I just keep coming back to – one because it is so delicious and two because it is so versatile (vanilla one day, citrus or chocolate the next). I'm so excited to share this one because I know it is going to become a firm Well Nourished recipe favourite.
Due to popular request, I've also included a Thermomix method (my first time combining the two), which I'll do my best to continue to do with future recipes.
Health benefits
This is one sustaining, protein rich cake. Almonds are a rich source of monounsaturated fats, many fat-soluble vitamins and a plethora of minerals. They are a very concentrated source of many health giving Phyto (plant) chemicals and are also a great protein source.
Take a look at the variations (below the main recipe) for suggestions to alter the recipe to suit many specific dietary requirements.
Easy, Healthy Cake Recipe (with lots of flavour variations)
This is one of the most versatile, delicious 'healthy' cakes ever. It's easy to make and the variations on this cake are endless. Check out my suggestions at the end of the recipe.
Ingredients
170

g

almond meal

(

1¾

cup loosely packed) 

170

g

rice malt syrup, honey or maple syrup

(

½

cup)

4

free-range or organic egg/s

(large) at room temperature and carefully separated

½

tsp

bicarbonate of soda

½

tsp

sea salt

1

tsp

vanilla

-powder, extract or essence

½

tsp

cream of tartar
Method
Preheat your oven to 180°C/350°F (fan-forced). Grease a 23cm springform round cake tin well.  Shake a little almond meal over the base and sides too to if you like to make it really non-stick.

In a food processor mix the almond meal, sweetener of choice, egg yolks, bicarbonate of soda, sea salt, and vanilla until well combined (Thermomix 30 seconds, speed 4). Set aside in a large mixing bowl.

In a clean and a completely dry food processor or bowl, whisk your egg whites. You are wanting to form strong peaks (like for a meringue).  I generally do this by whisking it until it becomes foamy (Thermomix butterfly inserted, 20 seconds, speed 3).  Then add the cream of tartar and mix until peaks form (Thermomix butterfly inserted, 1½ minutes approx., speed 4).  Stop beating as soon as strong white peaks form.

Gently fold half of the egg white into the almond batter. Fold in the remaining egg white and pop in the oven for 20-25 minutes or until cooked in the middle.

Remove the outer ring from the tin and allow to cool before removing the base.
Tip
Personally, I'm generally a throw it all in kind of baker. But by separating the egg white, you will achieve a much lighter cake. So I believe it is worth a little extra effort to beat the egg white. If you do have an egg white disaster or can't be bothered, you will just have a heavier, but still delicious cake.
Serve
With double cream or sour cream

With full-fat natural or unsweetened Greek yoghurt

For dairy free, serve with coconut yoghurt or cashew nut cream
Store
Store in an airtight container in the pantry, fridge or freezer.
Variations
Low-fructose
Choose rice malt syrup as your sweetener.
Citrus cake
Add the zest of 2-3 oranges, lemons or lime to infuse that flavour into the cake.  Once the cake is cooked, mix ¼ cup of juice with ¼ cup of sweetener over a low heat until combined.  Pierce the top of the cake with a skewer a few times and drizzle over the syrup.
Tea cake
Brush the top of the warm cake with melted butter or coconut oil and top with a spice/sugar mix (equal parts of mixed spice and coconut sugar)
Syrup cake
Warm the sweetener of your choice and brush over the cake whilst still warm.  Feel free to get creative and infuse it with and herbs or spices you like.  I often heat the syrup with a few leaves of lemon balm or lemon myrtle from my garden and serve topped with berries and syrup (as pictured).
Chocolate cake
Add a tablespoon of raw cacao to the almond meal batter.
Almond-free
Replace the almonds with hazelnut meal.
As I test other flavour combos I will add to the variations above.  Do you like this cake? Be sure to let me know by posting a comment below. I love hearing from you!