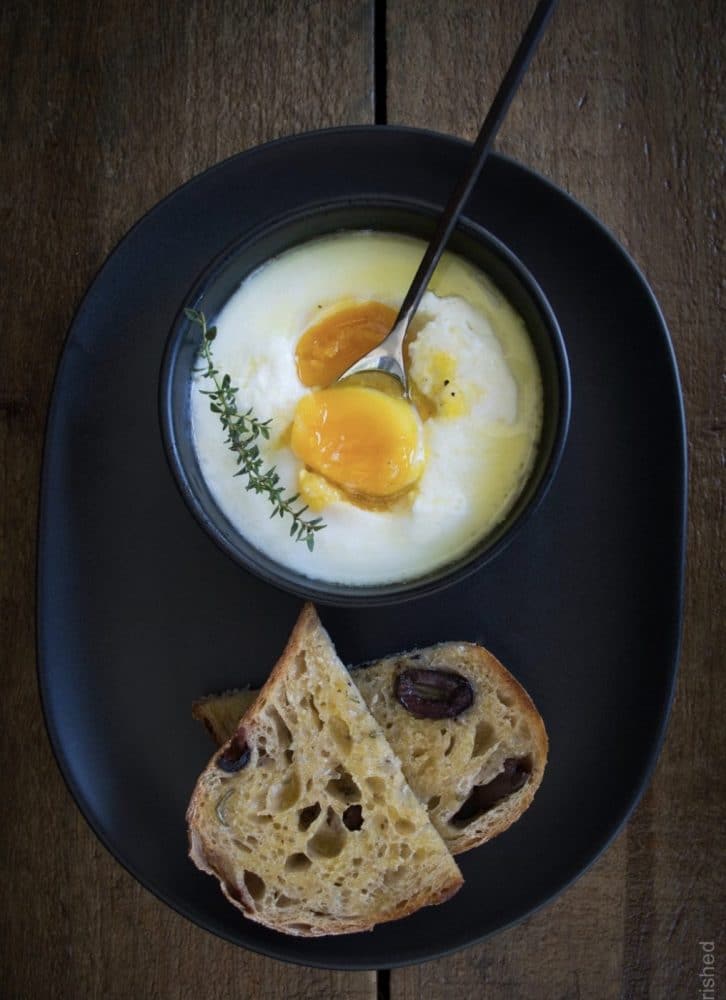 I was planning to start posting next week, but with Mothers Day approaching I can't help but share my favourite breakfast with all you wonderful, inspirational mums out there. I am in awe of you all, and I hope you are celebrated as you so deserve this Sunday.
Also a very happy Happy Mothers Day to my own mumma. I wish I could make this for you today!
This nourishing breakfast is a simple, healthy, sensational way to serve eggs. I'm sure the kids and your other half will have no trouble whipping it up. If you are over poached or boiled eggs, then this is for you. Also, if you are not confident poaching eggs then give this a try, it's so easy.
Personally, I think it doesn't get any better than these Eggs, Feta, Lemon Oil. My kids love dunking soldiers into the runny yolks (actually, so do I)! I hope you love this eggy delight.
h
Take a look at the variations (below the main recipe) for suggestions to alter the recipe to suit your specific dietary requirements.
If you're after more breakfast inspiration you can't go past my ebook 'Rise and Shine – A Well Nourished Breakfast' – 25 delicious, easy and versatile recipes that each take 5-10 minutes to make – yes, in the real world! Find out more HERE.
Eggs, lemon, feta
A delicious and easy to make breakfast - these Eggs, feta, lemon oil are really tasty alternative to poached eggs.
Ingredients
Ingredients per serve-
2

free-range or organic egg/s

1

tbsp

feta cheese

1

tsp

lemon-infused olive oil

-I like Cobram Estate lemon infused EVO at supermarkets everywhere

Sea salt and freshly ground black pepper

-to taste
Serve
Toast (to serve)

optional
Method
Grease a small ceramic or glass bowl (I use a ramekin) with a drizzle of lemon oil, then carefully crack the eggs side by side into it. Top with the crumbled feta and a little seasoning.

Put a few centimetres of water in a large deep fry pan (or pot). Place the bowls or ramekins into the water bath. You want the water level about half way up the ramekin (no higher).

Put the lid on the pan and place over a high heat to bring the water to the boil. Once the water starts to boil, steam for around 4-5 minutes, or until the eggs are cooked to your liking. They will rattle around a little as they boil. Please keep checking the eggs, especially if you like them a little runny. The cooking time can vary by a minute or two depending upon the size of the eggs and whether they are at room temperature or not.

If you have a steam oven, you can simply place them on a tray and steam them in the oven.

Remove from the water bath (with a tea towel – you may need to spell this out to your fella if he's new to the kitchen). Drizzle with the lemon olive oil and serve immediately with a piece of crusty sourdough.
Ideas for sides
Try one or more of these healthy sides for extra nourishment:

Leaves, simply dressed with lemon olive oil and seasoned. I love a little salad with breakfast.

Mushrooms, sliced and cooked in a pot over a moderate heat with a clove of crushed garlic, salt and pepper, a few sprigs of fresh thyme leaves (or a tablespoon of dried) and about 20gram of butter or ghee.

Sautéed kale or spinach leaves over a low heat, with a clove of crushed garlic and a tablespoon of coconut oil or butter. Season and serve.

Sliced avocado with a squeeze of lemon juice and well seasoned.

Tomatoes and basil, all chopped up and mixed with a good splash of olive oil, a little drizzle of red wine vinegar and seasoned well.

Tomatoes, halved, seasoned and sprinkled with dried oregano then grilled in the frying pan or baked under the grill until brown on top. A slice of cheese on top is also lovely.

Crispy free range bacon.
Variations
Dairy-free
Forget the feta or use a vegan cheese. You can top with toasted seeds instead if you like too.
Gluten-free
Serve with gluten free bread or toast.
Grain-free
Forget the toast and add a side or two.
Don't have lemon oil
Mix a little lemon zest into extra virgin olive oil and drizzle away.
Don't have feta
Don't worry, just leave it off. It's still good.
This is also great for brunch, lunch or a super fast dinner! I'd love to receive your feedback!  Post a comment and let me know what you think of this recipe.