Make Healthy Meals The Whole Family Will Love, Easy
without blowing your budget, wasting food, or spending hours in the kitchen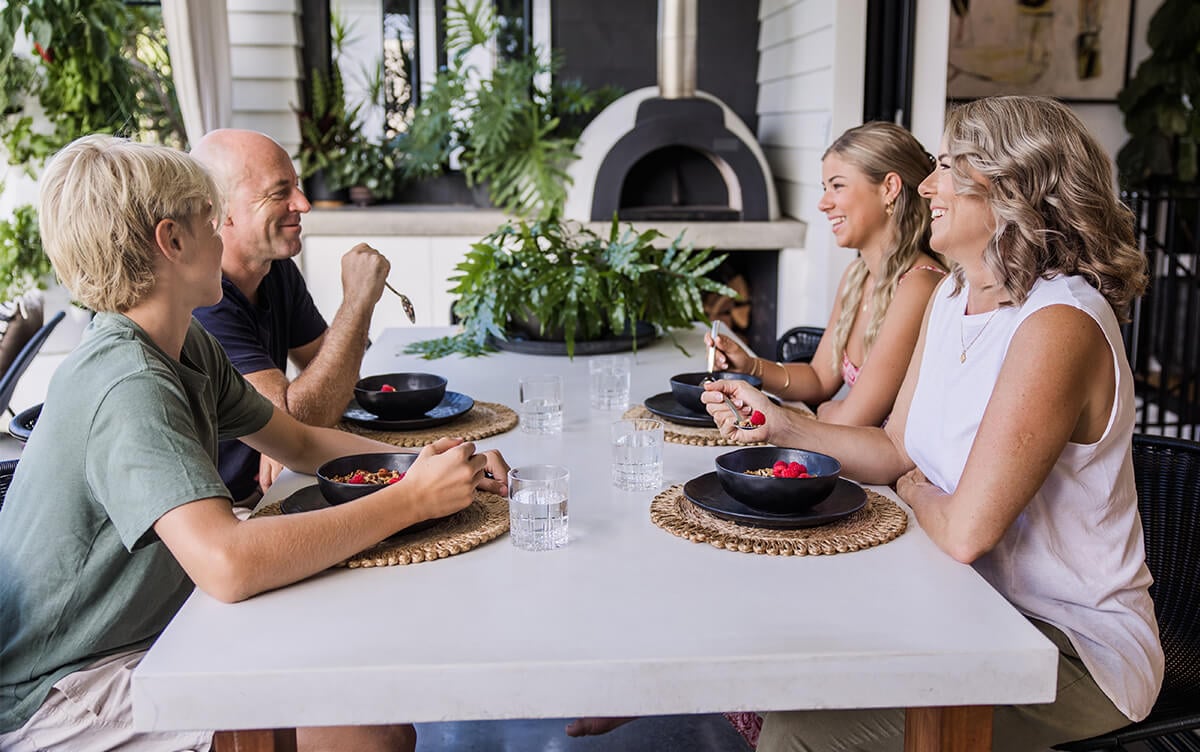 The Well Nourished Family is a supportive membership for busy parents who want help and inspiration to feed their families well, consistently.
What's included?
600+ recipes pressure tested by real families.
Meal planning based on diet, seasons and more.
Weekly shopping list conveniently organised by supermarket section.
Private supportive online community.
An App for easy planning and shopping on the go.
Wellness plans, masterclasses, members offers and so much more.
Let's get into the details
Take a peek inside
What you'll get inside the Family
Weekly seasonal meal plans.
Meal plans for special events like camping, BBQs and holidays.
Guides to using leftovers, substituting ingredients and saving time in the kitchen.
Healthy lunchbox prep plans.
Wellness plans to support immunity, lose weight sustainably, nourish postpartum and more.
Members-only discounts and special offers with partner stores.
New meal plans and recipes every week.
Expert advice on raising healthy kids.
Hello, I'm Georgia Harding,
the heart, soul and mind behind Well Nourished, a culmination of a life long love of creating meals from delicious, whole foods, along with my 20+ years in clinical practice as a naturopath, lecturing students and presenting on talk back radio.

When it comes to food, there's not much I haven't explored — Like many teenagers, I jumped with relish into my drunk and junk phase – that was the 80s. The 90's version of me was all about being vegan, vegetarian, and food combining, to name a few. The next decade became a real challenge when I not only had to feed myself but two hungry kids and a husband.

It was at this point I started to re-examine the fundamentals of eating, nutrition and health. These days, consuming a wide variety of fresh, whole food and delicious moments shared with family and friends is my food focus.

Through my own health challenges, I've lived and learned. In my lifetime, I've successfully overcome a childhood cardiac disorder and recovered from an autoimmune thyroid disease (Graves) as an adult. These experiences have shaped my commitment to wellness. I currently live a very well balanced life, blessed with good health and abundance. I try to never take this for granted.

I'd love to support you to develop sustainable habits that help you cook and eat well for many years to come (and hopefully pass those habits onto your family, too).
Wondering why we have a waitlist?
More than just a meal planning app, the Well Nourished Family is an engaged community, and when the doors are closed our team is busy answering member questions, offering support and sharing suggestions.
We only open the doors 2 times a year so we can focus on personalised support for all our members, new and existing.
Invest in your health
When we open the doors again, we offer two investment options:
Monthly Membership is $35 / month
No lock-ins – No contracts.
Yearly Membership is $350 / year and
get 2 months FREE.
We offer a 30-day money-back guarantee, so you can try risk-free. We're that confident you'll love it!
What our Members say
Frequently Asked Questions
The family budget is pretty tight right now. how can I justify spending money on this when I could be buying more organic veggies instead?
The truth is, we're not here to tell you how to spend your money. But ask yourself this: how much money (and time and stress) would you save if you had access to a pre-prepared, nutritionally balanced meal plan and shopping list every single week – all for less than the price of a couple of coffees?

How much money would you save on buying ingredients that are often forgotten in the back of the fridge because you bought them on a whim rather than with a specific meal in mind?

How much money would you save on snacks and lunches if you had an easy way to plan and prepare for these as well?

And most importantly, how much money would you save on health and medical expenses? Georgia knows from her many years as a naturopath that more focus on and consistency with healthy food choices means less $$ on doctors' visits and time away from work and school due to illness.
I have a big/small family (or no kids), will this work for me?
Absolutely! Georgia has designed this membership to make sure that you can create healthy, nourishing meals – no matter the size of your family.

You might've been burnt before by meal plans or meal delivery services claiming they can accommodate your family size, only to find you've got no leftovers for lunch and no plan for breakfasts or snacks.

That's why all the meal plans can be modified and customised to suit you and your family's needs. The recipe (and shopping list) quantities will automatically update depending on the number of servings you specify. It's that simple!

We have quite a few singles, couples and even grandparents loving the 'family' membership. The Well Nourished Family is that adaptable!
How is this different from just Googling or searching Pinterest?
There are lots of great recipes online, but it's hard to know if any given recipe will work, be fast & easy or enjoyed by the whole family.

With Well Nourished recipes, you can be assured that each one is developed by a Naturopath, and stress-tested to make sure that it's easy to make, healthy, delicious and kid-approved. Each week we add new recipes to the growing collection so you will never run out of inspiration.

Plus, the Membership is designed to save you time with pre-made meal plans (or you can customise your own) so you spend less time searching for recipes and meal planning and more time out of the kitchen!
Am i locked into a contract? is it a payment plan?
There is no lock-in contract. The Well Nourished Family is an ongoing membership for AU$35 a month, or you can pay for the full year in advance (AU$350) and get two months free.

Our 30-day guarantee means you can jump into the Well Nourished Family membership and try everything out for one month – and if you find it's not for you, that's no drama. Just email our team and we'll refund your fee paid (monthly or annual), no questions.

And if you're an ongoing member, you can cancel at any time – there are no sticky contracts here! Refunds for monthly memberships are not given outside the first 30 days but you can opt-out at any time.

Importantly when you join The Family your membership will remain the same for the lifetime of your membership. That means no matter what changes we make, value we add, or price increases that will inevitably happen over time, as long as you remain a member you will always pay the price paid at sign up ($35/month – or $350/year for annual membership).
Why Do You Have a Waitlist?
More than just a meal planning app, the Well Nourished Family is an engaged community, and when the doors are closed our team is busy answering member questions, offering support and sharing suggestions.

We only open the doors 2 times a year so we can focus on personalised support for all our members, new and existing.