Food and food culture really fascinates me. I believe the very best thing about traveling or meeting people from different cultures is becoming more informed about their way of life and of course, exploring their traditional food.
Every country or community's unique cuisine reflects its distinct history, lifestyle, values, and beliefs. I just love how traditional cuisine is passed down from one generation to the next and how it operates as an expression of cultural identity.
So with Ramadan beginning today, I've asked my friend Souad to share what Ramadan is, as well as a recipe for Fatteh (pita with chickpeas and yoghurt) – a divine meal that features on her table regularly. Trust me, Fatteh is so delicious and will absolutely become a regular on my own table  – my whole family loved it, it's SO easy to make and definitely proves that the simple things in life, are often he best.
What is Ramadan?
Fasting during the month of 'Ramadan' is one of the five pillars of the Islamic faith. Ramadan is in the ninth and most sacred month of the Islamic Lunar Calendar. The fasting of Ramadan is obligatory for every healthy person and takes place from sunrise until sunset. However young children, the elderly, travellers, pregnant women and people in poor health are amongst those that are exempted from fasting.
The foods of fasting and Ramadan
During Ramadan, Muslims fast by waking up very early (known as the 'Suhoor') and eating a pre-dawn meal to help sustain their mind and body throughout the day. Suhoor should be nutrient dense, yet not too heavy and contain a combination of high quality protein, fibre-rich food, hydrating vegetables and good sources of fat; in addition they also consume water and or tea (preferably herbal). Food choices do vary from culture to culture. Foods eaten can include dates, eggs, traditional soups with choice of protein, oatmeal, a variety of homemade dairy products (labne, shanglish) with bread, olives, cucumber and tomatoes. Once the sun rises, the fasting Muslim is not allowed to consume any food or water until sunset. 
'Iftar' time (breaking of the fast) occurs at sunset, where it is customary to break the fast with dates and water as this helps to restore sugar and salt levels and rehydrates the body. Then Muslims pray the 'Megreb prayer' and then return to the dinner table to have their meal.
The types of food served vary by region. However mostly, families start with a simple soup, then move onto grazing the table with a variety of dishes ranging from casseroles, rice and legumes, salads and vegetables and of course meat/chicken/seafood. The fasting Muslim can continue to eat and drink until sun rise. It is highly encouraged to be more conscious and wary of what and how much you eat, focusing more on eating small amounts of healthy, wholesome, hearty foods and abstaining from processed and sugary foods, maintaining control and not over indulging. And to importantly, stay hydrated!
More than just fasting…
Throughout this month, a Muslim must do his utmost to refrain from negative behaviour, like swearing, lying etc and increase good behaviours. This is to help the Muslim build spiritual character and personal awareness by increasing charitable deeds, attending congregational prayers and maintaining ties with family, friends and neighbours.
End of fasting…
Ramadan comes to an end at the sighting of the crescent moon which indicates a new month. It is then, Muslims celebrate with a feast called 'Eid-al-Fitr.' This lasts for three days and is filled with family and community activities, gifts for the children and plenty of eating.    
I really enjoyed putting this post together, thanks so much to Souad for sharing this valuable insight into Ramadan and her recipe for Fatteh, such a fabulous, delicious meal.
Take a look at the variations (below the main recipe) for suggestions to alter the recipe to suit your specific dietary requirements (some are Souad's variations as one of her children is dairy-free, others are mine because I can't help myself and want everyone to try this recipe).
Fatteh (pita with chickpeas and yoghurt)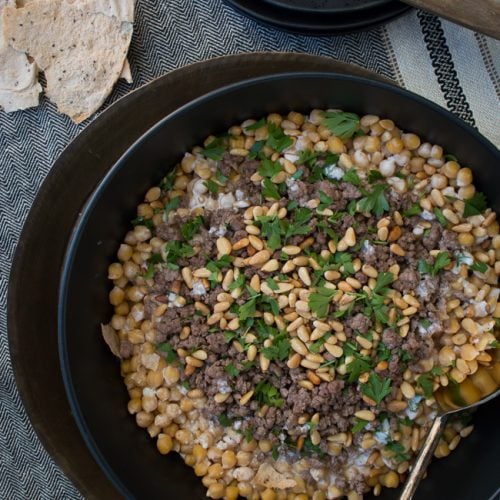 This is a traditional Middle Eastern dish with many variations depending on each cultural preference. It's always served in one big serving plate amongst family and friends. In Souad's Lebanese household, she grew-up with this dish as a favourite in Ramadan during Iftar.
Ingredients
2

Lebanese wrap breads

2

cups

cooked chickpeas

-fresh soaked overnight and then boiled until soft or you can use

2

cans
Yoghurt Sauce
375

g

full-fat natural yoghurt

(

1½

cups)

3

clove/s

garlic

-crushed (raw)

1

tsp

sea salt

1

tbsp

hulled tahini 

½

lemon/s

-juice

2

tbsp

water

(optional if the yoghurt is very thick)
Mince
250

g

lamb mince

1

tbsp

butter, ghee or coconut oil

Sea salt and freshly ground black pepper

-to taste

½

tsp

ground cumin

(optional)
Garnish
70

g

pine nuts

(

½

cup) toasted (to serve)

¼

bunch/s

fresh parsley leaves

-chopped for garnish
Method
Preheat the oven to 160℃/320℉.

Place the Lebanese bread on a tray and bake for 10 mins, turning half way, until browned and crispy. Remove from the oven and set aside. Alternatively, cut the bread into small wedges and fry them on the stove in 1 teaspoon ghee.

Cook the soaked chickpeas by boiling until soft and cooked through (approx 10 minutes if they are well soaked). Drain them prior to serving, season and set aside. If using a can, drain and rinse them and then heat in a pot with a little water and sea salt until warm.
Yoghurt Sauce
This sauce is super important to the tastiness of this dish, it adds SO much flavour. Don't scrimp on the garlic.

Meanwhile, place the yoghurt, raw garlic, salt, tahini, lemon juice in a bowl and whisk together until well combined. Thermomix method - chop the garlic, 3 seconds, speed 8. Add the rest of the sauce ingredients and blend, 30 second, speed 5.  

If necessary, add more water (plain or from the chickpea water) slowly to the yoghurt until desired consistency is obtained. You want the yogurt to sit on the chickpeas (unlike in the pic - I over thinned it, Souad tells me it should sit on top of the chickpeas instead of sinking through doh!)
Mince
In a small fry pan, melt the butter, ghee or coconut oil and cook the minced lamb (plus optional cumin)over a high heat for about cook 3-5mins or until it's cooked through. Season with sea salt and pepper to taste.
Assemble
Break up the Lebanese bread into small bite size and arrange them in an even layer on the bottom of a deep serving platter bowl (or casserole).

Top with the warm, drained chickpeas.

Top the chickpeas with the yogurt sauce and then spread the lamb and ghee evenly over the yogurt.

Sprinkle with pine nuts and parsley and enjoy immediately.
Serve
Traditionally, Souad tells me she would serve the Fatteh with various sides including olives, pickled vegetables, sauerkraut and spring onion (though this can vary depending on personal preferences)
Store
The mince and chickpeas can be stored in an airtight container in the fridge. Obviously the pita will go soggy if stored.

The mince and chickpeas can be frozen.
Variations
Dairy-free
Replace the yoghurt with coconut yogurt. Can also replace the ghee with olive oil.
Gluten-free
Replace the Lebanese bread with a gluten-free wrap.
Vegetarian and Vegan
Replace the lamb with finely chopped mushrooms (Thermomix 5 seconds, speed 4). Plus the dairy-free option for vegan.
Nut-free
Replace the pine nuts with toasted sunflower seeds.
Garlic-Free
I would replace the garlic with a half teaspoon of cumin and smoked paprika (in the yoghurt sauce).
Spice it up
I love this with a teaspoon of ground cumin and coriander (ground or fresh) cooked into the mince. 
I'd like to thank Souad so much for this fabulous insight into Ramadan and the food that features on her table during this sacred month. Souad has three beautiful boys and is passionate about whole foods and raising happy healthy kids. She has contributed so much to the Well Nourished community over the years and I can't wait to meet her in person one day.
I'd love to learn more about cultural food experiences so if food is part of a religious or sacred celebration in your culture, I'd love to explore it in future posts. Feel free to email me (via the contact form in the footer of this page) if you'd like to share an insight and/or a recipe. Cheers Georgia x
I'd love to hear how you enjoyed this post and recipe - post a comment below and rate the recipe if you love it too.