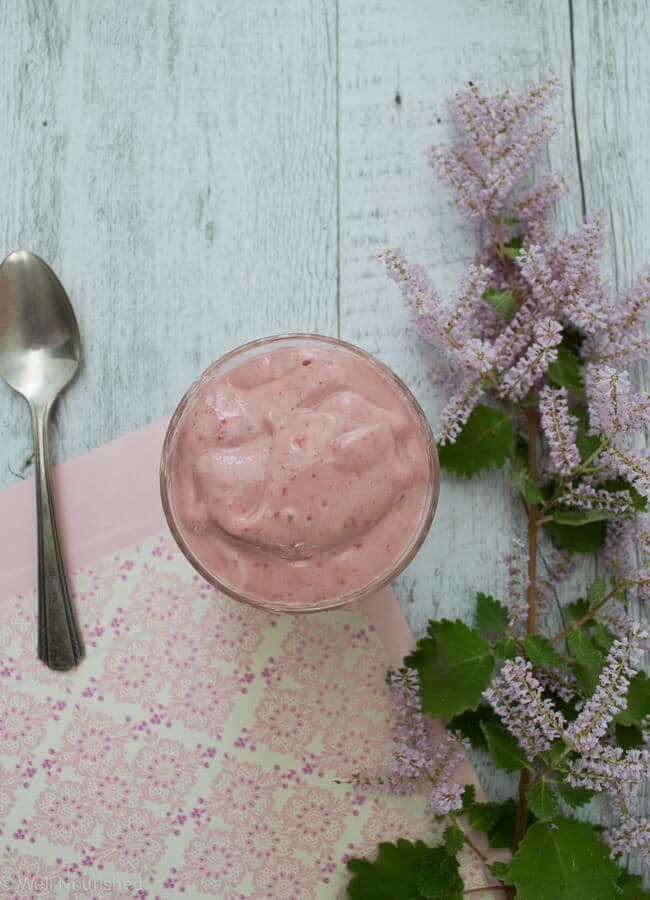 A healthy after school or weekend snack for kids and adults alike…this filling, delicious Fruit Whip is just the thing. Just don't tell them about the secret creamy ingredient – avocado! The first time my daughter saw me put the avocado in the Thermomix,  she went into protest mode. She had no where to go though when I told her that it was the way I had made it for many years now! She had to get over it because she loves it! But to begin with, you may want to distract your kids when the avocado goes in!
Health benefits
Avocado is a fibre rich source of potassium and healthy monounsaturated fat (amongst many other things). It's anti-inflammatory and supports heart, brain and eye health. There's more potassium and plant given goodness from the banana and anti-oxidant rich berries. The natural yogurt is important for digestive health. For more on the health benefits of yogurt and my favourite brands, click here.
Take a look at the variations (below the main recipe) for suggestions to alter the recipe to suit your specific dietary requirements.
---
Fruit whip - with a little hidden goodness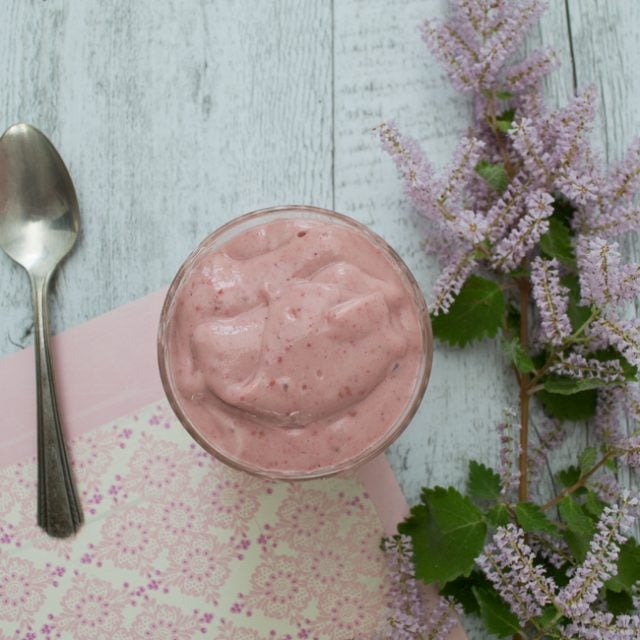 A quick breakfast, snack or treat, these Fruit Whips are a delicious and super nourishing way to include avocado in your diet.
Ingredients
1

avocado/s

(medium-large) flesh

1

banana/s

100

g

frozen raspberries

(

1

cup) or blueberries or mixed berries

7

tbsp

full-fat natural yoghurt

1

tbsp

rice malt syrup or honey

-optional

1

tsp

vanilla

-extract, paste or powder
Method
Throw it all in a blender or processor and blend until smooth and creamy (thermomix 30 seconds, speed 6)

Serve it in a cup with a spoon. You can add a little milk, coconut or almond milk if it is too thick or to turn this into a smoothie.

Trust me, they will NEVER know!
Store
Store in an airtight container in the fridge or freezer.
Variations
Protein boost
I often add 180 Nutrition Superfoods to this, especially when my kids have sport. 
Add some green
A few baby spinach leaves will increase the nutrition (but may make the colour a little unappealing). Your call.
Dairy-free and vegan
Replace the yogurt with coconut yogurt or coconut cream.
Popsicles
Freeze it into popsicle moulds for a super healthy frozen treat. Frozen yogurt cups This is great for the the lunch box.  Freeze in little cups and by morning tea time it will be soft enough to eat.  Remember to pack a spoon.
Fill a re-usable food pouch
Also a great food pouch filler (no spoon required).  
Breakfast
I generally serve this with something like cheese and tomato on toast as my kids enjoy a big breakfast. 
My kids love this fruit whip. Try it and let me know the verdict by commenting below.