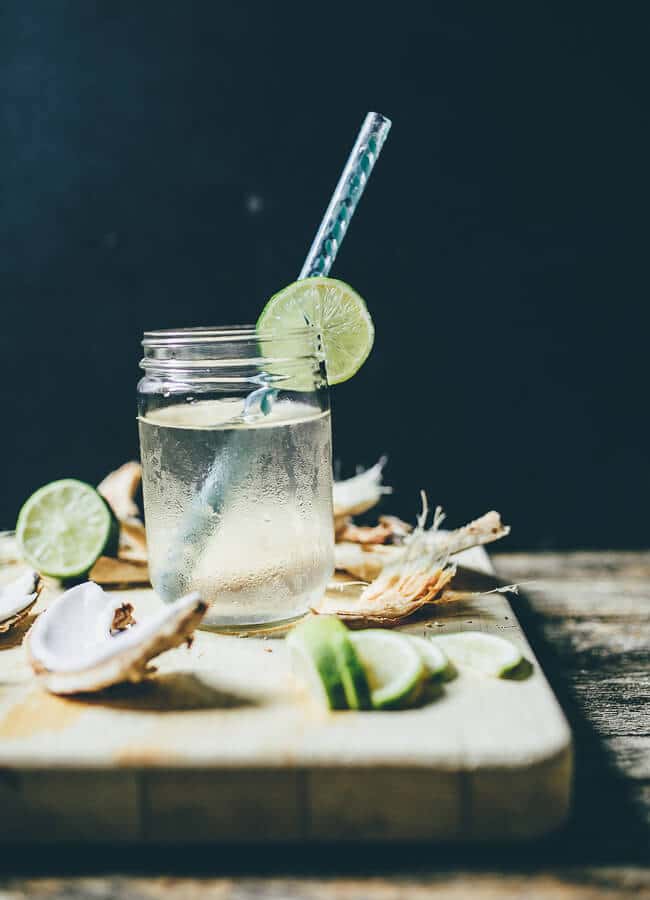 As the weather warms up and the festive season begins, there is one thing that I love nothing more…a tall glass of coconut water on ice…fairly predictable from a naturopath right? Not to say that the popping of a cork or two won't be very welcome also, it's just that coconut water helps me feel great in ways I can't entirely explain though I'll try! Let's begin with what is known about the health benefits of coconut water…
What is coconut water?
For those of you who don't know, coconut water is the liquid inside the cavity of a coconut. It is fat-free, mineral rich (especially magnesium and potassium) and low in calories (not that I value the concept of calories one bit, but in case you do, it is). Not to be confused with coconut milk or cream which is basically the flesh or meat of the coconut blended with water. Beware of the many flavoured or sweetened coconut waters (or ones made from concentrate) appearing on the market – all I can say is yuk and don't fall for these, they are no good.
Why do I drink it?
Well, my number one choice for everyday hydration is always water. But if I'm at the point where I am already dehydrated or I need to hydrate quickly, nothing helps like a coconut water. It sometimes amazes me how much better it can make me feel when I need a pep-up.
For the athlete…
It's not just me who's feeling the benefits of coconut water. I've treated many elite athletes over my years of clinical practice who have used coconut water to hydrate prior to their sport and to rehydrate after. In fact in a recent conversation with a professional AFL  player, he told me of how crap the sports drinks passed out at the end of a game made him feel awful. He had been instructed by his club that he had to be seen (by TV cameras and spectators) drinking the sports drink after the game (they were sponsored by Coca-Cola). When he and some of the other players protested, they renegotiated with the club sponsors that they only had to open and hold the bottle, but didn't have to actually drink it (then behind closed doors, crack open their coconut water). This is a clear demonstration of the power of marketing.
Why I hate sports drinks (nothing good about them)
The artificially coloured and flavoured sports drinks contain massive amounts of sodium and of course sugar (over 7 teaspoons). The sugar content alone will leave you zapped of energy and very lethargic. Sugar does NOT increase or improve your energy levels or help sports performance. I'm sick of people justifying eating loads of sugary foods to replace energy – this philosophy is just completely wrong and dangerous! Stop eating fructose all together and you will realise very quickly how wrong this myth is.
Coconut water holds it's own when it comes to rehydration and it's potassium content. It is naturally isotonic and has the same level of electrolytes as found in human blood. In many developing countries without clean water supplies, coconut water is literally a matter of life or death. I have also read that in World War two, it was used as a plasma replacement in blood transfusions.
Other reported benefits of coconut water

The potassium and magnesium content of coconut water also makes it important for heart and kidney health and may be helpful in preventing hypertension, stroke and kidney stones.
It is alkalising.
It has antibacterial and antifungal properties and assists digestion and the health of the urinary tract (many swears by its effectiveness in preventing and treating UTI's).
Weight loss – being well hydrated is important for your bodies metabolism to operate at full pace. Of course, water is the ultimate hydrator and should be your first port of call.
Hangover – a timely post given this festive time of year. Did you know that the fatigue and headache associated with a hangover are due partially to depleted levels of potassium, magnesium and electrolytes? Hello, coconut water! Prepare for that party with coconut water, go to bed with it and recover with it (or you could just not over do the alcohol!!). If you are super keen, use it as a mixer!
A common practice in India is to wash you face in it as it is said to reduce acne, balance the skin's pH and moisturise.  Some manufactured cosmetics contain it.
Ageing and cancer – in laboratory studies it has been found to be protective to cells (though what happens in a Petrie dish doesn't always translate to the human body), interesting though!
What type?
As I always say, in its most natural form  (straight out of the shell) is always the best option. I personally can't walk past a delicious whole coconut. But practicality and availability prevent me from having a fridge full of coconuts – so I drink one of the many (unsweetened,unflavoured brands). Every brand tastes slightly different, so if you don't like one, try another.
Use it…
I  think it tastes best icy cold. Coconut water on the rocks – mmm.
I often freeze a tetra pack of coconut water for my kids if they have a sports carnival or a long day of activity out in the sun.  Coconut slushy!
Use it as a base for dairy-free smoothies – this is best if you can't find one you like the taste of because its flavour is well disguised.
Blend it with fruit or cacao for dairy free, homemade popsicles or ice blocks.
Use it in cocktails.
I have also used it as a stock replacement in soups.
Make porridge with it or put it on breakfast cereal.
Do you drink coconut water?  Do you think it helps you feel more energised and hydrated? Anyone out there as addicted as I?