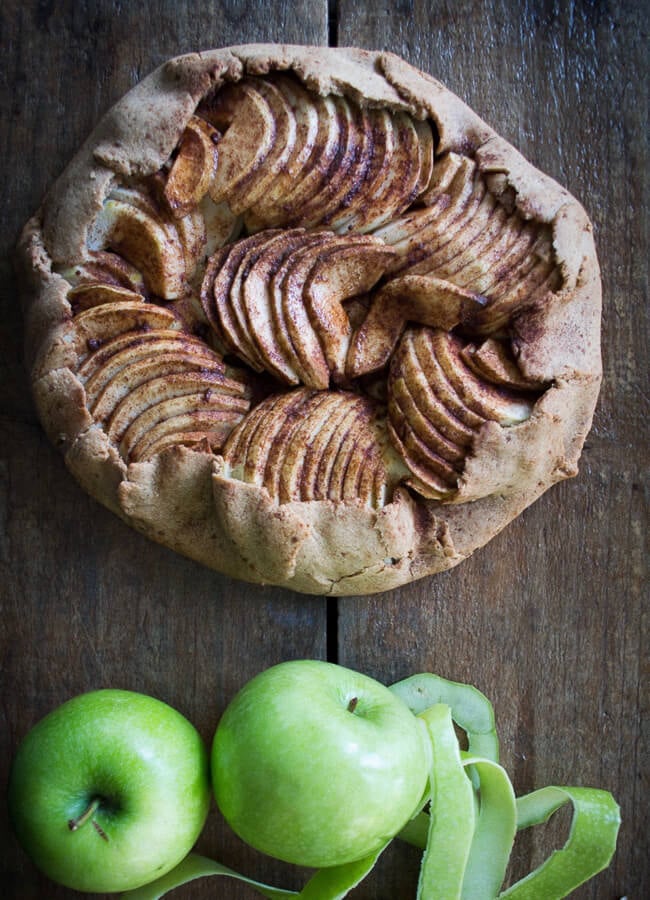 As the cooler months are upon us and apple season is in full swing, what better time to make a comforting, yet healthy apple pie?  Apple Pie is my husbands all time favourite dessert, even though he rarely eats sweet things. But let's face it, it can be a bit time consuming to make.
My compromise is this easy to make galette or tart style 'rustic pie'. It is much more forgiving if the art of pastry making is not up your alley, but the flavour is still divine. You can make one big pie (less fiddly) or lots of individual ones.
Take a look at the variations (below the main recipe) for suggestions to alter the recipe to suit your specific dietary requirements.
Healthy Apple Pie - rustic style (with gluten, grain, dairy & egg free versions)
This recipe gives you two pastry options to suit your dietary requirements. It's super simple to make and my hubbies favourite dessert.
Ingredients
Spelt shortcrust pastry
300

g

wholemeal spelt flour

160

g

butter

chilled and diced

3

tbsp

coconut sugar or rapadura

1

free-range or organic egg/s

-yolk

1

tsp

vanilla

-powder, extract or essence

1-2

tbsp

chilled water

OR
Gluten, grain, dairy and egg free pastry
2

tsp

chia seeds

(ground is best, but can be unground)

Pinch

xanthan gum

(optional but does help to bind it more strongly)

70

ml

hot water

200

g

almond meal

70

g

true arrowroot flour

(starch)

3

tbsp

coconut sugar or rapadura

½

tsp

bicarbonate of soda

Pinch

sea salt
Filling
6

large

Granny Smith apples

-peeled

2

tsp

ground cinnamon

2

tbsp

rice malt syrup, honey or maple syrup

2

tbsp

hot water
Method
Preheat your oven to 180℃/350°F (fan forced).
Spelt Pastry
In a food processor mix the flour and sugar until combined. TMX 10 secs, speed 2.

Add the butter and process until it comes together in a coarse crumb (you can also do this by hand by rubbing the butter into the flour mix). TMX 10 seconds, speed 4.

Add the egg yolk, vanilla and 1 tablespoon of water.

Process until the dough starts to come together, then gently knead it for a minute. TMX 10 seconds speed 4 then 30 seconds on the knead setting.

Add extra water if necessary teaspoon by teaspoon until it is the proper consistency (see the note about consistency below). TMX knead an extra 10 seconds.

Form a disc and wrap the dough in parchment (baking) paper and rest in the fridge for at least 30 minutes whilst preparing your apple.
Gluten, grain, dairy and egg free pastry
In a small bowl, place the chia, xanthan and hot water and mix until well combined. Rest until a gel is formed (approx 10 minutes).

In a food processor or bowl mix the almond meal, arrowroot, sugar, bicarb and salt until very well combined. TMX 10 secs, speed 2.

Add the chia gel and process until it forms a ball. TMX 10 seconds speed 4

Add extra water if necessary, teaspoon by teaspoon until it is the proper consistency (see the note about consistency below).

Form a disc and roll as instructed below.

* Note this gluten free pastry will not brown the way the spelt will. Cooking it until it is brown will result in a really hard, not so nice pastry! Glaze it also with the cinnamon glaze to add a lovely bit of colour.
A note about pastry consistency
As all whole flours are slightly different in their consistency/texture, you will need to judge how much water is needed yourself for both types of pastry. The consistency you are after is that the dough should easily come together in a firm, slightly sticky ball (but not stick to your hands or the bowl).
For the filling
Take your peeled apples and cut them in half lengthways and remove the core.

Lay them flat side down and cut into 3-5mm slices (they need to be very thin, especially for a gluten free pie as the pastry can not be overcooked or it will toughen).

In a small bowl mix the cinnamon, sweetener and hot water until combined to form a glaze.
To assemble
Flatten the disc of (either) pastry between two sheets of parchment (baking) paper.

Roll into one large (rough) circle, about 3mm thick and peel off the top sheet of parchment paper. Place the parchment paper and rolled out pastry onto a baking tray.

Fan out the sliced apple and arrange to cover the centre of the pastry about an inch or so from the outer edge.

Fold in the edges roughly.

Brush with half of the cinnamon glaze.

Bake for about 20 minutes.

Remove from the oven and brush over the remaining glaze.

Return to the oven for about another 5 minutes (maximum for gluten free, remember it will not brown). For the spelt version, you can continue to cook until the apple has softened and the pastry is golden brown.
Store
Store in an airtight container in the fridge.
Variations
Low-fructose
Apple pie is pretty much out if you are fructose intolerant. For a low fructose pie, omit the rapadura or coconut sugar in the pastry and replace with a pinch of stevia powder. Fill the pie with berries or rhubarb and choose the rice malt syrup to make the glaze.
Add berries or rhubarb
Feel free to add in some berries or diced rhubarb to the apple. A flavour match made in heaven!
A word about baking paper
THE best parchment paper I've come across is made by a company called "If you care".  Not only is it environmentally friendly, totally chlorine free and fully compostable, it is the best baking paper (and cupcake moulds) I have come across in a long shot.  It is so non-stick, you can even reuse it again and again if you like.  It is available at my favourite eco store Biome…check it out here
What do you think of this recipe?  I love to receive your feedback…please post a comment below.