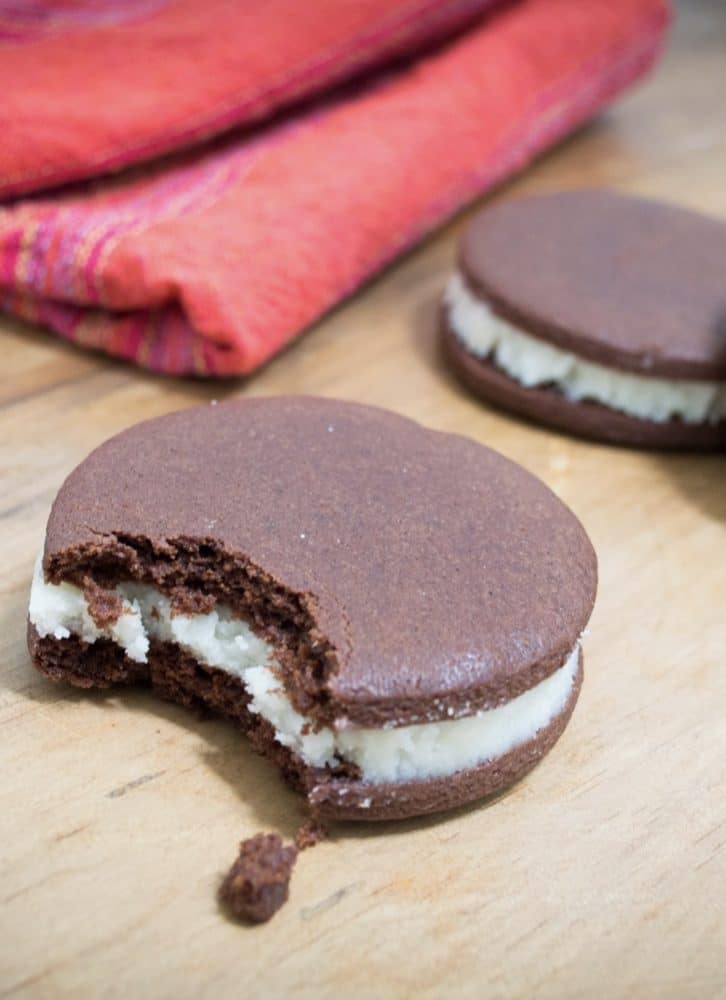 This healthy chocolate cookie recipe can form the base for a healthy version of an oreo, mint slice or you can even use it to make tiny teddies (you'll just need to source a tiny teddy cookie cutter). It is a great, additive-free option for kids that are accustomed to a sweet treat in their lunch box and it's very quick and simple to make. It can also be frozen in an airtight container and popped straight into the lunch box. These make great party treats too.
Take a look at the variations (below the main recipe) for suggestions to alter the recipe to suit many specific dietary requirements.
---
Healthy Chocolate cookie recipe (aka Oreos, Mint Slice or Tiny Teddies)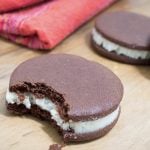 These chocolate biscuits are easy to make and delicious. Check out the variations for oreos and mint slice.
Ingredients
120

g

wholemeal spelt flour

(

1

cup) see gluten-free below

30

g

cacao

(

¼

cup) unsweetened Dutch process or raw

¼

tsp

bicarbonate of soda

Pinch

sea salt

1

tsp

vanilla

-powder, extract or essence

50

g

coconut oil

(

¼

cup) or macadamia nut oil

30

ml

milk

(

2

tablespoons) of your choice

85

g

rice malt syrup or maple syrup

(

¼

cup) the maple syrup will produce a sweeter cookie
Method
Preheat your oven to 150℃/300°F (fan forced).

In a mixing bowl, combine the flour, cacao powder, bicarbonate of soda and salt.

In a blender or food processor, mix the vanilla, oil, milk and syrup until well combined. Thermomix 30 sec, speed 4.

Add the wet to the dry ingredients and mix together until dough forms. Thermomix 30 sec, speed 4 or until combined.

Roll into a ball, wrap in cling wrap or baking paper and refrigerate for 30-60 minutes.

Place the dough between two pieces of baking paper and roll to approximately 2-3 millimetres thick.  Cut rounds with a cookie cutter, place on a lined or greased baking tray and bake for 10 minutes.

Leave on the tray until completely cooled and add a filling or eat as they are.  Either way, they are really good!
Store
Store in an airtight container in the fridge or freezer.
Variations
Gluten or grain-free
Substitute your preferred gluten or grain-free flour.
Dairy-free
Choose a non-dairy milk. I love coconut milk.
Vegan
Choose rice malt or maple syrup as your sweetener. Choose a non-dairy milk. 
Low-fructose
Use rice malt syrup as your sweetener.
Nut-free
Choose coconut oil as your fat (you can also replace with melted butter if you prefer).
Cacao-free
You can su the cacao with carob powder.
Make a cream centre:
Cream centre (aka Oreo)
Mix ¼ cup of creamed coconut* (also called coconut butter)  - warmed to make it easier to mix, with 1 teaspoon of vanilla essence, 2 tablespoons of the milk of your choice and 2 tablespoons of rice malt syrup or maple syrup until well combined to a creamy paste. A food processor or a bit of muscle is required to combine it.
* Creamed coconut (also called coconut butter) is NOT the same as coconut cream. It is a thick paste (like a nut butter). If you have a Thermomix you can make your own by milling desiccated coconut until a creamy butter is formed (much like making nut butter from nuts).  
Minty (aka Mint slice)
Add 1 teaspoon of mint essence to the cream centre recipe for a delicious mint centre.
To fill...
To begin with, make sure your cookies are cold (or even frozen). Place ½ teaspoon of cream to a cookie and push down another to squash the cream across the base. Store in the fridge or freezer.
Is this a recipe you'll try? Love to receive your comments or you can rate this recipe below.