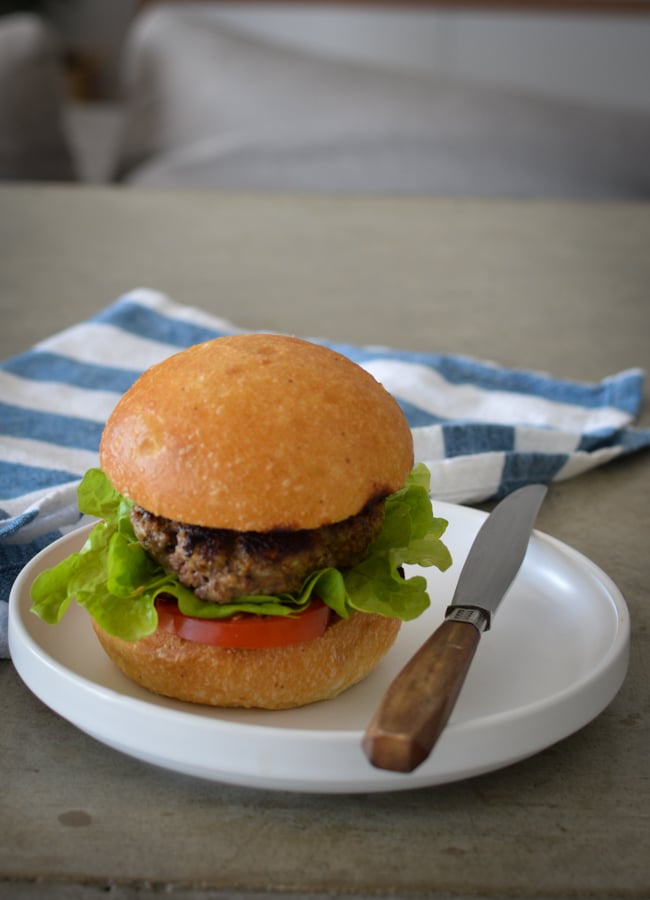 I often make up my own hamburger patties. Hamburgers are healthy, but ONLY when you make your own. They take less than the time it takes to pick up take away to make, so no excuses!
After meeting an intact McDonalds hamburger that was five years old, I can confirm the longevity of the McDonalds burger is no urban myth. I would never touch a fast food or frozen burger of any kind (sorry Lisa)!
Even Jamie Oliver has been on the fast food giants back recently.  In a graphic youtube video, he describes that when producing hamburger mince, "basically, we're taking a product that would be sold in the cheapest ways for dogs" and after being washed with ammonium hydroxide (which is what forms the bulk of your household disinfectants) 'is being given to human beings.'  Jamie goes on to ask "why would any sensible human being put meat filled with ammonia in the mouths of their children?"
So I make hamburgers up in batches and freeze them to throw on the BBQ when the need arises. They are truly delicious, healthy and very simple to make.
Health benefits
They are packed with hidden vegetables so if you or your child is a burger and sauce in a bun type, then, at least, you can include some nourishing goodies in the burger patty.
---
Homemade Hamburger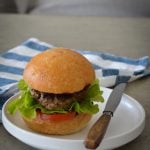 I believe there's nothing better than a home made Hamburger cooked on the barbecue. It's also a great way to introduce extra veggies into your kids meals.
Ingredients
500

g

beef mince

(approx.)

25

g

fresh bread crumbs

(

½

cup)

1

red onion/s

-quartered

1

clove/s

garlic

-crushed

2

tbsp

fresh basil or parsley

-leaves picked

1

carrot/s

(small) quartered

1

zucchini/s

(small) quartered

1

tbsp

dried oregano

1

tbsp

dijon mustard

1

free-range or organic egg/s

Sea salt and freshly ground black pepper

6

burger buns (to serve)
Method
In a food processor or Thermomix, process your bread to make crumbs and set aside. Thermomix 30 seconds, speed 8.

Now process the onion, garlic, herbs and vegetables and process until finely chopped. Thermomix 10 seconds, speed 5.

Add the mince, egg, and seasoning and combine on reverse. Thermomix 30 seconds reverse speed 4 (you may need to scrape the sides a few times).

If you don't have a reverse setting on your processor, (or want to make these the good old fashioned way), then just throw it all in a bowl (grate all of your vegetables first), and mix with your hands by squeezing the mixture together.

If the mixture feels wet, add more breadcrumbs until you are able to form firm patties.

Form you patties into the sizes you want (I do some big for adults, some small for the kids), throw on the BBQ or in a pan and serve how you like them.
Serve
I always put all of my accompaniments in little bowls on the table and my kids build their own. Personally, I love grated carrot, grated cheese, lettuce or some type of greens, sprouts, grilled onions, grated fresh beetroot, pieces of fresh pineapple for a Hawaiian touch.

I also love to chargrill the cut side of my burger buns to crisp them up and add some char flavour.
Tip
I love to char the inside of the burger buns on the BBQ to slightly to toast them. It adds a great flavour.

I also melt the cheese on the burger patty too (by closing the BBQ hood for the last few minutes).
Store
Store in an airtight container in the fridge.

Can also be frozen either the raw patties or cooked. Fully de-frost before cooking/ re-heating.
Variations
Gluten-free
Use gluten-free breadcrumbs or quinoa flakes or chickpea flour to bind.
Grain-free
Use quinoa flakes or nut meal to bind them and serve in a lettuce cup with salad, San Choy Bow style.
Egg-free
You can certainly leave the egg out, the patty just won't be as firm (but it will still taste great).
Double-up
Double the batch to load the freezer with your own fast food.
Leftovers?
Great for tomorrow's lunch box. Sometimes I make four patties and roll the rest of the hamburger mince into meatballs. 
Hope it has inspired you to get in the kitchen or find another fast food alternative. Any comments or question, please leave them below.