We are going camping after Christmas this year and we'll be pitching our tent on a powered site, beachside in Northern NSW. I thought that with the holiday season upon us it might be a good time to inspire you to develop a simple, yet healthy camping menu. No more tinned beans and instant noodles!!
It's all in the planning!
The pressure is on me this year…a day after catering for 15 people for a no-holds-barred Christmas feast, we'll be packing the ute and heading south. So I need to be organised and have a fairly good idea of what we'll be eating for breakfast, lunch and dinner each day we are away. That way I can pre-buy the meats and other bits, freeze what I can and have all the dry stores packed and ready to go.
I think in terms of ingredients for meals which we decide on the order of, once we are there. We camp with a small Webber BBQ, one gas burner, and very limited kitchenware – so the meals have to be simple. Doesn't mean they won't be completely delicious and very healthy too.
So to the menu
This is what I'm thinking…
Breakfast ideas
I'll be taking a container of my toasted muesli to have with yogurt and fruit some mornings.
Bacon, egg, tomato and avocado toasties.
Leftovers often become breakfast too.
Shake and Go Pancakes (recipe in Rise and Shine), below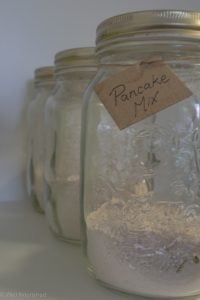 Lunch
Baked spud – we often wrap a potato in foil and bake it in the Webber. To save gas we might do this the night before whilst cooking a roast, pop in the fridge and just reheat (or have a cold) when we want to eat them for lunch the next day. We'll stuff these with tuna, cheese and salad. You can also chop them up to make a rustic potato salad.  Here're some more ideas for baked spud fillings.
BLAT toastie.
Hamburgers – I make these at home and freeze them ready for camping. Here's my recipe (with a sneaky serve of vegies inside). Use them as hamburgers or put them into a pot with a jar or tomato sugo (passata) and simmer for spaghetti and meatballs.
Tuna and chickpea salad – I just chop up and grate a heap of salad leaves and veggies and mix through a can of tuna and a can of chickpeas with the juice of a lemon, olive oil, and seasoning.
Leftovers (see dinner ideas) – used in salad or sandwich form.
Dinner
Slow roast lamb shoulder which I just serve with salad. Leftovers are great for lunch the next day.
Roast Chicken, also with salad. Leftovers are great for lunch the next day.
BBQ'd meats, sausages or chicken – always served with a simple salad. I buy that herb and spiced sea salts and jazz up the meats by seasoning with these. Or just rub a tandoori or Moroccan spice blend on your meat prior to cooking too for a simple flavour boost.
Cook fish wrapped in foil or baking paper topped with slices of lemon or lime and seasoned with sea salt and pepper.
Pizza – use tortilla or flat bread for bases, chop up some toppings and make your own (my kids love to do this). We just pop them on the Webber and bake for a great result.
Snacks
Cheeses and dips.
Nuts and seeds. I love my roasted nuts so I'll whip up a big batch before hand.
Popcorn.
Other tips…
I always pack lots of lemons and/or limes which I use to make simple salad dressings with EV olive oil or just squeeze over meats.
I always camp with a case of coconut water to rehydrate us when needed (and it's not something you can easily get from the local shops).
I'm not a seasoned camper at all, so I'd love some more ideas for healthy camping meals.  Can you contribute by posting a comment below?