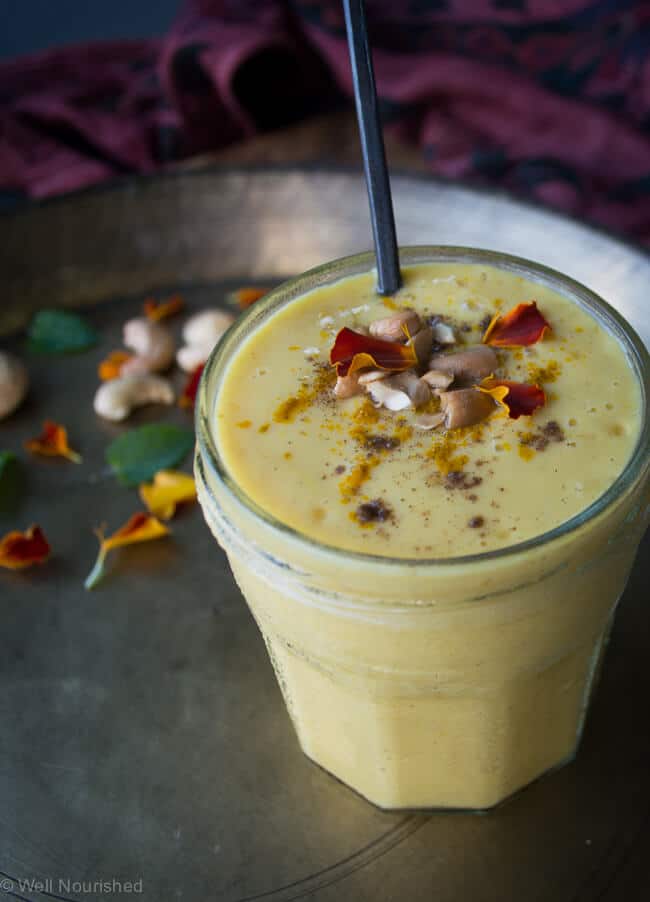 Everywhere you look in SE Queensland, beautiful mango trees are dripping with fruit. Even if you don't have a neighbourhood tree, they should be pretty cheap in stores right now across Australia. So I thought I would share my favourite way to make the most of this sweet summer fruit.
BK (before kids), I spent 8 months in beautiful India and as such, developed quite a taste for the local cuisine. I travelled through a good part of this huge country, and each region claimed 'the best' lassi on the continent (and I may have tried them all). So since being back in Australia, I have experimented with many different versions of this classic including infusing a few medicinal herbs in the mix – food as medicine and making every mouthful count, right! This is the result – not the super sweet traditional lassi because I haven't added any other sweetener – but mango is plenty sweet enough I think.
Health benefits
Mango is a nutrient and fibre rich fruit, and I've read, the most consumed fruit worldwide.
Natural, full-fat yoghurt is a great source of protein and beneficial gut flora to support digestive and immune health.
Turmeric is one powerful herb – it's a wonderful antioxidant, anti-inflammatory and a medicinal herb that benefits so many common health conditions (based on my clinical experience); so I just love to include it in our diet wherever possible. Much of the current research on turmeric is focussed on its potential to prevent dementia and various cancers.
Cardamom is also a potent antioxidant and anti-inflammatory herb. It is very calming and healing to the digestive system and supports immune function. It has a very distinctive, almost floral taste that you'll either love or hate – personally, it is one of my most favourite flavours ever. Nostalgically Indian.
Take a look at the variations (below the main recipe) for suggestions to alter the recipe to suit your specific dietary requirements.
Healthy Mango Lassi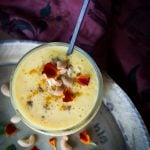 My take on a traditional Indian Lassi, this Healthy Mango Lassi is both nourishing and delicious. Check out the variations to make it into a chia pudding or ice-blocks.
Ingredients
2

mango/s

-peeled and flesh removed (see note below for using frozen mango)

250

g

full-fat natural yoghurt

(

1

cup)

½

tsp

ground turmeric

½

tsp

ground cardamom

1

cup

ice

1

tbsp

rose water

(optional)
Method
In a powerful blender or food processor, puree the mango, yoghurt and spices until smooth.

Add the ice and puree again until it is crushed.

Serve immediately. You can also freeze into popsicle moulds for a delicious ice-block.
Note
You can sub the mango with frozen mango cheeks and omit the ice but also add ½ cup of water.
Serve
With chopped cashews or pistachios.
Store
Leftovers can be frozen into little cups or ice-block moulds for a fast, healthy snack another day.
Variations
Dairy-free and vegan
Sub the yoghurt for coconut yoghurt or cashew nut cream.
Chia pudding
Add ¼ cup of chia and allow to soak to make this into a delicious chia Indian style pudding.
It's not mango season
Replace the mango with 2 cups of fresh strawberries.
Ice-block
This is divine frozen into ice-block moulds for an icy treat.
I'd love to hear how you like my version of a lassi. It's my favourite way to eat mango and I look forward to it come easy mango season.