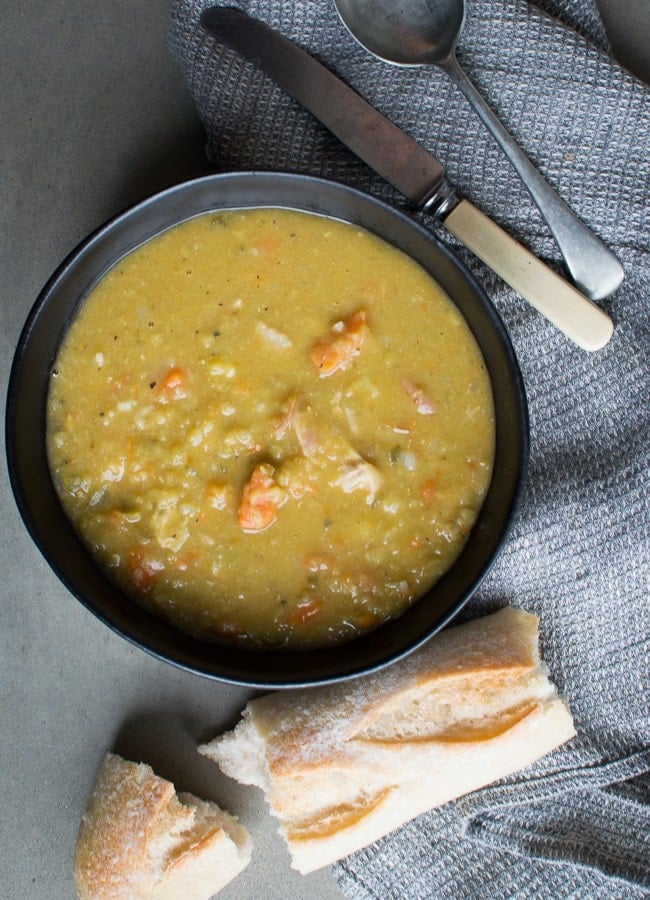 This is my take on a Dutch style Healthy Pea and Ham soup. I can't always source good quality ham hocks so I've improvised to replicate the flavour combo of smoked meat and legumes that I grew up with, but using a pork chop and bacon instead of the hock.
The result is this tasty, hearty stew like soup that's more a complete meal than a starter. Whilst it has a long cooking time, it really is a no-fuss, set and forget type meal that my whole family loves. It's also a very budget friendly meal which is always a bonus.
Take a look at the variations (below the main recipe) for suggestions to alter the recipe to suit your specific dietary requirements (including vegan, vegetarian, onion and garlic-free options).
Healthy Pea and Ham Soup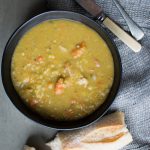 This Healthy Pea and Ham Soup is an easy to make, hearty meal in a bowl that's sure to become a family favourite. It's gluten and dairy-free and super delicious.
Ingredients
200

g

dried green split peas

(

1

cup)

1

pork chop

-fat trimmed

3

rasher/s

bacon

1

red onion/s

(large) diced

2

clove/s

garlic

-diced

2

stick/s

celery

-finely diced

1.5

L

water

1

tsp

sea salt

- or to taste

Ground black pepper

1

carrot/s

(large) finely diced

1

potato/s

(large) peeled and finely diced

1

sweet potato/s

(medium) peeled and finely diced

30

g

baby spinach

-or kale (optional) (aapprox.

1

handful)
Method
Soak the split peas overnight in enough water to allow for them to expand. Strain and rinse them very well (in a sieve under running water).

Place the split peas, pork chops, bacon, onion, garlic, celery and water into a pot and bring to the boil. Reduce the heat to a simmer and cook for 30 mins. Any scum that appears just skim it from the top.

Then add carrot, potato and sweet potato and simmer slowly for another hour or until the split peas are mushy and the soup has thickened.

Remove the pork from the bone (it should just fall away). Break any solid bits up and mix through the soup.

Sir through the leafy greens (if including) and allow them to wilt.
Serve
Serve with crusty sourdough bread.
Make-ahead
Re-heat in a pot over a low heat until just hot.
Store
In an airtight container in the fridge or freezer
Slow Cooker
This can certainly cooked in a slow cooker. However, as the time and amount of liquid varies between brands of slow cookers, base both on thick soup like recipes in the guide book for your specific slow cooker.
Variations
Onion and garlic-free
Substitute with a small bulb of fennel, diced finely and a pinch of cayenne.
Vegan
Omit the bacon and pork and add a tablespoon of smoked paprika and increase the salt to 1 tablespoon. You could also replace the water with vegetable stock if you like.
Add more veggies
Feel free to add in extra vegetables if you like. I sometimes add cauliflower and broccoli for the last 5 minutes of cooking.
I'd love to hear how you and your family enjoy this recipe. Leave a comment below or rate this recipe.