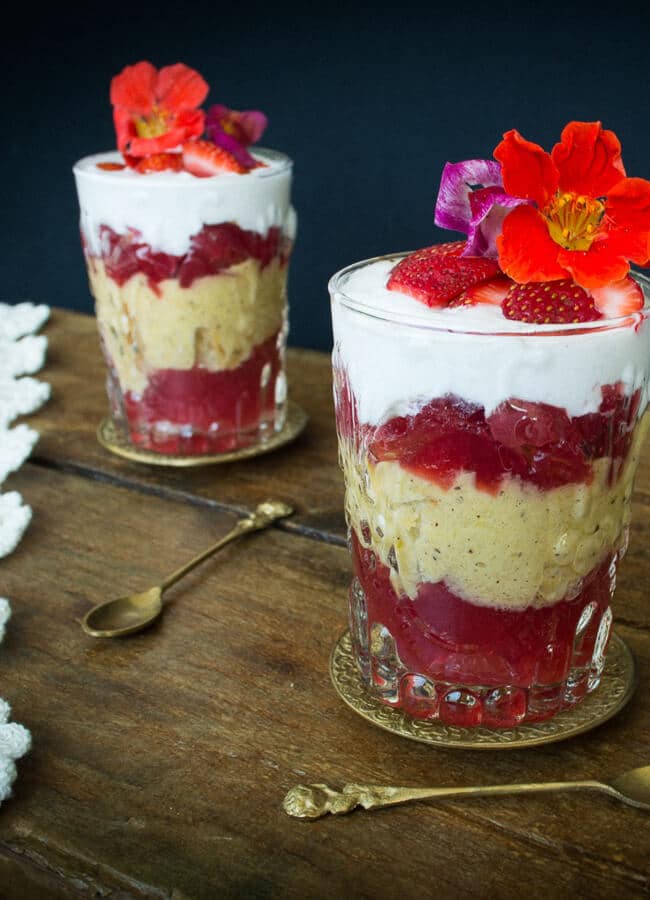 Trifle is a dessert that brings back very fond memories for me. It was my Nanas favourite dessert and she was always the nominated bearer of trifle at any family celebration and always at Christmas time. I haven't eaten trifle in a very long time, but I have been asked by a few readers to come up with a healthy, intolerance friendly trifle so here it is.
Traditional trifles vary from the very, very bad (those made with processed ingredients like jelly, ready to eat custard and those horrendous 30+ ingredient jam rolls with a shelf life of many years), to the not so bad with each of the ingredients being homemade, albeit loaded with refined sugar.
My trifle is all made from scratch, a little finicky but certainly not at all difficult. I have endeavoured to cover most of the main dietary intolerances but feel free to add any I've missed (in the comments below).
It's certainly nourishing without scrimping on deliciousness. So without further-a-do, a Well Nourished Trifle…
Recipe notes:
Gelatin:
For the gelatin, I only use Changing Habits Organic Gelatin. Because gelatin is derived from animals, I like to know I am consuming the best quality product with the least chemical loading. Find out more or shop for it HERE.
Sponge cake:
For the sponge you have two cake options:
1. Vanilla Bean Cup Cake which is gluten, nut and grain-free with dairy and fructose-free options (legume-based)
or
2. Basic Healthy Cake recipe which is gluten, grain, dairy-free with fructose free option (suits Paleo)
Healthy Trifle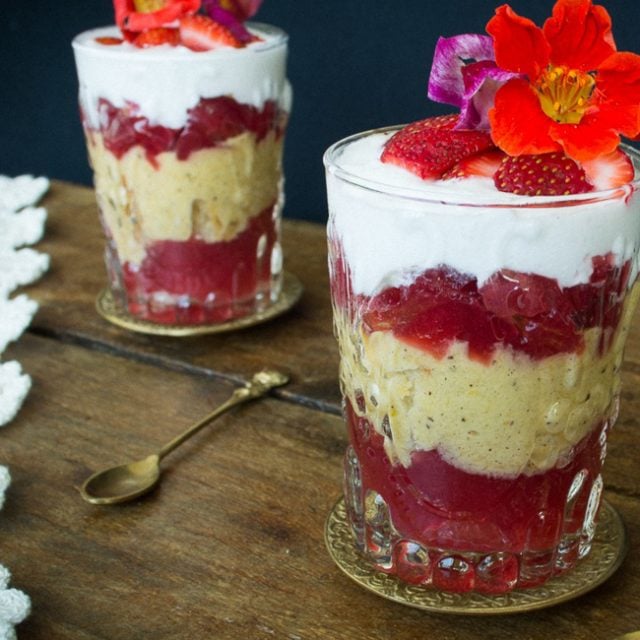 A healthy take on the classic, this Trifle does not compromise on deliciousness. In fact, I'd go as far to say it is way better than the additive laden traditional version.
Ingredients
Jelly
500

ml

water

(

2

cups) boiling from the kettle

85

g

rice malt syrup, honey or maple syrup

(

¼

cup)

200

g

raspberries

(

2

cups) defrosted if frozen, pureed and pushed through a sieve to remove the seeds

2

tbsp

grass-fed or organic gelatin

(see recipe notes above)
Custard (choose your preference)
Vegan, dairy, gluten, egg and grain-free custard
2

mango/s

-peeled and flesh pureed

1

tsp

vanilla

-powder, extract or essence

125

ml

canned coconut milk

(

½

cup)
Traditional gluten-free custard (with dairy-free option)
500

ml

milk

(

2

cups) for dairy-free replace half nut/coconut milk

2

tbsp

rice malt syrup or maple syrup

2

free-range or organic egg/s

2

tbsp

cornflour

-gluten-free (or arrowroot for grain-free)

1

tbsp

vanilla

-powder, extract or essence
Creamy topping
1

cup

cream

- whipped, or full-fat natural yoghurt, coconut yoghurt or cashew cream.
Method
Jelly
Combine the hot water and sweetener until it is dissolved.

Sprinkle the gelatin over the raspberry puree and mix until well combined.

Add the hot water/syrup mixture and stir well until the gelatin is dissolved.

Pour into a glass container and refrigerate to set.
Sponge
Bake your sponge and once cooled cut into cubes.

It is entirely up to you, but you can do as my Nana would have and soak the cubes in sherry. Or for a non-alcoholic syrup, combine 85 grams (¼ cup) of maple syrup or rice syrup with ¼ cup of boiling hot water stirring until combined. Add the juice of either a lime or orange and spoon over the cubes to soak your cake as you assemble it.
Vegan, dairy, gluten, egg and grain-free custard
Blend the mango, vanilla, and coconut milk until well combined.
Traditional gluten-free custard
Heat your chosen milk and sweetener until just starting to simmer.

Remove from the heat.

In a small bowl, whisk together the eggs and cornflour (or arrowroot).

Add to the hot milk whilst whisking.

Return the pot to a low heat and stir continually until the custard thickens to your desired consistency.

If you do end up with any lumps, you can pass it through a sieve.
To assemble
Place a layer of jelly in the bottom of the bowl or glass.

Arrange the cake on top, spoon over the sherry or non-alcoholic syrup and then cover with a layer of custard.

Add another layer of jelly followed by a layer of whipped cream, full-fat natural yoghurt, Coyo coconut yoghurt (vegan and dairy-free), or cashew nut cream (vegan and dairy free).

Top with fruit and edible flowers and refrigerate until you are ready to serve.
Store
Store in an airtight container in the fridge.
Variations
Low-fructose
Choose rice malt syrup as your sweetener and low fructose fruits.
Vegan
Choose the vegan custard, make the jelly with agar agar and use a vegan cake (I don't have a recipe for this but there are plenty online).
I'd love to hear what version you've tried and how you liked it. Post a comment below.