This is my recipe for a deliciously healthy hummus, of course with some interesting variations and colours too. There's more to hummus than just a dip, so check out the variations below. I like my hummus to have a creamy consistency, but if you prefer it a little course, then just process it less.
Health benefits
The chickpeas are a high fibre, protein rich legume with a decent mineral profile (including good amounts of iron). The tahini is also a good source of protein and very rich in calcium. The lemon, garlic, and spices will strengthen your immune responses and the olive oil is a rich source of monounsaturated fat. Why wouldn't you eat it?
WARNING!  Most shop bought hummus, contain dangerous vegetable oils, so please make your own. For more about why you must avoid vegetable oils, click here.
Take a look at the variations (below the main recipe) for suggestions to alter the recipe to suit your specific dietary requirements.
If you're looking to save money across pantry items such as nuts, seeds, flours and more, I personally shop at The Wholefood Collective – great whole foods at heavily discounted prices (all home delivered), click HERE to check them out.
---
Hummus - much more than a dip!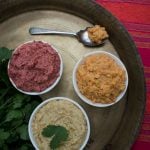 This Hummus is delicious and I share loads of variations and ways to enjoy it beyond a dip.
Ingredients
425

g

can chickpeas

- drained and rinsed

1

clove/s

garlic

- finely diced or crushed

4

tbsp

hulled tahini 

- halve if using unhulled

1

lemon/s

- juice (zest optional)

2

tbsp

water

- or the liquid from the can (aquafaba) makes it extra creamy

2

tbsp

olive oil

- extra virgin

½

tsp

ground cumin

½

tsp

ground cinnamon

½

tsp

sea salt

- to taste

Ground black pepper

- to taste
Method
Add all of the ingredients into your food processor and process until smooth and creamy. You may have to scrape down the sides a few times to get an even consistency.

Serve drizzled with more olive oil and sprinkle with sesame seeds or dukkah.

Alternatively, try one of my variations below.
Thermomix
Add the garlic and chop, 5 sec, speed 6.

Add the chickpeas and process 5 sec, speed 5.

Add the rest of the ingredients and process, 10 seconds, speed 4 scraping down the sides a few times.
Store
Drizzle a layer of olive oil over the hummus to seal it. Store in an airtight container in the fridge.
Variations
Sesame-free
Replace the tahini with natural yoghurt. This also makes it a lot more creamy (and more like a store bought hummus according to my recipe testers).
Garlic-free
Simply omit (the cumin and chilli will do for flavour).
Roast beetroot hummus
Add a small roasted beetroot and a tablespoon of yogurt to your processor for a pretty pink, very nourishing dip.  This is lovely with coriander leaves too.
Carrot or pumpkin hummus
Add steamed or roasted carrot or pumpkin and process through with the other ingredients.
Green supreme
Blend through some greens, either herbs like coriander or basil, or even kale or spinach.
Make a sauce or dressing
Mix equal parts hummus to yogurt and use as a sauce over lamb, chicken, fish, vegetables or salad.  You may also like to add a little extra lemon or some lime.  Add a teaspoon of cumin for a lovely Moroccan or Indian accent.
On toast
Spread on toast with slices of tomato and /or a mound of leafy greens, is delicious and a very healthy breakfast, lunch or snack.  You can even add a poached egg for extra protein.
How do you eat your hummus?  Add your suggestions below, I'd love to hear from you.