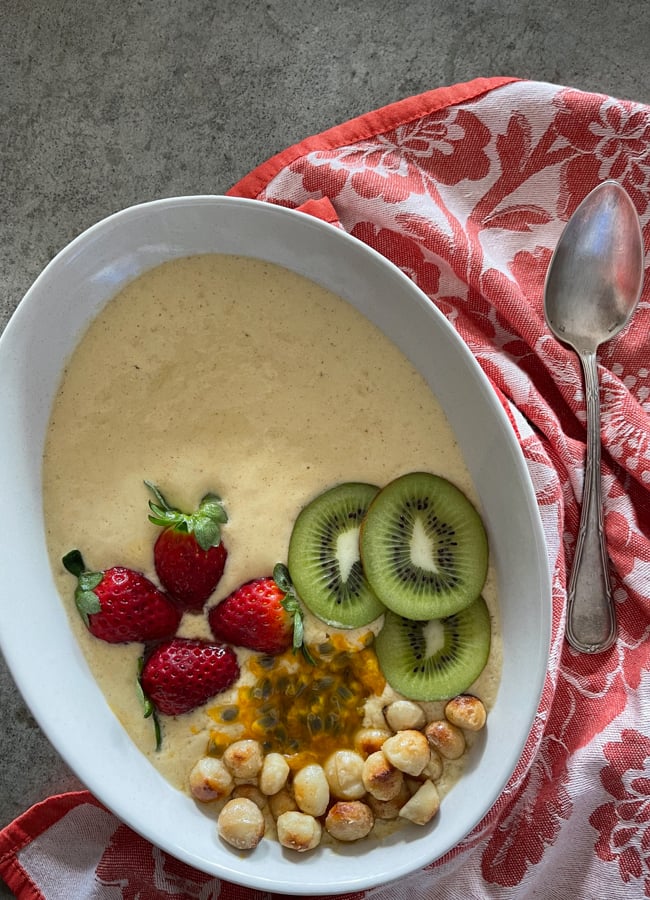 This Immune Smoothie Bowl is designed to support your immune system and really is food as medicine. The combination of vitamin C and fibre rich fruits, essential fats from the avocado, probiotic yoghurt and protein powder makes this a delicious and super nourishing start to the day.
Why do we need protein?
The strength of our immune system relies on us eating protein and including high-quality amino acids in our diet is essential to make antibodies to fight infection.
We all need protein to build new cells and repair tissue. As kids are growing (often rapidly) it is especially critical that they are consuming adequate amounts.
Protein is also used extensively by every body, everyday. Protein is used to make digestive enzymes, to repair the digestive tract, to grow skin, hair, nails, to make blood cells, for strong bones, to build muscle, to make hormones, to stabilise our blood sugar….I could go on forever really.
We cannot store protein, so it's safe to say, that in order to replace, rebuild and repair, we need to consume protein very regularly.
Signs of protein deficiency
In our society, it is rare to see frank protein deficiency. However, in my experience, subclinical signs are increasingly common, especially in picky eaters. These include:
poor immune responses (getting sick frequently or difficulty recovering from illness)
poor appetite or very picky (or more of a snacker, craving simple carbohydrates)
poor concentration and trouble learning
moodiness and mood swings
poor sleep patterns
muscular weakness, aches and pains
poor growth and development (failure to thrive)
skin problems
delayed wound healing
Protein supplementation
Protein supplementation is also often required for picky eaters, people who suffer chronic illness, athletes or suffering with food intolerance which restricts their protein intake (egg, nut, dairy allergies for example). Just as medicine is required occasionally for illness, supplementation is critical and can be helpful in restoring the appetite and desire for whole foods.
It is also very helpful for those mornings that go pear-shaped and a sustaining brekkie is required quickly. As much as I'd like to serve a nutritionally balanced, high protein brekkie each and every morning, some days time is just stretched (like when my kids have a 5am swim squad and we are up at 4.30am) and a protein powder supplement is invaluable.
Whey protein is a complete protein source that provides all of the essential amino acids that our body needs. Whey proteins also contain individual proteins such as Lactoferrin and immunoglobulins that have immune-enhancing activity.
The vast world of protein powders
Navigating the many types of protein powders available is tricky business. Many brands are derived from feed-lot, grain-fed cows (also often fed GMO's), highly processed soy proteins and contain franken-sugars, fructose, maltodextrin starches (aggravate blood sugars and the GIT), additives and more yuk ingredients.
Most also contain absolutely no plant fibre, good fats or micronutrients (vitamins and mineral) so nutritionally they are incomplete and not at all reflective of a well rounded, whole food meal. Thankfully, there are a select few which offer balanced nutrition and do what we need them to do – provide a sustaining, nutritious supplement, and here's the clincher, that actually tastes good. It's just got to taste good right?
My preferred choice – 180 Nutrition protein powder
I have decided to partner with 180 Nutrition as a product that ticks all of my tough to tick boxes. I love that they have vegan AND grass fed whey protein options (to suit everybody) and that they couple their proteins with nourishing whole food to make it nutritionally complete (so much more than just protein). I'm a fan of their ethos in general and they're an Aussie company that I know and trust.
Their 180 Nutrition Protein + Superfood Blends are a simple, balanced blend of Whey Protein Isolate, Flaxseed, Cocoa (chocolate flavour only), Coconut Flour, Sunflower Seeds, Psyllium Husks and Stevia.
This protein powder contains essential minerals and vitamins for stable energy, healthy fats and plant-based fibre. They are also low in sugar (and fructose friendly) so they will keep you full for longer. The range of 180 Nutrition Protein + Superfood Blends (pictured below) are easy to find as they are available at your local Coles supermarket.
Important
Please speak to your nutritionally trained health care practitioner to determine if your individual nutritional requirements are being met. This post is not intended to diagnose or prescribe, merely help you to make an informed choice.
Immune Smoothie Bowl
This Immune Smoothie Bowl is designed to support your immune system and really is food as medicine.
Ingredients
2

frozen bananas

– peeled and quartered

2

orange/s

– peeled and quartered

½

avocado

– flesh

1

lime/s

– juice

60

ml

coconut water

(

¼

cup)

120

g

full-fat natural yoghurt

(

½

cup)

½

tsp

ground turmeric

1

cup

ice

4

scoops

protein powder

Fruit, nuts and/or granola

– to decorate
Method
In a high speed blender place the bananas, oranges, avocado, lime juice, coconut water, natural yoghurt, turmeric, ice and 180 Nutrition Protein + Vanilla Superfood Blend.

Blend until smooth and creamy. Divide between two bowls and top with fruit of your choice, nuts and/or granola.

Enjoy immediately.