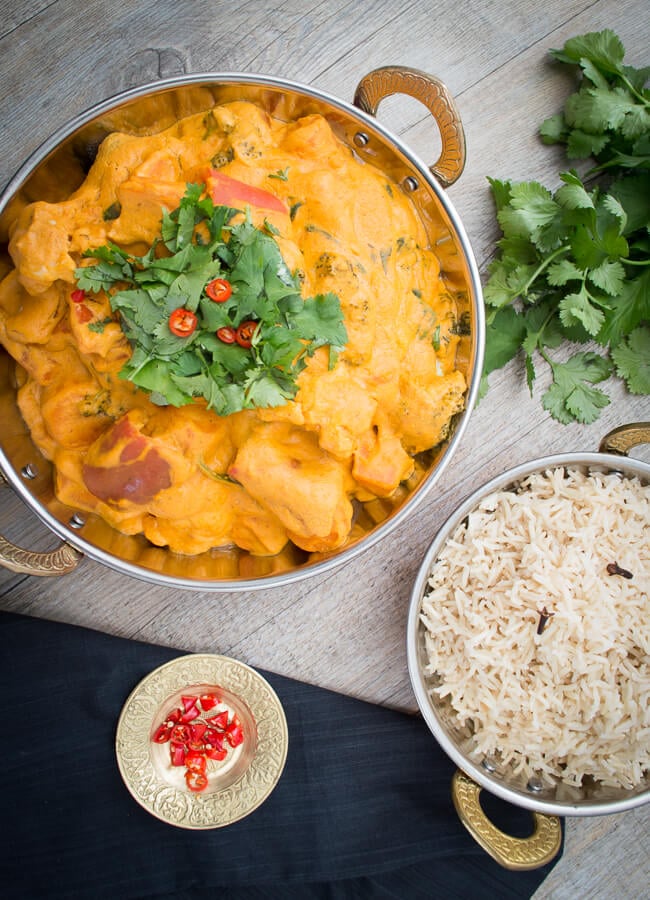 So this is a very basic, mild Indian vegetable curry sauce that I often whip up for a quick meal that is guaranteed to please my family. It is very versatile so even though my main recipe is vegetarian, feel free to add in meat or legumes (see recipe variations). You can also freeze batches of the sauce for a quick curry another time.
Health benefits
Anything with this many veggies is just good! Coupled with so many wonderful anti-inflammatories, digestion and immune supporting spices; protein and essential fatty-acid rich cashew nuts, this is not only really delicious but supports optimal health and healing.
Indian Vegetable Curry
This Indian Vegetable Curry really easy to make, mild curry that the whole family will love. It's also super versatile so you can adapt it to suit your taste.
Ingredients
1

tablespoon

ghee,

butter or coconut oil

1

medium brown onion,

peeled and diced

2

cloves

garlic,

peeled and diced

2

cm

piece of ginger,

peeled and finely chopped

1

tablespoon

fennel seeds

1

tablespoon

cumin seeds,

ground

1

teaspoon

turmeric powder

(or a 1cm piece of fresh, peeled and finely grated)

1

tablespoon

coriander seeds,

ground

1

tablespoon

garam masala

150

g

(1 cup) raw cashew nut pieces

5

ripe tomatoes,

roughly chopped

1

teaspoon

sea salt and black pepper,

to taste

250

g

(1 cup) full-fat natural or Greek yoghurt

180

ml

(¾ cup) water

Vegetables

(I used 1 small sweet potato, 1 large carrot, 1 red capsicum, ½ head cauliflower, ½ head broccoli and big handful baby spinach), see note below
Note:
Try to cut your root vegetables to roughly the same size and group vegetables into approx. cook times. So

in this case, the carrot and sweet potato will take the longest so I add them to the sauce first, followed by the red capsicum, cauliflower, broccoli and lastly, I stir in the spinach to wilt. The cook time will depend on the size you have cut your vegetables. I like a fairly chunky curry, which is easier to cut up but takes a bit longer to cook than if you cut the vegetables smaller. Your call. PS - I'm a bit of a nazi with vegetables, I really don't like them overcooked, but if you don't mind you can throw it all in together.
Method
In a large, deep pan, melt the ghee, butter or coconut oil and sauté the onion, garlic, ginger and spices over a low heat unit the onion is just starting to become opaque and the spices smell amazing.

Transfer this to a blender or food processor with the cashews, tomatoes, sea salt, yoghurt and water and blend until it is smooth.

Add it back to the pan you cooked the onions and spices in (no need to wash it), add your vegetables in stages (see the note above), and simmer with the lid on (it will spit), stirring frequently until the vegetables are cooked to your liking. Taste and season again.

My curry takes approx. 15 minutes for the root vegetables and another 5-10mintes for the quick cooking veggies (broccoli, cauliflower and capsicum). Always add leafy greens (baby spinach/coriander) at the very end once you have turned off the heat.

Another way to cook this curry is to steam (or roast) the vegetables and just mix through the sauce (which has simmered 10-15 minutes to build flavour).

Lovely served with brown basmati, quinoa or cauliflower rice.
Thermomix Method
Place your onion, garlic and ginger (also fresh turmeric if using) in your TMX and process 3 seconds, speed 6. Scrap the sides. Add the fennel seeds, cumin, turmeric powder, coriander seeds and garam masala and ghee, butter or coconut oil and sauté 3 minutes, temp 100, speed 1.

Add the cashew nuts, sea salt and tomatoes and blend 20 seconds, speed 7.

Add the yoghurt and water and blend 1 minute, speed 8.

At this point, you can choose to cook your curry in a stove-top pot (point 3 above), or continue in your TMX. Personally, I like to finish this in a pot as I find the vegetables stay more intact than cooking it in the TMX. See the note above re-cook time. If you do choose to cook your vegetables in the TMX, make sure the blade is on reverse and cook at temp 100, speed 1 (cook times will vary as explained above).

If you are using the steamed method (point 5 above), cook for 10 minutes, temp 100, speed 3 before pouring over your vegetables.
Variations
Add a legume
Feel free to add in cooked chickpeas or lentils.
Add meat
You could also add meat to this curry sauce – I'd suggest it's best suited to chicken or fish.
Make it spicy
Add dried chilli flakes at part one of the method. Or, serve with fresh or dried chilli so everyone can control their own heat (this is what we do).
Dairy-free
Sub the yoghurt with coconut milk.
Hope you enjoy this very versatile curry. Love to hear how you like it or post a question in the comments below.