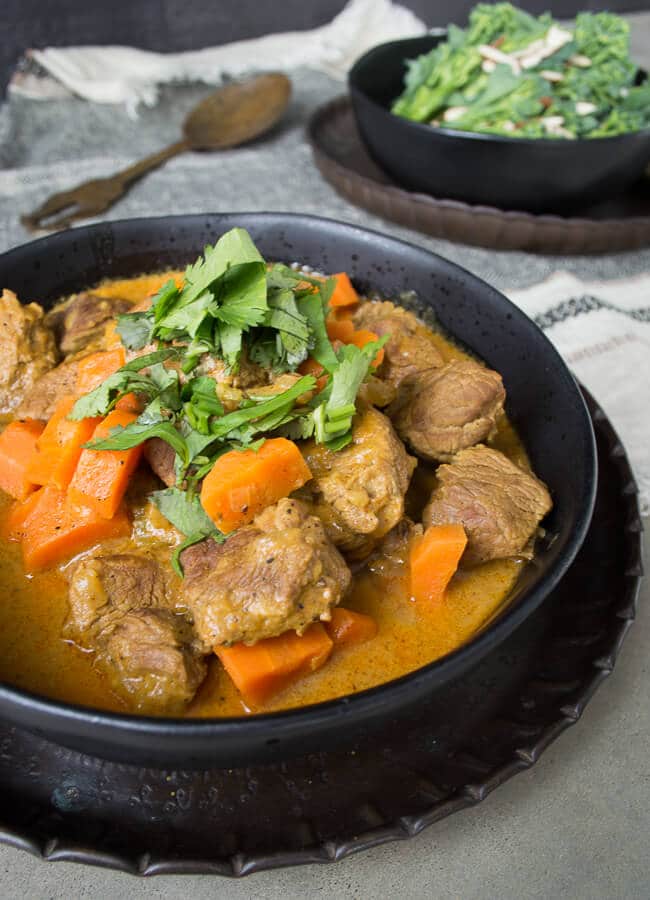 This weeks cracking Lamb Coconut Curry recipe is thanks to the lovely Irena Macri from Irena Macri | Food Fit For Life. I don't often share other peoples recipes, but Irena is a friend and I really love her cooking style.
I've made this several times for my family and they always devour it. So here we have it, I know you are going to love this delicious Lamb Curry…
Lamb Coconut Curry
This Lamb Coconut Curry is an easy to make, nourishing curry that the whole family will love.
Ingredients
1

tbsp

butter, ghee or coconut oil

700

g

lamb shoulder

- diced

1

onion/s

(large) sliced

1

red chilli/s

- finely diced

2

stick/s

celery

- diced

3

clove/s

garlic

- diced

2 ½

tsp

garam masala

1¼

tsp

ground turmeric

1

tsp

fennel seeds

1½

tsp

ghee

(or extra coconut oil)

400

ml

canned coconut milk

(

1½

cups)

1½

tbsp

tomato paste

(omit for AIP)

250

ml

water

(

1

cup)

1

tsp

sea salt

- or to taste

2

carrot/s

- diced

½

lime/s

- juice (to serve)

Fresh coriander or parsley

- to garnish
Method
Heat a tablespoon of butter, ghee or coconut oil in a casserole dish or a large saucepan.

Add the lamb and stir on a high heat until slightly browned, about 3-4 minutes.

Add the onion, chilli and celery and cook for about a minute or two, until slightly softened. Bring the heat down to medium.

Add the garlic, garam masala, turmeric, fennel seeds and ghee (or extra coconut oil if avoiding dairy). Stir through and cook for a minute to let the spices release their aromas.

Add the coconut milk, tomato paste, water and sea salt. Stir and bring to boil.

Turn the heat down to slow simmer and cook for 1 hour, covered with a lid. Stir a couple of times.

After an hour, add the diced carrot and cook for a further 30-40 minutes, covered with a lid. Stir a few times.

Sprinkle with some fresh coriander or parsley and a little drizzle of lemon or lime juice before serving.
Slow cooker
This can certainly cooked in a slow cooker. However, as the speed and temperature varies between the many brands of slow cookers, base the amount of liquid you add and the cook time on a similar style of recipe in the guide book for your specific slow cooker. The general rule of thumb is to halve the liquid and double the cook time, but understanding your own slow cooker is the best guide.
Serve
Serve with your favourite vegetables or cauliflower rice.
Make-ahead
Re-heat in a pot over a low heat until just hot.
Store
Store in an airtight container in the fridge.
Variations
No-heat
Remove the red chilli to make it less spicy if cooking for the kids - although it's not very spicy anyway.
Dairy-free
Choose coconut oil as the fat. 
Onion and garlic-free
Replace them with a small bulb of fennel (diced) and a teaspoon of ground cumin. 
Vegetarian 
Replace the lamb with 2 cans of drained and rinsed chickpeas. Serve with rice or quinoa to ensure you have a complete protein. 
Remember to check out the 'Ultimate Healthy Living Bundle' as it's only available for a few days and I'd hate for you to miss out!