I'm always experimenting with jelly flavours and trying to cram as much nutrition into one small treat as possible. So these came about after my husband came down with man flu and I went on a mission to keep the rest of us from succumbing.
Health benefits
The ginger and turmeric root are powerful anti-inflammatory and warming immune supportive herbs. The coconut water is hydrating and the kombucha and kefir are supportive to a healthy gut microflora.
Gelatin is made from the bone and connective tissue of animals that has been dried and turned into a powder. I have written about the benefits of gelatin in this post about bone broth.
The biggest benefit of eating gelatin, in my opinion, is that it is a gut healer, which means better nutrient absorption (so greater nourishment) all round. Also, if your gut is functioning well, then your nervous and immune systems are better supported.
I only use Changing Habits Organic Gelatin.
Take a look at the variations (below the main recipe) for suggestions to alter the recipe to suit many specific dietary requirements.
Lemon Jellies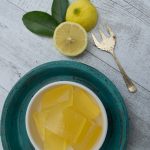 A beautiful, immune supportive treat, these Lemon Jellies have been a hugely popular recipe. They are great for helping to prevent illness, as well as being an easy food to eat if you are feeling under the weather.
Ingredients
250

ml

water

(

1

cup)

2

cm

ginger root

-peeled and roughly sliced

1

cm

turmeric root

-peeled and roughly sliced

250

ml

coconut water

(

1

cup) or kombucha or water kefir

1-4

tbsp

honey

- Manuka is best (amount depends on the level of sweetness you like)

1

lemon/s

(large) - juice

2 - 3

tbsp

grass-fed or organic gelatin
*Note about honey - only raw, unheated and unprocessed honey has medicinal properties. A good quality Manuka honey is the very best option.
Method
Place the water, ginger and turmeric root into a small pot and bring to the boil, reducing to a simmer for approx. 5 minutes.

Take off the heat off and allow to cool for 5 minutes.

Remove the solids (strain) and stir in the coconut water (kombucha or water kefir) honey, lemon and optional Camu powder. Taste to check that you are happy with the flavour (sour/sweet balance). I should be luke warm before adding your gelatin.

Now sprinkle the gelatin over the liquid, allow it to sit and bloom (go wrinkly) for a few minutes. For a traditional jelly set use 2 tablespoons, for a firmer, more gummy-lolly-like consistency, add 3 tablespoons.

If the gelatin doesn't completely dissolve, you can pop your pot back on the heat for only 1 minute (only heat to luke warm), stirring well.

Pour into a lined slice tray or moulds, and set in the fridge.
Thermomix
Place the water, ginger and turmeric root into the bowl heat 5 mins, varoma, speed 1.

Add the honey or rice malt syrup, mix 30 seconds speed 3.

Remove the solids and add the coconut water, kombucha or water kefir (and optional camu camu). Mix 10 seconds, speed 3.

Now add your gelatin, mix 1 minute, temp 37, speed 3-4 or until the gelatin is dissolved.
Store
Store in an airtight container in the fridge or freezer.
Tip
If using silicon moulds to set your gummies, freeze them to make removing them from the mould clean and simple.
Variations
Low-fructose
Choose rice malt syrup as your sweetener.
Coconut-free
Choose the kefir or kombucha instead of the coconut water.
Don't like ginger or want to use powdered?
Leave it out or use ½ teaspoon of the ground ginger powder.
No fresh turmeric?
Sub with ¼ teaspoon of turmeric powder.
Add Camu
You can certainly add a tsp of camu camu powder if you wish for an extra vitamin C boost.
I'd love to hear how you liked these delicious little treats. Post a comment or rate this recipe.