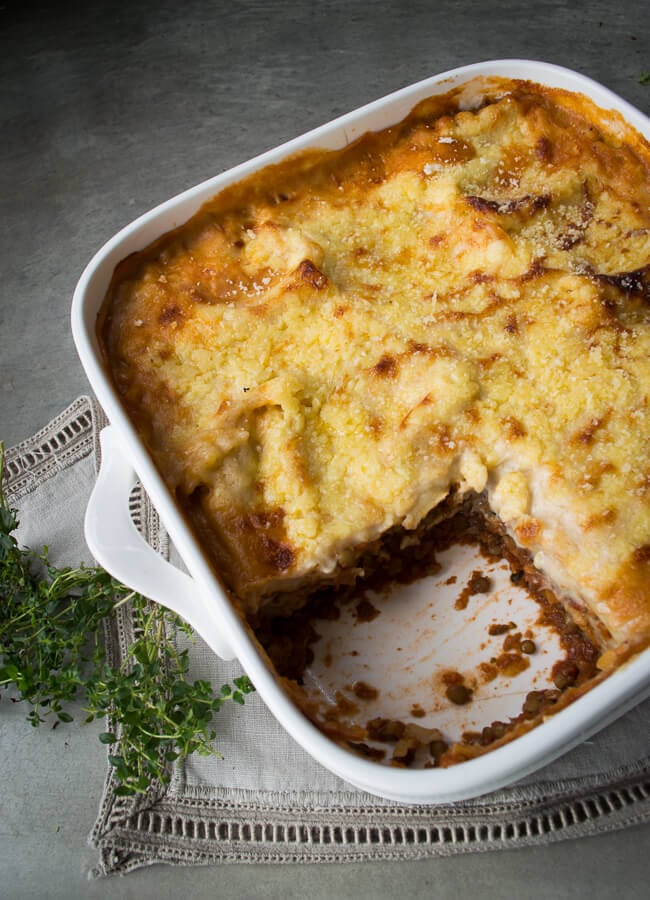 I have SO much thyme in my garden at the moment and even though it is just one of many ingredients in this totally divine Mushroom and Lentil Lasagne, it was what ultimately inspired this dish. I'm constantly experimenting on delicious ways to win over my meat loving family and this is our latest vegetarian favourite so I thought I'd better share it.
For about 20 years of my life I was a vegetarian, many of those years I was a student also so legumes, being a cheap, healthy source of protein, were my go to. Various types of vegetarian bolognese type dishes were staples for me back than- the base ingredients were similar, always a legume of some kind + vegetables + tomatoes + various herbs and spices depending upon what I felt like.
So in creating my latest vegetarian lasagne, I returned to my tried and tested formula, balancing the flavours of thyme and vegetables until  it was perfect – and now it is, so I hope you love it as much as my family does (even the legume fussy one in our household loves this).
For a legume-free lasagne, my Pumpkin Lasagne has been a huge hit with the Well Nourished audience too.
Take a look at the variations (below the main recipe) for suggestions to alter the recipe to suit many specific dietary requirements.
Mushroom and Lentil Lasagne (to die for)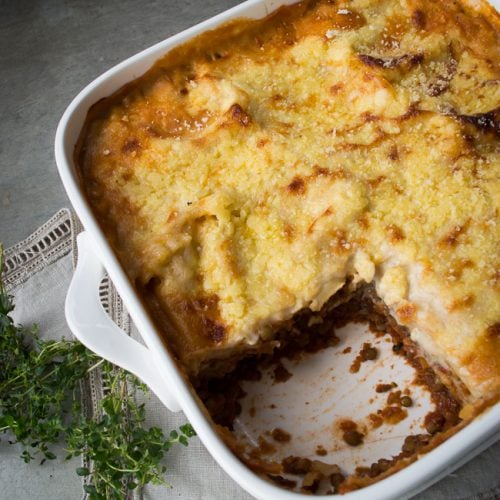 This super tasty Mushroom and Lentil Lasagne will win over any meat lovers in your family. Vegetarian lasagne just doesn't get any better.
Ingredients
100

g

Puy (French) lentils

(

½

cup approx.)

15

ml

olive oil

-extra virgin (

1

tbsp)

1

onion/s

-peeled and halved

3

clove/s

garlic

-peeled and chopped

1

stick/s

celery

-roughly chopped

2

carrot/s

-roughly chopped

1

zucchini/s

(medium) roughly chopped

2

bay leaf/s

-dried

1

bunch/s

fresh thyme leaves

- leaves picked off the stems

250

g

mushrooms

-Swiss brown or portobello

3

tbsp

tomato paste

400

ml

vegetable stock

(or bone broth if not worried about it no longer being vegetarian)

400

g

diced tinned tomatoes

(or

6

vine ripened roma tomatoes) diced

Sea salt and freshly ground black pepper

-to taste

60

g

baby spinach

-chopped (

2

cups)

200

g

dried lasagne sheets

(see below for GF and GrF)
Cheese sauce (see below for a vegan version)
115

g

cheddar cheese

(

1

cup) grated

30

g

butter

55

g

wholemeal spelt flour

(

½

cup)

500

ml

milk

(

2

cups) of your choice (see below variations)

Sea salt and freshly ground black pepper

-to taste
Method
Pre-heat your oven to 180℃ / 350℉ fan-forced (about 10 minutes before you are ready to bake the lasagne). 

I personally like to soak all legumes overnight in water with a splash of vinegar, so do this with the puy lentils if you like (you don't have to, but I'd recommend it).

I used my Thermomix to do all the chopping, but you can easily use a regular food processor or grate/ finely dice all the veggies by hand. No need to wash or rinse the food processor in between each step too.

In a food processor or thermomix chop your garlic (TMX 5 secs, speed 5) and then onion (TMX 5 secs, speed 4).

Heat a large pan over a low heat and add the olive oil (or you can use ghee or butter if not vegan). Add the chopped garlic/onion and gently sauté whilst processing the other veggies.

Now pop the celery, carrots and zucchini into your food processor and pulse to chop - you are looking for a course consistency so be careful not to over process (TMX use the turbo button, quick pulses until the right consistency, about 2-3 should do it look through the lid after each pulse). Alternatively grate the carrot and zucchini and finely dice the celery. Add this to the pan with the onion.

Sauté for a few minutes with the bay leaves and thyme leaves.

Pulse the mushrooms in the food processor until just chopped (TMX pulse 1-2 times).

Add them to the pan with the Puy lentils, tomato paste, stock and diced tomatoes. Season, stir to combine and allow to simmer with the lid ajar, stirring occasionally, until the sauce thickens and the lentils are cooked. This will take about 30 minutes.

Once cooked, add the chopped spinach and stir though to wilt it. Taste, adjust the seasoning if you need to (salt brings out the flavour so don't be shy). Remove from the heat and set aside.
Cheese sauce
Grate the cheese (in the processor and set aside).

For the Thermomix method, follow the recipe for Béchamel in your basic cookbook.

In a medium sized pot, melt the butter over a low heat. Remove from the heat and add the flour mixing to combine.

Return to a medium to high heat and gradually add the milk, approx. half a cup at a time mixing constantly. As it heats it will thicken, this is when you should add another half a cup of milk. Do this until all the milk is added and the sauce is thick.

Add about a quarter of the cheese, season with sea salt and pepper to taste, and stir well (reserve the rest of the cheese for the top of the lasagne).
Assemble
To assemble the lasagne, use a medium size baking dish (mine is 25 x 25cm), placing half of the lentil sauce in the base, top with lasagne sheets, then the remaining lentil sauce, another layer of pasta and finish with the cheese sauce and the remaining grated cheese.

Bake for 30 - 45 minute or until the lasagne is cooked through.
Serve
With a big green salad or steamed veggies.
Make-ahead
Re-heat in a low oven until just hot.
Store
Store in an airtight container in the fridge. I store it in a rectangle shaped oven proof glass pyrex or glass lock container so I can simply remove the lid and reheat in the storage container (saves washing up).
Variations
Gluten and grain-free
Choose gluten-free lasagne sheets and for grain free layer with thinly sliced eggplant (aubergine) or zucchini (courgette).
Vegan (dairy-free) cheese sauce
Steam half a large head of cauliflower, then puree with a tablespoon of nutritional yeast, a generous pinch of sea salt and pepper and a splash of almond milk to achieve a Béchamel consistency (thick sauce). Top with grated vegan cheese.
Onion and Garlic-free
Replace both with finely diced fennel sautéed with a pinch of cumin and chilli powder. 
All in the Thermomix
I personally used my TMX for all the preparation (chopping) and making the cheese sauce but cooked the lentil sauce in the pan as I prefer the consistency the pan produces (plus the volume of the sauce is pushing the bowl limits). But if you did want to cook it all in the TMX,  I'd cook on reverse, speed 1, temp 100, 30 minutes (or until the lentils are cooked through) with the lid ajar. 
TIP
The lasagne can be made ahead, refrigerated and re-heated as required. It can also be portioned and frozen.
You can also serve this as a pasta sauce if you can't be bothered with the few extra steps to the lasagne. Or it can also become a pasta bake (combine the sauce with pasta, top with cheese and oven bake).
Enjoy! I'd love to hear how you and your family enjoyed this tasty dish. Please leave a comment and let me know what you think (star rating extra appreciated as that way this recipe will entice even more people).