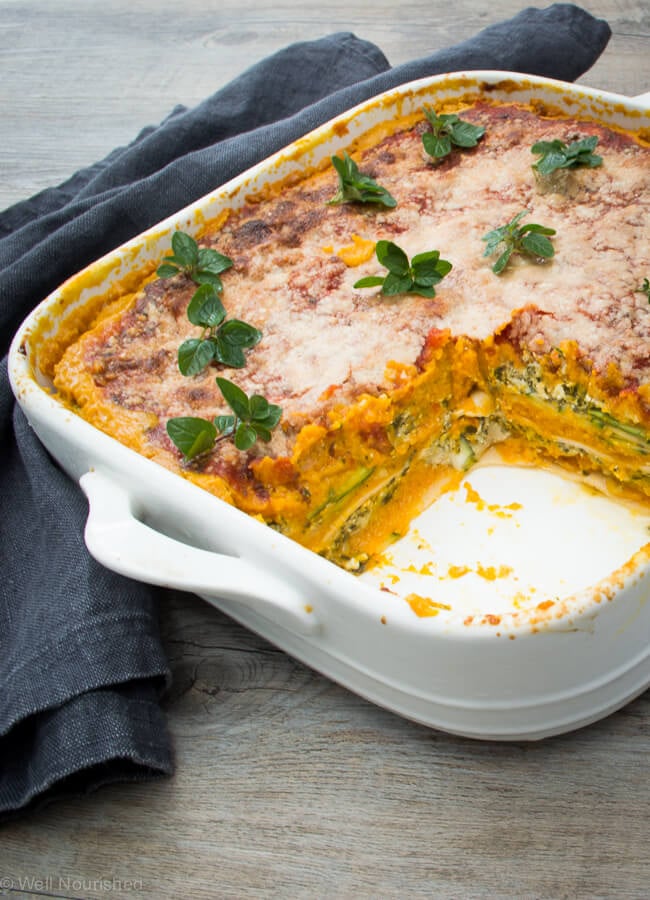 My kids really don't like pumpkin by itself (baked or steamed) – but they love it in soups (my favourite four recipes here) or in a lasagne or bake.  So today I thought I'd share my veggie packed, creamy Pumpkin Lasagne. I have lots of variations to suit your dietary requirements and tastes. This is a really versatile recipe, so customise it to suit your family.
Health Benefits
This lasagne is a fibre rich, supercharged veggie bonanza, including lots of different coloured vegetables. The hero of this dish – pumpkin, is a rich source of antioxidants especially vitamin A and many other vitamins, minerals and protective phytochemicals.
Take a look at the variations (below the main recipe) for suggestions to alter the recipe to suit many specific dietary requirements.
Pumpkin Lasagne (with lots of twists)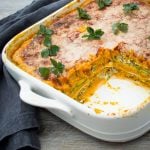 My favourite vegetarian meal, this Pumpkin Lasagne is a plant powered, delicious delight. Even though it has a few layers, it really is simple to make and worth every minute of prep.
Ingredients
Pumpkin layer
1

kg

pumpkin

(butternut or Jap) peeled and roughly sliced

2

carrot/s

(large) roughly cut

200

g

cauliflower

(

1½

cups approx.) florets broken apart

1

onion/s

-peeled and sliced

2

clove/s

garlic

-peeled and sliced

1

tsp

sea salt

- or to taste

Ground black pepper

-to taste

50

g

butter, ghee or olive oil

-melted

120

g

quark or ricotta cheese

(

½

cup)

2

free-range or organic egg/s

100

g

parmesan cheese

(

1

cup) finely grated (though only half of this will go in the pumpkin puree, the rest is for the top)
Spinach layer
50

g

butter, ghee or olive oil

-melted

1

onion/s

(large) peeled and diced

1

clove/s

garlic

-peeled and crushed

300

g

baby spinach

-washed

100

g

feta cheese

-or goats feta
Tomato layer
400

g

diced tinned tomatoes

1

tbsp

dried oregano
Pasta layer
Fresh lasagne sheets - regular or gluten-free

(or for grain-free, use a large zucchini, cut into ribbons) I have also layered both to increase the veggie content.
Method
Preheat your oven to 180°C/350°F (fan-forced).

In a baking tray combine the pumpkin, carrots, cauliflower, onion, garlic and fat of your choice and toss together. I use the baking dish I plan to bake the final lasagne in (saves on washing up).

Bake for approximately 30 minutes or until the vegetables are soft (cooked through but not overcooked).

Whilst they are baking make your spinach layer by sautéing the onion and garlic in the pan with a little butter, ghee or coconut oil over a low heat until they start to soften (but not brown). Add the spinach and cook for a few minutes until the spinach wilts. Remove from the heat and place in a food processor (include any water from the wilting) with the feta or goat feta, and puree well. Set aside.

Once your vegetables are baked, allow to cool a little and then puree in a food processor with the quark or ricotta, eggs, half the parmesan and more seasoning if required. The consistency should be just runny enough to pour (so the lasagne doesn't end up too dry as the pasta sucks up moisture when cooking). If it is very thick add a little splash of water and process again.

Mix the oregano in with the tomatoes (I just add it to the can and gently mix).

Now arrange the lasagne using your chosen sheets of pasta or ribbons of zucchini.

Grease the baking dish and layer pasta (or zucchini), followed by a third of the pumpkin, pasta, half the spinach and repeat. Finish with the last third of pumpkin puree, followed by all of the tomatoes and top with the remaining parmesan cheese.

Bake for approximately 30-40 minutes or until brown on top and the pasta is cooked through.

Lasagne is always easiest to slice once chilled. If it is important to have nice neat slices, chill and then slice and then re-heat. Otherwise, serve immediately.
Thermomix Method
Grate the parmesan (10 seconds, speed 8). Set aside.

Follow step 1, 2 and 3 above.

For the spinach layer, chop the onion and garlic (3 seconds, speed 5). Scrape down the sides and add the fat of your choice (cook 3 minutes, temp 80, speed 1).

Add the spinach (cook 3 minutes, temp 90, speed 2).

Finally, add the feta and puree (10 seconds, speed 5). Set aside.

Without washing the bowl, puree your pumpkin mix (20 seconds, speed 5). Add half of the parmesan the quark, eggs and puree again (20 seconds, speed 6). Taste and season again if required.

Go to step 6 above, to finish.
Time saving tip
If you're not bothered about layers, you can combine the spinach and pumpkin to save time. Just add the onion and garlic (from the spinach layer) in the baking dish with the pumpkin/veggies and then puree all together with the spinach (raw is fine) and cheeses or DF options)
Serve
With a leafy green salad.
Make ahead
Re-heat in a low oven until just hot.
Store
Store in an airtight container in the fridge. I store it in a rectangle shaped oven proof glass pyrex or glass lock container so I can simply remove the lid and reheat in the storage container (saves washing up).
Variations
Dairy-free
Sub the parmesan with the same amount of nutritional yeast and a good pinch of sea salt. Sub the quark for  ½ cup of cashew nuts (preferably soaked and throw them in with the vegetables to toast) and the feta for ¼ cup of cashew nuts (soaked) and a good pinch of salt. Top with chopped walnuts (and the other half of the nutritional yeast) instead of the parmesan.
Gluten and grain-free
Use gluten-free pasta sheets or for grain-free use zucchini. I often alternate pasta/zucchini.
Egg-free
Omit the eggs, it is still delicious, just not as firm. The lasagne in the photo is egg-free.
Vegan
Combine dairy-free and egg-free versions above.
Onion-free
Replace the onion with one large bulb of fennel, finely diced (and divided between the two layers).
Garlic-free
Replace the garlic with a teaspoon of cumin and a pinch of cayenne pepper. 
I'd love to hear how you like this family favourite. Post a comment and let me know (you could also simply rate the recipe).