This quick and easy dhal recipe is a nourishing meat free meal. I personally try to have regular meat free meals and this dhal is nutritious and filling. It's also great for a last minute meal as I always have the ingredients in the pantry. It's my backstop when I forget to take meat from the freezer or if the day escapes me. Serve it with rice or quinoa and a big leafy salad, or some steamed vegetables and you have a perfectly balanced, protein rich vegetarian meal.
Health benefits
The red lentils are full of fibre, many beneficial plant nutrients and offer a vegetarian form of protein, the almond meal completes it (as does serving it with rice or quinoa). The garlic, ginger and various spices are great digestives, anti-inflammatory, anti-oxidant and immune boosting. The coconut milk is wonderful for your immune system, read more about it here.
Take a look at the variations (below the main recipe) for suggestions to alter the recipe to suit your specific dietary requirements.
---
---
Quick and Easy Dhal Recipe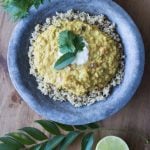 My Quick and Easy Dhal is a fast, nutritious meal that the whole family will love. It's one of the most popular recipes here at Well Nourished.
Ingredients
2

tbsp

butter, ghee or coconut oil

1

onion/s

(large) peeled and diced

3

clove/s

garlic

- peeled and sliced or crushed

1

tbsp

ginger root

- peeled and finely grated

1

carrot/s

(large) grated

1

zucchini/s

- grated

1

tsp

cumin seeds

1

tsp

ground cumin

1

tsp

ground coriander

2

tsp

mustard seeds

2

tsp

garam masala

1

tsp

ground turmeric

350

g

roma tomatoe/s

- roughly chopped or

1

can of tinned tomatoes

200

g

split red lentils

- dried (

1

cup)

400

ml

canned coconut milk

- or cream (the cream gives a richer, creamier consistency)

350

ml

chicken stock or bone broth

- or vegetable stock or water

3

tbsp

almond meal

Chilli flakes

-to taste

Sea salt and freshly ground black pepper

- to taste (the salt really brings out the flavour a lot here)

1

lime/s

- juice and zest to finish

1

bunch/s

fresh coriander leaves

- roughly chopped
Optional-
6

fresh curry leaves

- optional but yummy
Serve
Rice, quinoa or cauliflower rice (to serve)
Method
In a medium sized pot, over a low to moderate heat, add the butter, ghee or coconut oil. Sauté the onion, garlic, ginger and spices for two minutes.

Now add the grated carrot, zucchini, tomatoes, lentils, coconut milk, water and almond meal. Season well, stir and leave to simmer for 15 to 20 minutes until the lentils are cooked and most of the moisture is absorbed.

Finish with coriander leaves and lime. Season again if necessary (sea salt lift the flavours in this so make sure you add it) .

I always serve this with brown rice or quinoa and either fresh or dried chilli so the heat can be adjusted by each individual.
Thermomix method
Chop the garlic and ginger, 2 seconds, speed 5. Add the onion, carrot, and zucchini and chop 5-10 seconds speed 5.

Add the spices and a tablespoon of ghee or coconut oil and sauté 5 minutes, speed 2, temp 100.

Now add the tomatoes, lentils, coconut milk, water and almond meal, a good pinch of sea salt and pepper, and cook 20 minutes, reverse speed 1, temp 100.
Serve
Serve with fresh lime and coriander leaves over rice, cauliflower rice or quinoa.

Its lovely on toast for breakfast (with or without an egg).
Make-ahead
Re-heat in a pot over a low heat until just hot.
Store
Airtight in the fridge or freezer. The flavour actually improves with time.

* a little extra cooking time might be needed if your lentils are not split.
Variations
Vegan
Choose coconut oil and coconut milk.
Coconut-free
Replace the coconut milk with full-fat natural yoghurt and choose ghee or butter.
Grain-free
Serve over a baked potato or sweet potato, cauliflower rice or quinoa.
Nut-free
Just leave the almond meal out.
Turn it into a soup
Add a little extra stock and blend to make a delicious Indian red lentil soup.
Make it meaty
You can use this as a curry base (sauce) and add any meat you like to this.
Make it go further
Add in a can of drained and rinsed chickpeas
More vegetables
You can also add extra vegetables. Pumpkin, sweet potato, peas, chopped celery, beans, cauliflower, and broccoli would work well. I also love a couple of handfuls of baby spinach added at the very end.
Breakfast
Leftovers are totally delicious on wholegrain toast for a protein rich breakfast.
Tip
A little natural yogurt or coconut cream on top of the dhal also often helps little ones adjust to the spiciness.
If you're serving it with rice, cook-up extra (2 cups) and make my Baked Brown Rice Pudding for a quick, healthy breakfast tomorrow.
Do you like a good dhal?  This is based on a traditional dhal I learned to make in India.  I'd love to hear how you like it!
---
LOVED THIS RECIPE? ENTER YOUR DETAILS TO GET YOUR FREE RECIPE BOOK WITH 5 SIMPLE DINNERS