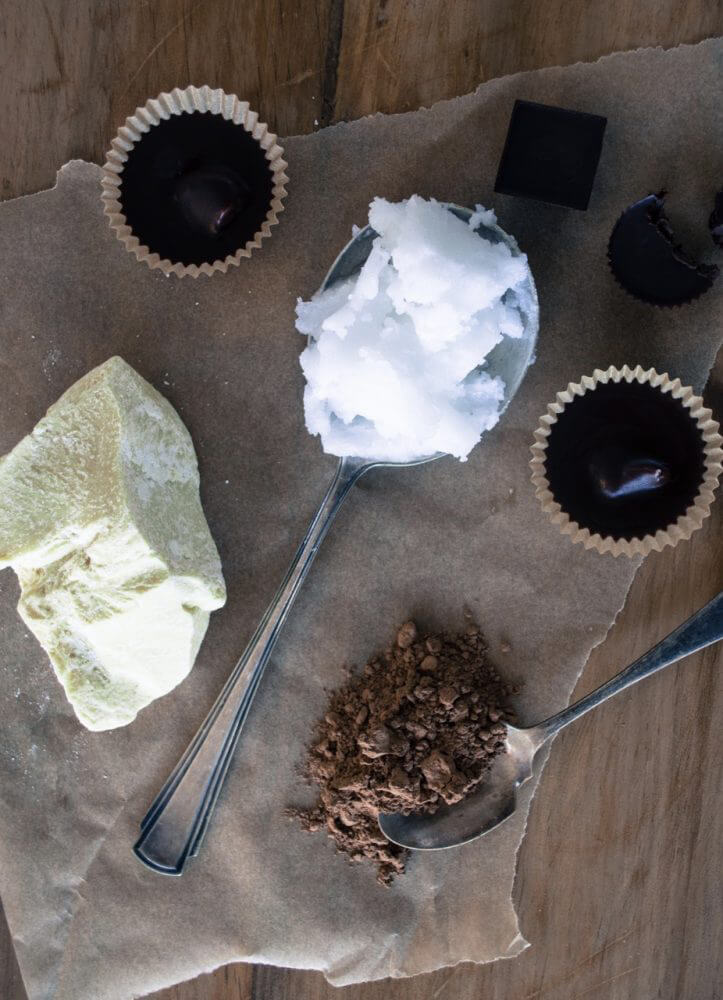 I make my own sugar (fructose) free chocolate. This real raw chocolate recipe uses only nourishing, whole ingredients. It takes minutes to make, my kids LOVE it, I can consume it without guilt (happens often) and I find it simply satisfying! It's quite funny, my kids think my chocolate is a really indulgent, special treat! Well, it is, but unbeknown to them, it's also very healthy.
There are a couple of versions I make (and then a couple of versions within those versions)! By now, you know how I love my versions? Anyway, today I'm just going to keep it simple and show you a couple of basic combinations.
Raw cacao butter is the fat pressed at low temperatures from the cacao bean. It has an amazing aroma and makes a chocolate that doesn't melt quite as quickly as chocolate made with coconut oil. It is however, quite expensive and the blocks need to be chopped up or shaved to melt, whereas the coconut oil melts easily (in summer it will be a liquid anyway). You can find out more about the health benefits of coconut oil here.
You can make this chocolate with either one, or, a combination of the two. Either version forms an antioxidant rich, very nutritious and delicious chocolate.
Take a look at the variations (below the main recipe) for suggestions to alter the recipe to suit your specific dietary requirements.
Raw chocolate recipe
This is a simple way to make healthy raw chocolate. It's as good as the processed kind.
Ingredients
200

g

cacao butter

(

1

cup) or raw, extra virgin coconut oil (or a combination of 100gram of each), melted

30

g

cacao

(

¼

cup) unsweetened Dutch process or raw

2-4

tbsp

rice malt syrup, honey or maple syrup

-you can adjust the sweetness to your taste
Method
Simply melt the cacao butter or coconut oil over a very low heat (I find placing in a bowl over hot water is best), or Thermomix (temp 50, speed 1) until just melted. If making with just coconut oil, it only needs to be softened, not melted to make it.

Add the cacao powder and sweetener, mix until well combined. Pour into chocolate moulds or mini cupcake baking cups. You can also spread out over a baking sheet to make a bark.

Place in the freezer immediately to set (don't delay with this).

Once set, keep in an airtight container in either the fridge or freezer.
Tips
A few people have had issues with the sweetener and base fat not combining completely. Make sure you don't over heat the mixture, it should be barely luke warm (not hot).

If you happen to overheat it, add a tbsp of coconut cream and try mixing with a stick blender or whipping it up in a blender just before pouring into a mould and get it into the freezer to set asap!
Store
Because both coconut oil and cacao butter melt when exposed to even a little heat, these chocolates always need to be kept cold (especially important if you use coconut oil for the fat). So, unfortunately, they are no good for picnics or lunch boxes (unless packed against an ice pack).
Variations
Coconut-free
Choose cacao butter rather than coconut oil. 
Fructose friendly
Choose rice malt syrup as your sweetener. You can also sub the sweetener for stevia if you enjoy the taste.
Vegan
Choose rice malt or maple syrup as your sweetener.
Add nuts
Roasted nuts are delicious set into this raw chocolate. 
Enjoy and please let me know what you think by posting a comment below. Who'd have thought chocolate could be so very healthy?