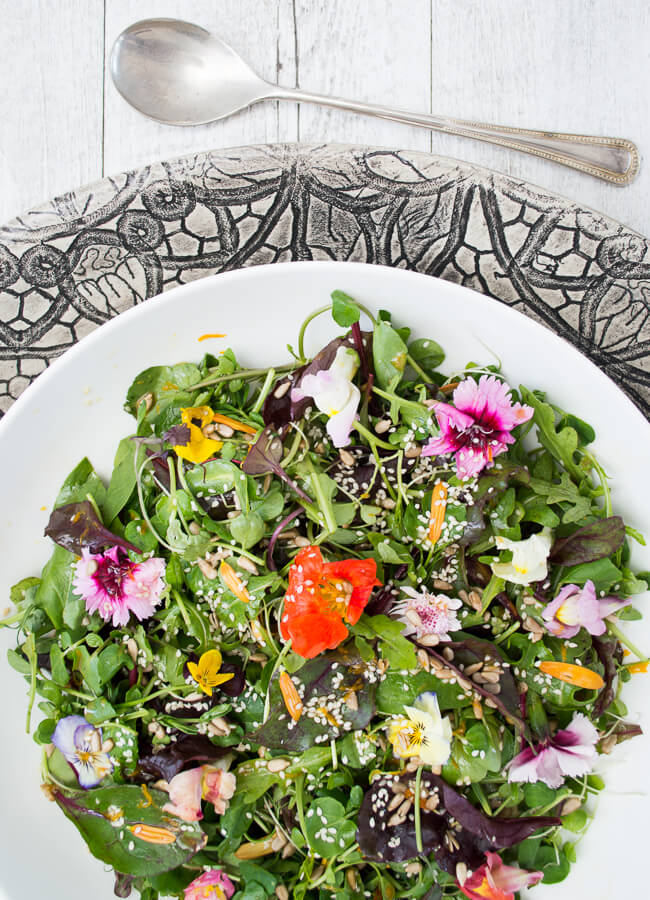 As you may already know, as part of Jamie Oliver's Food Revolution, I was one of 10 people selected to put my spin on 10 of Jamie's favourite staple recipes. This is a task right up my alley as I just love the endless possibilities of food creation. So my next JamieOliver.com recipe 'to save your life' is a 'simple green salad'.
I serve a simple green salad with most meals I make, especially in winter. Really, "salad in winter I hear you ask?" Absolutely – nature has given us an abundance of greens in winter for a reason, to keep our immune systems strong. Plus, the addition of a acid (citrus/vinegar) and oil dressing improves the absorption of fat soluble vitamins from your whole meal.
I find I cook more stodgy meals – casseroles, bakes, curries, slow cooks in winter and a simple green salad just lifts the meal and adds a little freshness. Many people think a salad needs lots of ingredients but it doesn't, especially when you have cooked vegetables in your main meal.
I also love to add toasted seeds to my salads, it is a really simple way to add texture and crunch, as well as nourishing essential fats, vitamins and minerals.
So here it is, one of my favourite, very simple green salads.
Simple Green Salad with Seeds and an Orange Balsamic Vinaigrette
I think a Simple Green Salad is an essential edition to any meal - not only from a health perspective, but for its ability to lighten up even the heaviest meal. The key is a cracking dressing which this recipe has covered.
Ingredients
A big bowl of greens

(I work off a big handful per person). You can choose one green but I love to use a heap of different leaves and herbs. Edible flowers are also a beautiful addition.

75

g

mixed seeds

- sunflower, pumpkin and sesame seeds (

½

cup) toasted
Dressing
60

ml

orange juice

(

¼

cup)

1

orange/s

-zest

60

ml

olive oil

-extra virgin

2

tbsp

aged balsamic vinegar

Sea salt and freshly ground black pepper

-to taste
Method
Wash your leaves well and spin dry in a salad spinner.

Toast your seeds in a pan, stirring continuously until  lightly toasted.

Make your dressing by putting all of the ingredients in a jar and shaking well to combine.

Arrange your leaves in a salad bowl and sprinkle with the seeds (approx. one tablespoon per person).

Drizzle over enough dressing to coat (but not drown the leaves).

Any extra seeds or dressing can be stored in a jar in the fridge.

It really doesn't get a whole lot more simple than that!
Variations
For other awesome, easy to make and healthy salad dressings, click HERE.
Tip
I wash my leaves when I get home from the market with my weekly shop. I wash them, spin in the salad spinner and then store them in a large airtight container lined with paper towel. They stay fresh all week and are ready to eat. It saves me time and money.
For lots more sides and salad inspo, take a look at my hugely popular ebook ˜Well Nourished Sides and Salads'- where vegetables become the hero of the dish! It's great value at just $9.95, click HERE to take a look.