This Vietnamese Meatball Soup recipe has become a bit of a staple this winter. Mainly because it's delicious, easy and quick to make (and it can be customised to include what ever vegetables you have in your fridge). It's also jam packed with immune supportive ingredients which is so handy at this time of the year.
My 14 year old daughter is a budding singer/ songwriter (you can hear her sing on Youtube, Instagram or Facebook) pages. I was talking to her the other day about her inspirations for the lyrics in her songs (which for her age are often very deep). She said she wrote lyrics based on stories or experiences she's heard about or perhaps a feeling or emotion she's felt. It got me thinking about how I come up with recipes and I discovered how similar our origins for creativity are. For me a recipe comes to pass based on flavours I've enjoyed (generally eating out or when travelling far away places) or based on what I feel like eating (often something my body craves).
In the case of this recipe it was a bit of both – I've traveled a lot of Asia (hubby and I backpacked South East Asia, India and Nepal for a year before kids) and I have memories of eating a soup like this in Vietnam. Also, through these colder months, my body has been craving the warming, immune supportive spices in this dish. Creativity comes in so many shapes and forms, for me cooking is one of my favourite creative releases.
Take a look at the variations (below the main recipe) for suggestions to alter the recipe to suit your specific dietary goals.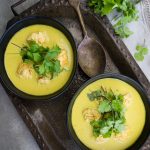 Print Recipe
Vietnamese Meatball Soup
This Vietnamese Meatball Soup is a delicious, fuss-free meal that is both nutritious and healing.
Ingredients
1

tbsp

coconut oil

1

tbsp

ginger root

- finely grated

3

clove/s

garlic

- finely grated or crushed

750

ml

chicken stock or bone broth

(

3

cups)

400

ml

canned coconut milk

1

tbsp

ground turmeric

2

tbsp

fish sauce

1

tbsp

coconut sugar or rapadura

4

kaffir lime leaves

- vein removed and thinly sliced

6-8

spring onion/s

- white part sliced

Vegetables (of choice to add to soup)

(optional) sliced very small is best so they cook quickly. I generally add whatever I have at the time, often broccoli, carrot, snow peas, shiitake mushrooms, and a handful of kale or baby spinach added right at the end.

Sea salt and freshly ground black pepper

- to taste

¼

bunch/s

fresh coriander leaves

- to serve

Chilli flakes

- to serve
Meatballs
1

cm

ginger root

- finely grated

2

tbsp

fresh coriander leaves

- finely chopped

1

carrot/s

- finely grated

500

g

chicken mince

1

tbsp

coconut flour

1

tsp

sea salt

Ground black pepper

- to taste

1

lime/s

(large) zest only (add juice to soup to finish)
Instructions
In a large pot, heat the coconut oil. Add the ginger and garlic and sauté for a minute until the garlic just starts softening.

Now add the chicken broth, coconut milk, turmeric, fish sauce, coconut sugar, kaffir lime leaves and spring onion and bring to a rolling simmer.

Whilst that's heating, make your meatballs by putting the ginger, coriander, grated carrot, chicken mince, coconut flour, sea salt, black pepper, lime zest, into a large bowl. Mix together until well combined and form into golf sized balls.

When the soup comes to a rolling simmer, add the meatballs and allow to cook for 5 minutes or so until cooked through (the larger the meatballs the longer they will need).

If you are adding vegetables, carefully remove the meatballs and divide between the serving bowls and add the vegetables to the soup to blanch them for a couple of minutes (take care not to over cook them). Divide the vegetables between the bowls.

Lastly, add the lime juice to the soup, taste and add more seasoning if needed (salt and black pepper).

Divide the soup between the bowls, garnish with the coriander and serve with chilli flakes.
Thermomix
Start with the meatballs. If you are going to make your own chicken mince, do this first and set aside.

Chop the ginger and coriander, 5 seconds, speed 8. Add the carrot 10 seconds, speed 8.

Add the chicken mince, coconut flour, sea salt, black pepper, lime zest, mix 30 seconds, reverse speed 2 (you may need to scrape the sides during the mixing) - make sure it is well combined and form into golf sized balls. Set aside.

Now start the soup. Mince the ginger and garlic, 5 seconds, speed 8.

At this point I transfer it to a pot as the blades will break up the meatballs when cooking them. Continue from step 4 in the method above.
Make-ahead
Re-heat in a pot over a low heat until just hot.
Store
Store in an airtight container in the fridge.
Notes
Garlic-free
Omit and replace with a pinch of chilli flakes.
Onion-free
Omit the spring onions.
Seafood-free
Replace the fish sauce with a teaspoon of sea salt.
Home made Chicken Bone Broth
Recipe HERE
Different meatball
You can also sub the chicken for pork or turkey.
Vegetarian
Sub the chicken broth for vegetable broth and the meatballs for cubes of firm organic tofu.
Add noodles
If my tribe are extra hungry, I cook up brown rice noodles, strain and divide between bowls. Then just add the above to it when ready (it heats the noodles). 
.
I'd love to hear how you enjoy this delicious, nourishing meal - post a comment or help it to reach more people by rating the recipe.