Testimonials
See what our fabulous members have to say about being part of the super inclusive and supportive Well Nourished Family and some of the ways it has helped them to improve their, and their families, lives.
That's the thing I love the most about your recipes, so quick to make and so delicious. You've changed our life!
Gwen
Just writing to say thank you!!! Just signed up to WNF after months of uncertainty and cooking things no one will eat. I held my breath when I served up the nachos tonight but everyone loved it!! Even my youngest the pickiest said didn't you know mum veggie nachos are my favorite and this is the best guacamole you've ever made!! Thank you!!!!
Marnie
Another beautiful recipe enjoyed by all my family - husband and two little boys. Being a part of this group has truly changed my approach to food and cooking for my family. Georgia, thank you!
Kristine
Thank you for sharing your recipes. It can be overwhelming at times when trying to re-educate and change bad habits. I've found your recipes easy to follow and with simple, easy to find ingredients.
Kacee
My family only had praise for the pumpkin lasagna last night. Thank you Georgia! I am absolutely loving your meal plans!
Renee
Previously to having this tool every week when it came time to meal planning and shopping list writing I was moody, depressed and sometimes I did cry as I was so overwhelmed with it. I have wished something like this for years and I can hardly believe it's here and how good it is!
Cate
Thanks Georgia for creating your recipes. We've always been healthy and my girls (now 13 and 15) have always eaten their veges. But I wanted to up the ante, which is why I joined up to Well Nourished! And I'm so glad I did. Everything we make from Well Nourished is always a hit. We're a gluten free, mostly dairy free family and my husband and I are grain free so I always scroll down to the bottom of the recipes for the swap outs - and they are always superb. Thanks so much
Kayscha
I love that I can search the recipes by ingredients. Finding amazing recipes to suit my weekly veggie box is so easy! Nothing going to waste!
Shell
I have been following you on Instagram for some time and have just started using your great app. Thanks for being so generous with your knowledge and your recipes and for creating such a positive community. Your food is always so delicious, healthy, nourishing and beautifully presented. Also, your Variations at the end of each recipe are really helpful. Thanks for being such a great source of inspiration, I love seeing your Instagram posts and emails pop up! Your chocolate mug cake is a firm favourite with our family and is one of the easiest, most delicious desserts I've made.
Karen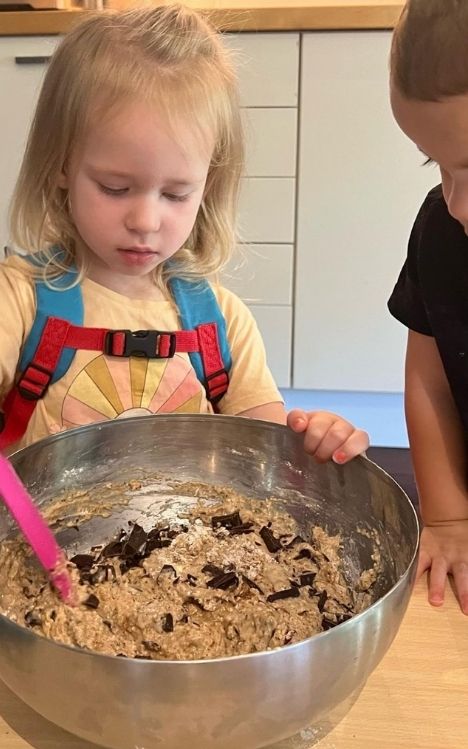 Sweet morning of baking with little helpers. The Well Nourished Membership is a constant resource for most of my cooking. The recipes are always a hit!
Willow Tree Day Care
I am really enjoying this membership. I thought it would just be recipes and meal plans, but it's so much more! I love how flexible it is both the meals and functionality and the biggest surprise is how involved you and your team are. Thanks again.
AN
Thanks for all the recipe inspiration! We have a dairy allergy and gluten intolerances in our family of four and meal planning has become so much easier since joining!
Georgi
I've been a WN member since the start of the year and have really found that it has significantly reduced my cognitive load as I have a one stop shop for all recipes. I'm also finding that it has significantly reduced my food wastage as I'm not buying specialised ingredients for a one off recipe that catches my eye.
Jessica
I've lost track of the number of WN recipes I've cooked this week. With most of the suburbs around us back in lockdown, my nervous system has required some soothing. So it's been cooking and baking to sooth the soul this week.
Nazlia
Georgia, I owe you such a huge thank you. I have been diligently following and adapting your meal plans since Week 1 and am feeling I have found my groove with them. Our eating habits and routines (and sanity) have improved and are getting easier. My freezer is packed with meals and snacks that keep us on track on busy days and makes indulgences a choice rather than a last resort. So thank you...thank you...thank you.
Beth
After joining 2 weeks ago I haven't bought any sweets or processed treats. To me, super addicted to jelly sweets, its nothing short of miraculous! I feel great, physically and mentally; proud of myself to sticking to this beautiful healthy, delicious eating (and yoga). Thank you Georgia!
Jessica
10/10!! We loved it! I've tried a lot of your recipes, and hubby said that this is probably the best! We may just be your biggest fans! Thank you so much for the work that you do, our mealtimes have become much more diverse, wholesome, nourishing and delicious since having come across you Georgia, and you should know that you are making a positive impact to the health and wellness of my family.
Ashley
This app and the well nourished membership is brilliant and makes feeding a big family nourishing and nutritious foods on a daily basis - doable!! So grateful for this!!
Elisha
This app is the best meal planning tool and great recipes! I've been a member for over a year and love the recipes provided in the membership. The meal planning tool and templates and meal plans provided are very easy to navigate. Very simple, and easy to use.
NP
With a touch of a button you can get all your favourite recipes so quick and easily. Well nourished has changed the way I feed my family 100% absolutely love being apart of the family 🥰
Sonia