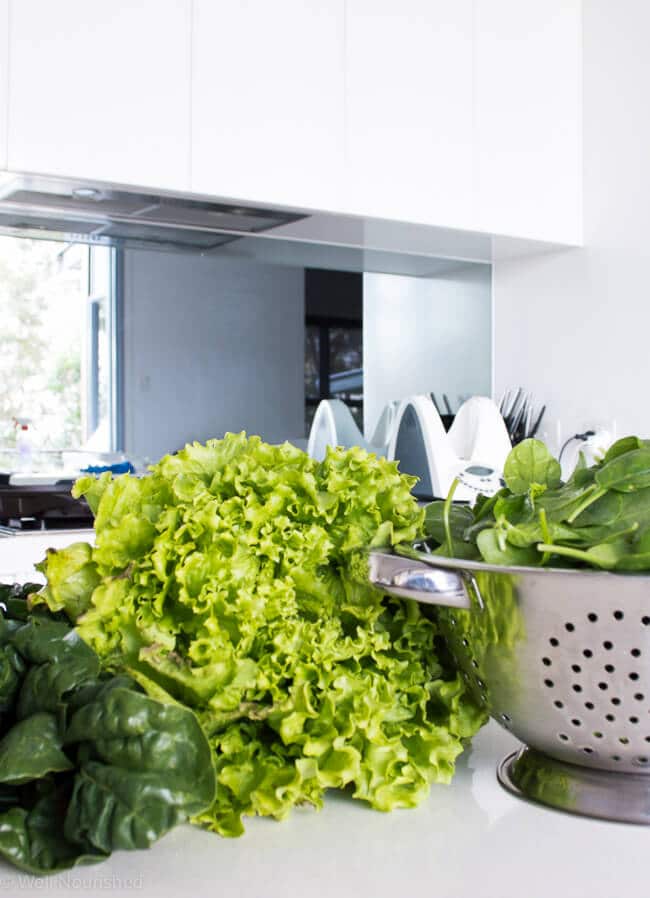 I've recently collaborated with the Victorian Government in the brilliant Love Food Hate Waste Campaign. According to Sustainability Victoria (2014), an estimated $2200 worth of food is wasted by every Victorian household annually (and I'd imagine other states are very similar) – frightening huh?  So I believe it's vitally important environmentally and also financially, that every household develop strategies to reduce the amount of food wasted in their household.
Storing your food well in your fridge, freezer and pantry is really important and also finding ways to enjoy leftovers is vital to reduce food wastage. Here are three tips to help you reduce food wastage and also improve your health in the process…
1. Store your fresh produce well
One of the simplest ways to avoid food wastage is to prepare and store your fresh produce well. Firstly, food needs to be well organised when stored. Investing in storage containers and fridge organisers means that it is visible to you when you come to prepare a meal and not rotting in the back of your fridge or pantry.
Storing it appropriately will also ensure that you get the full shelf life of the produce. For example; leafy greens should be washed, spun dry and are best stored in a large airtight container lined with paper towel. You can also use a snap-lock bag lined with a paper towel, just make sure the leaves are protected from being bruised or crushed. I find preparing my leaves like this also makes it so much quicker and easier to throw together a salad or pop a handful of baby spinach in a smoothie.
Also try to store firm fruits and vegetables at the bottom of your fresh zone in the fridge and softer fruits and vegetables on top to prevent bruising and spoilage. There are lots of tips here for the best ways to store various foods and extend their shelf life.
2. Embrace leftovers
The most important way to avoid food wastage is to embrace leftovers. Leftovers definitely make life easier and healthier too. If more people cooked extra portions and ate them for another meal, they'd not only reduce their food bill, but also avoid eating less healthy processed and take-away foods.
Remember dinner leftovers can always be eaten for lunch or even breakfast. Yes, breakfast! Breakfast doesn't have to be cereal or toast and leftover meals make delicious, really healthy and easy to prepare breakfasts. If you don't have access to a heating facility, consider investing in a food flask (thermos) so you can enjoy a delicious hot meal at lunchtime.
So here are a few creative ways to use leftovers….
▪Left over bolognese is delicious on toast for breakfast (you can also crack an egg in it and bake it to cook).
▪Leftover smoothies – freeze into little cups or ice-cream moulds for a delicious icy snack.
▪Leftover oatmeal (porridge) – mix with an egg, vanilla and cinnamon and make pancakes for morning or afternoon tea.
▪Leftover cooked vegetables – add stock and puree into a delicious, nutritious soup.
▪Make fresh spring rolls with leftover salad or meat.
▪Make fried rice or a rice pudding with leftover rice.
▪Make a pot of stock or bone broth using the leftover cooked bones from a roast chicken. Don't forget to add in vegetables (this is a great way to use the parts of vegetables you usually throw like the stalk of broccoli and cauliflower and the stems from herbs and leafy greens).
▪Bake leftover meat and/or vegetables in to a frittata, omelette or quiche.
▪Use left over meat or vegetables in a salad or pasta.
---
---
3. Fill your freezer
When cooking the family meal, also consider cooking an extra meal to freeze for another, perhaps less organised day. One effort for multiple meals is a fabulous time and money saving strategy. It's also a much healthier alternative to buying take-away. Doubling up on meals and freezing one is also a great strategy for those weeks where you have over-shopped for fresh produce and need to use it before it spoils.
We've already discussed freezing leftovers, but most fresh foods can also be frozen. Fruits can generally be frozen as is or lightly cooked. Vegetables are best quickly blanched and snap frozen. There are plenty of guides for freezing fresh produce and meals on line. So if you are unsure how to go about freezing food, search it up.
By implementing these simple strategies, you will not only save time and money, but also improve your own and your families health. For more great ideas on minimising food waste check out the Love Food Hate Waste website. I especially LOVE their video gallery of ideas for minimising food waste.
I'd love your input on this post. Do you have routines or methods that reduce food waste? Share them by posting a comment below.
---
ENTER YOUR DETAILS TO GET YOUR FREE RECIPE BOOK