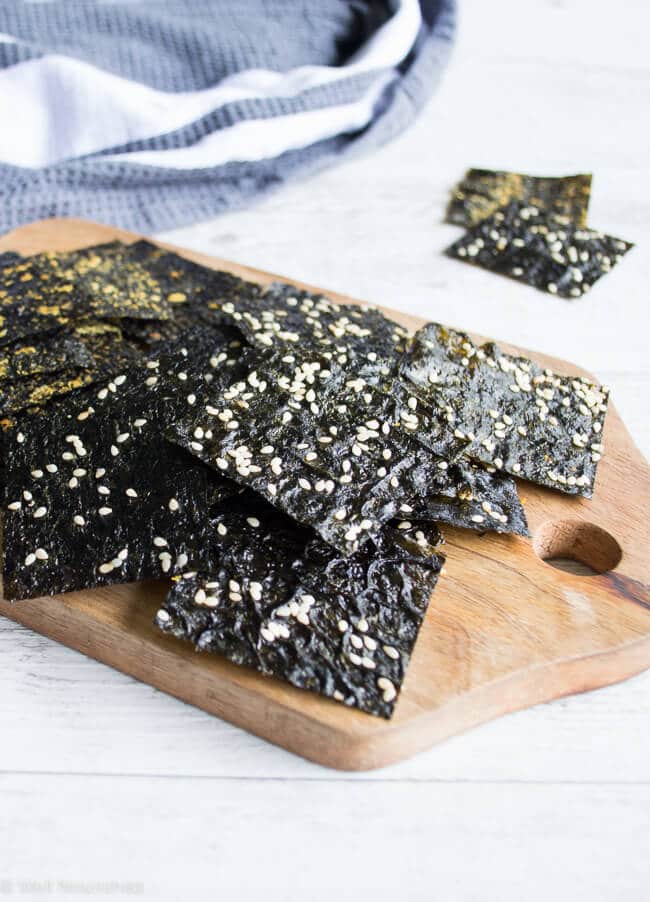 I was doing a bit of shopping after school a few months back and even though they'd had afternoon tea, my kids were moaning that they were still hungry. My kids tend to do this every time we're shopping and they spot something they fancy. This time they'd spied some Nori Chips and seeing as they love nori and they love chips, they worked out that these might be worth a try!
I of course checked out the ingredients, not happy with the vegetable oil (sunflower or canola I think), but otherwise okay, I conceded because I actually wanted to try them myself. So they were inhaled within seconds of opening and didn't put a dent on their hunger (note to self to insist on buying nuts next time) and as delicious as they were, they were quite expensive.
So off to the kitchen I head on a mission to re-create my kids latest obsession with toasted seaweed chips. The delicious result I share with you today.
Take a look at the variations (below the main recipe) for suggestions to alter the recipe to suit many specific dietary requirements.
---
Toasted Seaweed Chips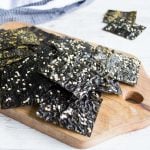 These Toasted Seaweed Chips are a very moorish savoury snack that my whole family just loves - stopping at one is virtually impossible.
Ingredients
1

packet

yaki nori sheets

(sushi paper)*

1

tbsp

tamari

(or liquid or coconut aminos)

1

tbsp

sesame oil
Optional toppings
sesame seeds

nutritional yeast

*Available in the Asian food section of the supermarket or health food stores
Method
Preheat a fan forced oven to 150℃/ 300℉.

Mix your tamari and sesame oil together in a small bowl.

Brush the shiny side of the nori sheet with the oil/tamari mix (right to the edges), sprinkle with optional toppings and place another sheet, rough side down on top. Repeat with two -three more sheets (to make a stack of three to four sheets).

Place on a baking tray lined with baking paper and place another piece of baking paper on top. I weighed it down with another baking tray (filled with pastry weights). You don't have to weigh it down, it just stops the sheets curling (but doesn't effect the taste).

Bake for 10-15 minutes until crisp at the edges.

Cut with a large sharp knife (you can pry into single sheets or leave as a stack) and enjoy immediately.
Store
Can be stored in an airtight container.

These are very sensitive to humidity, so I always add the moisture absorber (repurposed from the packet of nori) to my container or they will loose their crispiness.
Variations
Soy-free
Choose aminos instead of tamari.
How do you or your kids like these? I'd love your feedback, post a comment or rate this recipe!