I'm a huge fan of gelatinous treats and no better flavour combo than chocolate and coconut. Now I'm not a particularly patient person, so when it comes to using tinie-tiny moulds….well, let's just say it has to be a special occasion! I much prefer the pour and set approach, which is how this little 'Top-Deck" combo arose. That's not to say you can't get creative and use a cute little mould. You can also use patty pans (pictured below) or mini cupcakes as moulds. My kids are planning to make these in Easter egg moulds for Easter treats.
So we were in the midst of a QLD storm and without power (which as we have our own water supply, this also means no water) so very inconvenient. The kids (and adults) were house-bound and hungry for chocolate – so the kids and I created this surprisingly yummy treat.
Health benefits
Gelatin is made from the bone and connective tissue of animals that has been dried and turned into a powder. I have written about the benefits of gelatin in this post about bone broth.
The biggest benefit of eating gelatin, in my opinion, is that it is a gut healer, which means better nutrient absorption (so greater nourishment) all round.  Also, if your gut is functioning well, then your nervous system is better supported too. Gelatin also reduces inflammation, improves joint integrity and for the vain amongst you – it improves the condition of your skin, hair and nails.  In fact, it's said to be better then botox (and erase wrinkles, stretch marks and cellulite) – now I've got your attention!
I only buy the Changing Habits Organic Gelatin. Because gelatin is derived from animals, I like to know I am consuming the best quality product with the least chemical loading. You can find out more or shop for it HERE.
The benefits of coconut I've written about here, and raw cacao here.
Take a look at the variations (below the main recipe) for suggestions to alter the recipe to suit your specific dietary requirements.
Top Deck Gummies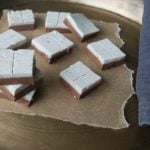 My Top Deck Gummies are a delicious chocolatey gummy treat that your whole family will love. If you're feeling lazy, you can even just make them all chocolate or all coconut (so just one flavour).
Ingredients
540

ml

canned coconut milk

(

2

x

270

ml cans) I like Ayam brand

1

tsp

vanilla

-powder, extract or essence

85

g

rice malt syrup, honey or maple syrup

(

¼

cup)

5-6

tbsp

grass-fed or organic gelatin

1

tbsp

cacao

-unsweetened Dutch process or raw

1

tbsp

rice malt syrup, honey or maple syrup
Method
In a small pot place, one can of coconut milk, vanilla and sweetener and whisk to combine.

Whilst whisking sprinkle the *gelatin over the coconut milk mixture to combine. It will thicken as you go. Set aside.

Divide the remaining can of coconut milk into two jugs. Add the cacao and extra tablespoon of sweetener to one-half of the mixture. Stir to combine.

Now over a very low heat, gently heat the gelatin mix, taking care not to overheat or boil. Stir continually as the gelatin starts to dissolve and become a smooth liquid. It should only reach lukewarm temperature.

Add half of this warmed gelatin mixture to the cacao mix, stir to combine.

Mix the remaining coconut milk with the gelatin mixture. You now have your chocolate and coconut layers.

Pour the chocolate layer into the base of a lined tray (alternatively, you can use individual moulds, mini cupcakes or patty pans -as pictured below).  Set in the fridge or freezer (only takes a few minutes).

Top with the coconut layer and again cool until set.
Store
Store in an airtight container in the fridge or freezer.

* Now I prefer the texture of this with 5 tablespoons of gelatin, though my daughter (not at all a jelly/gummy texture fan), much prefers a denser texture so 6 tablespoons are more palatable to her. Have a play, and let me know your preferred texture.
Tip
If using silicon moulds to set your gummies, freeze them to make removing them from the mould clean and simple.
Variations
Vegan and vegetarian
I haven't recipe tested this but you can substitute the gelatin with agar agar.
Fructose-friendly
Choose rice syrup as your sweetener.
Coconut free
Replace the coconut milk with nut milk.
Cacao-free
Replace the cacao with carob powder.
Who else loves this treat? I'd love for you to post a comment or rate this delicious recipe.