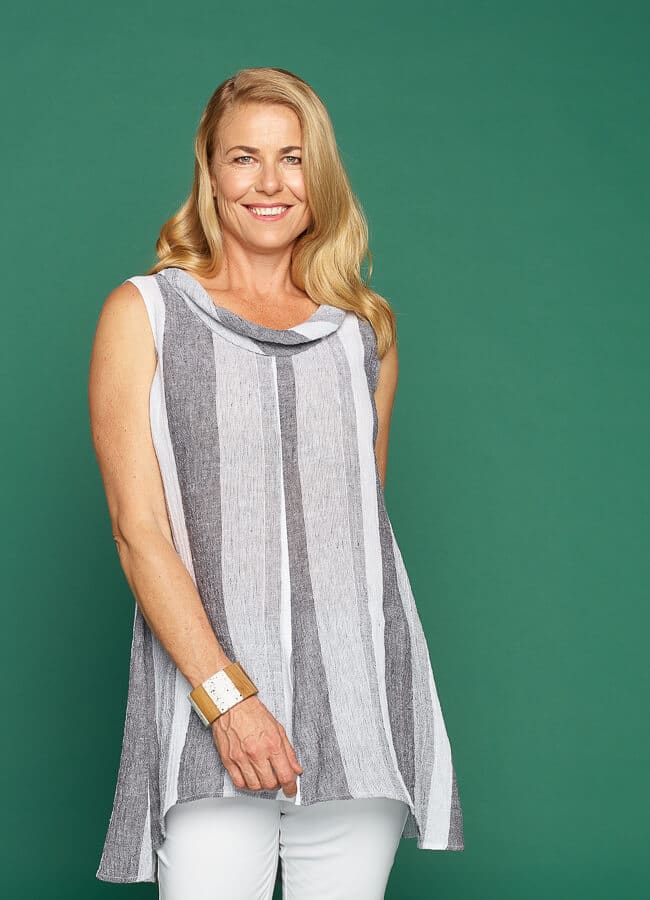 I receive a lot of emails each and every day, however one I received a few months back really took me by surprise. It was from the very lovely people at Yarra Trail inviting me to be a part of their 'Trailblazer' campaign –  'a celebration of remarkably inspirational Australian women and their stories for Yarra Trail's 20th Anniversary'.
At first I thought this email may have been a joke, spam or the likes. There are certainly many titles I identify with –  mum, wife, cook, naturopath, health educator, blogger even, but trailblazer! It took a while to get my head around it – in my reply email I even admitted that I was 'a bit shocked they had thought of me'.
So in accepting myself as a 'trailblazer' – I was nervously whisked down to Melbourne for what ended up being a super fun day of hair, make-up and a fashion photoshoot. You may have seen some pics already on social of little ole me at the shoot — modelling a heap of gorgeous Yarra Trail clothes, crazy right?
Developing an online presence with 'Well Nourished' has been the steepest learning curve I've experienced in my 40-something years. It's been a little over 4 years since the day I nervously clicked the 'go-live' button and I can hardly believe that I've reached 'trailblazing' status, ha ha!
I endeavour to make Well Nourished centred around what I can do to support YOU to be well. Now with my beautiful new look website live (and my newly awarded 'trailblazer' status), I thought this the perfect opportunity to share my journey of how I came to become a Naturopath 20 something years ago and then went on to develop this wonderful resource that is Well Nourished. So here's my story…
A not so well childhood that led me to Naturopathy
I think my love of food and my interest in holistic health began long ago during my childhood, so that's where I'll start.
Before my wonderful step-dad came along, my beautiful mumma raised me as a single mum with the help of my dear nan and 'nunky' (grandad). Mum worked as a waitress 7 days a week so I spent a lot of time with my nan who had the patience of a saint and we spent many hours together growing and cooking food. When I was around 12yrs old my 'nunky' passed away suddenly and my heart literally broke (stress and grief under-pin SO many illnesses which I didn't really understand until many years on).
Within a month I went from a very robust, healthy, athlete to suffering a serious, life threatening decline in health. I spent quite a while in various hospitals, trying to find the cause of the severe arrhythmia I'd developed and a medication that would control it (it just wasn't responsive to the usual treatments). Whilst the actual cause was never discovered, a very new to the market drug was tried as a last resort (whilst I was in a children's specialty heart and lung hospital in London). Luckily it worked to control my arrhythmia, but it was a pretty hard core medication with dreadful side effects.
I was advised that this was my lot and I'd have to take this drug for the rest of my life (and that ever having children was most likely off the cards due to both the drug and the strain pregnancy would place on my weary heart). I hated taking it and tried to wean myself off the medication many times, always ending up in hospital again. Anyhow, not one to accept anything on face value, I eventually decided to see a Naturopath (there was actually only one in Perth at that time) and the rest is as they say, is history!
After successfully weaning myself of the heart meds I decided (having not long completed 3 yrs already at Uni studying Arts), to change the course of my life and study to become a Naturopath. I was determined that one day, I too could help others find good health.
Clinical practice and kids
Even though I hated science at school, after another three years of study, I graduated Dux of my year with a Diploma of Applied Science (Naturopathy). I was offered a job alongside one of my lecturers in clinical practice and a few years on became a lecturer myself. I also wrote articles for a local newspaper and was a resident Naturopath on talk back radio. After meeting my hubby and soul mate, we decided to travel and then live overseas for a few years where I established another clinical practice.
Next came babies and the juggle of a busy clinical practice and parenthood. You can read about how I pushed too hard and found myself once again floored by illness, this time an auto-immune thyroid disorder called Grave's Disease (read more here).
So through my own health challenges, I have most definitely lived and learned. These experiences have certainly shaped my commitment to wellness and I currently live a very well balanced life, blessed with good health.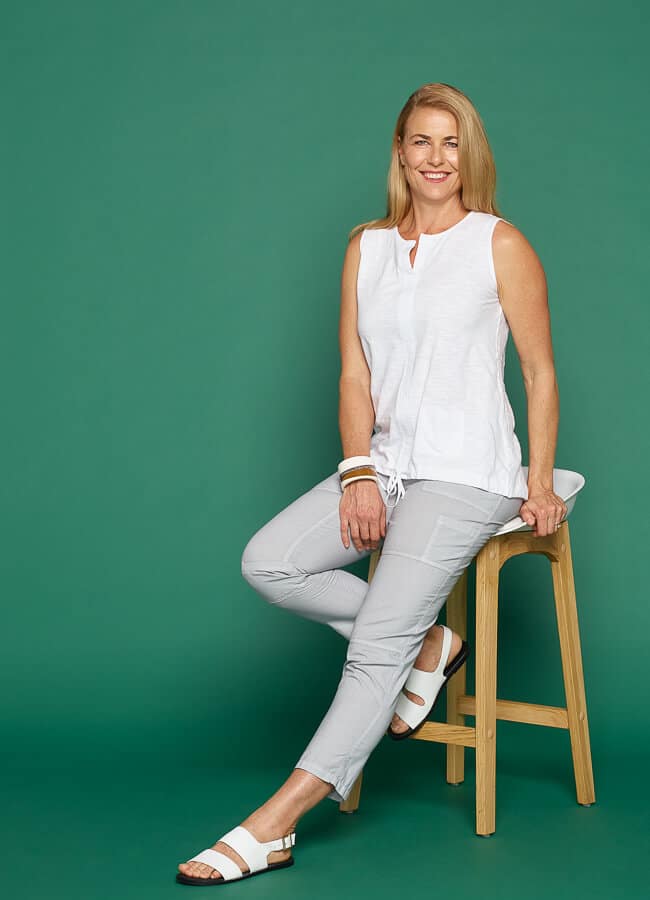 I just loved the textures of this, my favourite outfit – Yarra Trail White Textured Back Tank and Platinum Panelled Crop Pant
From diet junkie to being Well Nourished
During my years of study and early years in clinical practice I definitely explored the many 'diets' that came and went. I was a vegetarian for almost 20 years, vegan for a while also. I've eaten high-carb low-fat (the trend through my college years), high-fat low-carb, sugar-free, grain-free, etc; The one thing I've learned not only via my own experience but from treating thousands of patients over the years, is that there is no such thing as a 'one fits all' approach to diet. We are all individuals with our own nutritional requirements and most importantly, as life is fluid, so too are our nutritional needs. So whilst vegetarianism suited me for some time, after having my first baby and suffering Grave's disease, I re-examined my whole lifestyle including my diet.
Part of that lifestyle re-evaluation included moving from Perth to Queensland where I gave myself the time and space to heal my thyroid. I did miss my passion in life (nutrition and naturopathy) so I went back to uni to upgrade my qualifications studying a Bachelor of Naturopathy. I also defied the odds and made a complete recovery from Grave's without pharmaceutical medications and soon after, conceived and gave birth to my big, healthy baby boy without any complications or relapse (I was assured there would be many issues given my recent thyroid disease).
Being a parent and raising food loving kids was the point at which I stopped obsessing over my diet and re-examined the fundamentals of eating, nutrition and health. Consuming a variety of fresh, whole food and delicious moments shared with family and friends is now my food focus. My family motivates me each and every day to strive to nourish the world in every way I know how.
As my kids grew, I started to really miss doing what I love. I considered returning to clinical practice but with a husband who works away a lot and no family support, it just didn't seem possible. Now I wasn't one to spend much time online at all. When a friend suggested I might start a blog, I didn't even know what 'a blog' was and I had no Facebook, Instagram, Pinterest or any other social media experience at all. Though I really loved the thought of being able to reach more people than I would in clinical practice as well as perhaps developing a resource that other Naturopaths might find useful to help their patients to eat well.

Here I'm wearing the super summery Yarra Trail Black Two Stripe Jersey Dress
An accidental trailblazer
With nothing much to lose, I had a friend build me a basic website and set me up on Facebook. I can remember him suggesting Instagram would be a good platform for me too and the thought of learning how to operate another piece of technology absolutely terrified me at the time ha ha! I published my first recipe in 2013 – my Nourishing Anzac Biscuits and lost sleep over it, hoping like mad that people would enjoy it (it's become one of my most popular recipes). I also had to teach myself to photograph food as it was important to me to really do the yumminess on the plate justice with a beautiful pic. I think my eye for form and design has helped me to become pretty good at styling and capturing the dishes I create (just don't ask me to photograph anything that moves)!
So 4 years on and I'm really pinching myself as I write this. I find it hard to believe that someone as technologically challenged as I am is behind this online resource that has published 100's of free recipes and health blogs. I have over 80,000 followers across my social media accounts and over 18,000 people receiving my weekly newsletters too. I've also produce three beautiful ebooks and sold almost 9,000 copies all up. My recipes have also featured on JamieOliver.com, EatWell magazine, Food Matters and many other fabulous publications and websites. Okay now, I'm feeling very emotional!
I think Well Nourished's appeal is that no matter your 'diet' or food philosophy, the recipes and health blogs offer something for everyone. In my recipes I try to create the yummiest most nutritionally dense meal or snack with the simplest possible method (and least amount of dishes)! I endeavour to offer delicious recipes with variations to suit gluten, grain, dairy, sugar, egg-free diets and even in my meat based recipes you'll often find a vegetarian option.
With my health blogs I like to offer practical advice to support my readers health journey and inspire them to source and eat the best food possible. I aim to motivate people to find the true health and vitality that is available to each and every one of them, without the stress of 'being on a diet'. I think my 'in the real world' and fad-free approach resonates with many. I'm really proud of what I have achieved and to have always stayed true to myself and my health philosophy.
I believe the effects of improving ones health is far reaching – I certainly know first hand that without good health, there's not much else. Change really does begin with each and every one of us and ultimately shapes our family and our world.
Thanks so much to those who've shared and supported my work, it's very much appreciated. I have so much more to give via Well Nourished as I strive to make a difference to the lives  of many!
I hope you love my beautiful new website and all it has to offer. As much as this post is about me, Well Nourished is about YOU – so please post any suggestions for future blog topics or recipes in the comments below.
With much gratitude
Georgia xx
"We make a living by what we get, but we make a life by what we give"
Winston Churchill.
Main image (top of the page) I'm wearing the breezy Yarra Trail S/L Textured Stripe Top