With the weather warming up, and my kids up with the birds for swim squads, a quick 5am pre-training session go-to is often a smoothie (or a big cup of bone broth). Yes, this little mix happens to be 'green,' however rather than jump on the 'green smoothies are the bees-knees' bandwagon, I'm going to buck the current trend and put it out there that you don't have to drink green smoothies to be healthy.
Personally, I don't fancy the taste of many 'green smoothies'  and I also don't always like the way they make me feel.  My gut is pretty cast-iron, but some 'green smoothies' leave me nauseous and upset in the tummy. I also find them often just too sweet with lots of fruit and flavours to 'mask' the bitter greens. Leafy greens are so good for you, but I really just prefer to eat my greens!
Interestingly enough, from an Ayurvedic and Traditional Chinese Medicine perspective, green smoothies are not always a good idea. There are a few reasons, one is that lots of raw vegetables can be harsh on digestion and difficult to digest (especially when you drink them, you're not priming your gut to receive them by chewing first).  Also if you drink smoothies icy cold this also significantly weakens digestion (cold food and drink is really not good on digestion which needs heat to do it's job). Also the oxalate content of green smoothies is often very irritating too. Also 'drinking' food dilutes gastric acids again slowing digestion down further.
Which leads me back to this tropical smoothie, which just happens to be green, but also delicious. Simple green smoothies like this can be a good way to sneak in some extra greens for leaf-hating kids (if they can get their head around the fact that it's green of course)! But I'd urge you to keep trying with the real deal too.
As always, I have a couple of variations for you, including changing the colour!
Health benefits
The fat from the avocado is very soothing and helps to enhance the absorption of fat-soluble vitamins. The pineapple is a fabulous source of bromelain which is a potent anti-inflammatory and supportive to digestion. The coconut water is hydrating and along with the banana, is a great source of minerals.
Take a look at the variations below for all the details as well as suggestions to alter the recipe to suit your specific dietary requirements.
Tropical Smoothie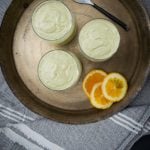 A simple, delicious, nourishing smoothie. The avocado adds a beautiful silky texture as well as filling good fats and loads of nutrition.
Ingredients
1

cup

pineapple

(approx) or orange, diced

1

banana/s

½

avocado/s

250

ml

coconut water

(

1

cup)

Ice

(if required)
Method
Blend together in a high speed blender until smooth and creamy.
Store
Leftovers can be frozen into little cups or ice-block moulds for a fast, healthy snack another day.
Variations
Green boost
If you want a green boost, add in a handful of baby spinach (the smoothie in the photo has this).  Spinach is pretty flavourless so it hides very well behind most flavours in a smoothie.  Fresh mint is also lovely with this flavour combo.
Change the colour
Add raspberries to turn it pink.
Add protein (for more sustenance)
I often add a scoop of 180 Nutrition Superfood Protein powder (coconut flavour). They have both a whey protein and vegan (dairy-free) options.
Coconut-free
Replace the coconut water with a nut milk.